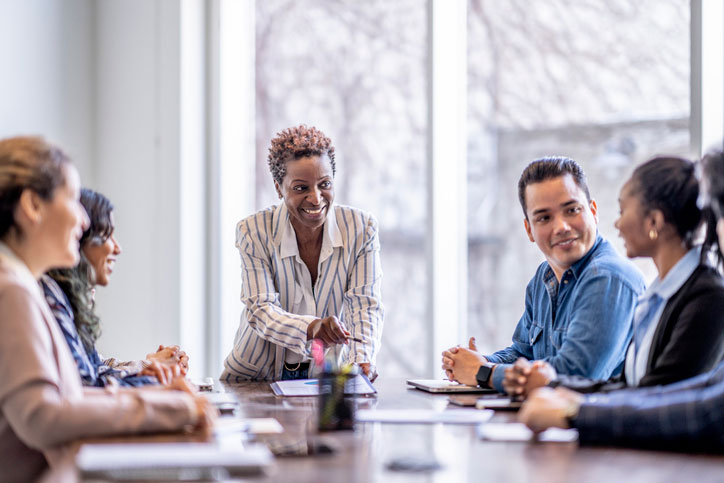 Every organization today understands the importance of effective leadership. Real leaders are the heart and the drive behind any company or agency. They solve the hard problems that come up in areas as diverse as staffing and product design. They are the ones that people turn to when the unexpected occurs, and the ones responsible for developing a vision of the future that determines what does occur.
<!- mfunc feat_school ->
Featured Programs:
Sponsored School(s)
<!- /mfunc feat_school ->
Organizations succeed and fail by the presence of these individuals in their ranks. But it's not always clear where they come from or how to develop them. Resumes don't tell the story. Neither do job titles. Leaders emerge where preparation meets opportunity.
Leadership is a behavior. Leadership is a character trait. Leadership is not a job title.
So how do you train leaders? Most degree programs today focus on professional skills and industry-specific knowledge. The drive, the empathy, and the ability to connect with staff aren't in the curriculum.
That's where certificate programs in organizational leadership can be a lifesaver. Managers and executives at any level, or even staff who aspire to leadership roles, can find scientific and practical training in areas like:
Whether you've already earned your degree in a different professional field or are just looking for leadership skills without the time and expense associated with a full college degree, there are options for you in the wide world of organizational leadership certificate programs.
Organizational Leadership Certificates Address the Gap Between Expertise and Leadership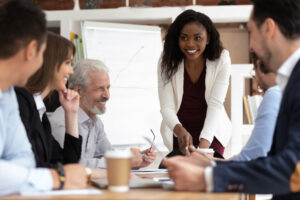 Leadership skills don't always come easily or naturally. They aren't an inevitable outgrowth of experience. They aren't automatically absorbed by developing high degrees of technical expertise.
Instead, they are some combination of experience and expertise put together with:
That means that cultivating organizational leadership skills is important early in the careers of junior managers and future executives. To grow the future of any organization, as well as to expand their career options, it's worth it for any new hire to start thinking about long-term leadership potential.
At the same time, there are plenty of executives who have ascended to senior ranks on the strength of managerial and technical expertise. They may have a great command of the nuts and bolts of the business, but may not have developed the interpersonal or inspirational skills to take it to the next level.
If you are in either group, you may find yourself in a position where you need to cultivate serious organizational leadership skills, while finding that the time and costs of a full degree program at any level don't really make sense. And that's where a certificate in organizational leadership can really save the day.
Organizational Leadership Certificates Can Give Careers in Any Industry a Boost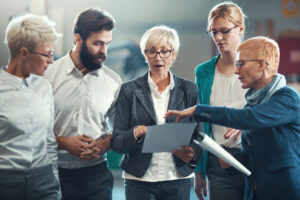 Organizational leadership certificates are usually seen as a way to polish up your skills in a current position or to improve your potential for promotion and advancement in a career path you are already following.
The good news is that that career can exist in almost any industry, and even within all different specializations within an industry. Anyone filling a management role or aspiring to one can learn the important interpersonal and communications skills used to take teams and entire organizations to the next level.
Those roles can include:
These jobs call for leadership qualities in just about any industry or organization that have more than a handful of staff. The great thing about certificate programs is that you can pick them up as a way to help you advance into those roles, or to actually develop greater leadership expertise after you've already gotten that promotion. There's a certificate for every scenario.
Earning a Certificate in Organizational Leadership Is Your Ticket to a Salary Bump
You may already have some idea how your salary and promotional opportunities can benefit from a certificate in organizational leadership. Clearly, those opportunities will be different between the world of information technology and non-profit management. But you can get a general picture of the sort of compensation by looking at data collected by the Bureau of Labor Statistics.
For 2021, the average salaries for these roles came in at:
Of course, if you are already in one of these jobs, you are probably pulling down compensation inside that ballpark already. But there's always room for advancement. And BLS also keeps numbers on the top ten percent of those positions, the ones that manage the largest organizations in the most lucrative fields.
In almost every case, that number comes in over the ceiling where BLS just stops counting entirely—more than $208,000 per year. And that doesn't take into account many of the extra benefits that such positions come with, including:
So a certificate in organizational leadership can put you over the top even if you are already making serious money. Just as importantly, it can help you take your workforce and your organization to the next level in your industry.
How Certificates in Organizational Leadership Deliver Great Training at a Fast Pace
Of course, a certificate program that lasts only a semester or two isn't really a substitute for a full degree in organizational leadership. But it can give you the important elements you need to find your way as a leader alongside your other experience and expertise.
A certificate program is a quick way to not only build your leadership skills, but also to get a taste for what a full degree in the field might do for you. In many cases, you will be able to later apply certificate credits toward further study.
OL certificates are a valuable addition to your education in another professional area or to your experience on the job. You can combine a certificate in organizational leadership with degrees in other fields such as:
Many of those degrees come with concentrations in OL as an option. But that might not have been the case when you first earned your degree, or you might have picked a different specialization. A certificate program is a quick way to make up for lost time and to get the kind of training that will put you in the driver's seat in your industry or your organization.
Certificates in Organizational Leadership Can Offer an Introduction to Business Leadership or Stack on Existing Degrees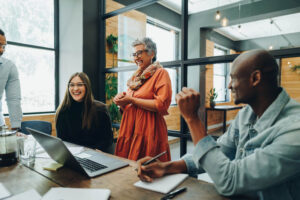 Leadership is a quality that is required at every level in modern organizations. The most junior project manager in a software company may be driving a team that implements the key architectural feature in a new app release that will make or break the timeline or market reception of the program. And top executives have the tough job of pulling together all the different and unique strands of their company into a single unit with a cohesive mission.
There are certificates available that cater to every level of leadership in every kind of organization. They fall into three overall categories:
Post-Secondary Undergraduate Certificate in Organizational Leadership
These introductory programs are open to individuals with only a high school diploma or some community college credits, with no college education beyond that. The coursework is roughly at the same level you would find at a bachelor's degree program, but exclusively focused on organizational leadership topics.
They are primarily aimed at current business leaders or mid- to upper-level managers who may have attained those ranks in industries or by paths that didn't require a great deal of college training. Construction, manufacturing, and service industry roles that allow advancement without a degree often find very solid managers rising through the ranks to positions of great leadership responsibility.
Coursework in these programs covers many of the same topics you find in certificates in organizational leadership in general, but without relying on assumptions about base levels of higher education. Consequently, they might not get as deep into the different psychological and social sciences behind OL, but they will cover all the tools and techniques needed to find success as a strategic leader.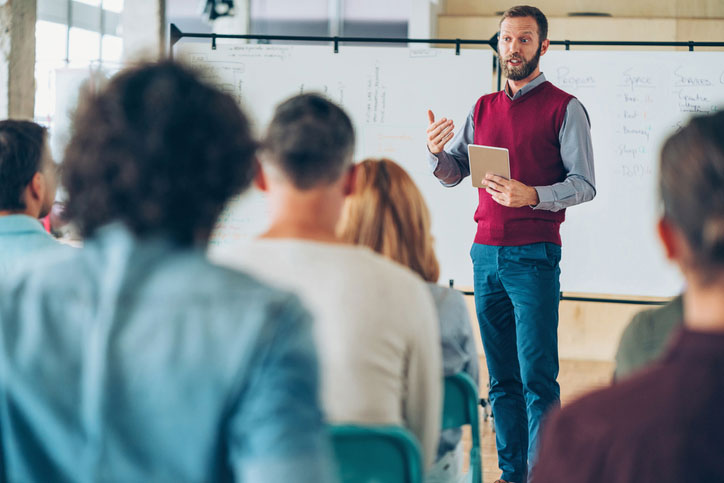 Graduate Certificate in Organizational Leadership
Graduate certificates are open to students who already hold a bachelor's degree, usually regardless of major. They are also called post-baccalaureate certificates. As the name suggests, they use course material at the graduate level, just as you would find in a master's degree program. They are shorter, less expensive, and more focused than a full master's degree, however.
Depending on the school you choose for these programs, the credits you earn can sometimes be applied to a full master's degree if you choose to pursue that level of training in the future.
Graduate certificates are a common choice for students who have earned a bachelor's in their professional area, but later are promoted or seek promotion into positions that require additional leadership skills. They offer a high-level overview of organizational leadership at both theoretical and practical levels to help up your leadership game.
Post-Graduate Certificates in Organizational Leadership
Even once you develop a high level of expertise in OL through a graduate degree program, there's always more left to learn. But doctoral programs in the field are oriented more toward research and academic pursuits than advanced operational leadership skills. With long, expensive, and difficult completion requirements, they aren't always a good choice for active organizational leaders.
So many graduates who hold an MBA or other master's degree in a different field choose to pursue a post-graduate, or post-master's, certificate in organizational leadership to hone their skills.
These are some of the most advanced certificate studies available in organizational leadership and cater to the needs of senior executives. They often have more flexibility in tailoring a curriculum to your specific goals, and may incorporate projects and aspects of your current position in improving your leadership skills.
What Kind of Courses Will You Explore in Organizational Leadership Certificate Programs?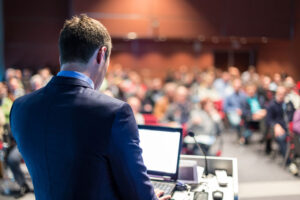 No matter which level of certificate in organizational leadership you decide to pursue, you'll get into the same essential topics that make up the foundations of all great leaders.
The level and depth of the coursework will depend largely on the level of the certificate program. You'll also find that there just isn't room in a certificate to cover every single topic in organizational leadership studies the same way; you may find that several of these subjects are combined into a single course in some programs, such as change management and conflict resolution.
Innovation and Change Management
Handling change is often the hardest thing for organizations to do. Leadership through the tough times of uncertainty and adaptation is crucial, and coursework in this area will give you the techniques for keeping up morale and delivering positive results through innovation.
Analytics and Organizational Assessment
Good organizational leaders are in-tune with the staff and processes of their organizations. Learning how to tap into the zeitgeist and keep tabs on the workforce and industry is a key skill. These courses teach you how to put together information networks and to collect and interpret data to give you an in-depth look at how your organization is faring and where the hot spots are that you need to address.
It's inevitable that some of those hot spots will come down to disagreements, either between workers, or between management and staff. Learning how to tamp those down and come to constructive agreements is a key leadership skill. You'll learn how to handle it through coursework teaching empathy, negotiation, and communication skills.
Leadership and Development
Although not in as much depth as full organizational leadership degree programs, you'll often have coursework that covers the theoretical and historical basis of leadership. This will include looking at great leaders and their common traits, as well as understanding the development process for leaders.
Psychology and other social sciences can play a large role in the ability of good leaders to understand and manage their organizations. This coursework will help you understand the cultural and sociological bases of group behaviors. You'll also study different organizational structures and the ways they can influence and motivate the workforce.
Many organizational leadership certificate programs also come with a very limited number of electives you can take on top of the core classes. Although it may be only one or two additional courses, this offers the opportunity to really tailor your studies to your interests and goals. Many schools have a wide range of different elective options, everything from entrepreneurial leadership to industrial organizational psychology.
Finding the Right Provider for Your Organizational Leadership Certificate Needs
Anyone looking to earn a certificate in organizational leadership will have a lot of different options to choose from. There are hundreds of schools around the country that each offer their own unique choices for OL certificates. You'll need to find the right match to fit…
On top of all that, you'll want to find the best quality program you can that fits all your other criteria. Just like assessing a degree program, that means looking at factors such as:
Reputation – Good certificate providers get a good name out on the streets. If they offer full degree programs, you can check on third-party rankings such as those through U.S. News & World Report. If the school is a business school, it may also hold a specialty certification from ACBSP (Accreditation Council for Business Schools and Programs), IACBE (International Accreditation Council for Business Education), or AACSB (Association to Advance Collegiate Schools of Business).
Industry Concentrations – Strong ties to corporations or agencies in your field mean you will find more relevant training and will be rubbing shoulders with experts that are on the same page you are.
Faculty – Instructors who have mastered both organizational leadership and the academic skills necessary to teach it effectively are a must-have.
Resources and Support – Look for programs that put plenty of staffing into their advising and support services, and offer a full slate of research materials such as case studies.
Organizational leadership certificates may be offered as stand-alone programs in their own right, but in some cases they are also available as add-on options for other degree programs. In some respects, these can serve as a less-intensive alternative to a full degree minor, but a more structured way to study OL than simply putting together a few random electives.
But this also means that you can find certificates in organizational leadership that deliver a more profession-oriented course of study than general OL certificates. For example, a certificate in leadership that is offered through a college of education will give you coursework and tools that are more focused on OL in an academic context than one that is conducted through a business school.
What Does It Cost To Earn a Certificate in Organizational Leadership?
There's a wide range of different factors that go into determining the cost of any particular certificate program. The total price tag you will end up paying will depend on factors such as:
For certificates offered through universities, the pricing is typically based off the per-credit costs of courses offered at the school for those types of courses. For example, a post-graduate certificate program will usually cost the same amount per-credit at any particular school as regular students are charged for doctoral program courses.
That means that the National Center for Education Statistics (NCES) can offer you some idea of the ballpark range for certificate costs by examining the tuition and fees charged by different types of institutions at different levels.
NCES only offers this data for annual costs, so you have to do a little math to get it into per-credit costs. Since most schools run on a semester system, dividing by 30, representing a full undergraduate course load gives 2021 figures of:
For graduate coursework, the calculations are a little harder, since different schools consider a different number of credit hours as a full load. But if you assume 12 as typical, you find:
It's common to find certificates that total between $3,000 and $10,000 in total cost depending on the length and level of study.
Choosing To Complete Your Organizational Leadership Certificate Online
For such short programs, it rarely makes sense for students to relocate to be close to a school. But there's no guarantee you'll find the right fit for an OL certificate just down the block, either.
Many, if not most, organizational leadership certificate programs today are available fully online.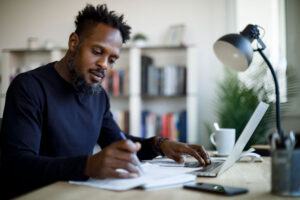 These flexible remote study options let you keep your commitments to work and to family while still absorbing all the lessons you need to build stronger leadership skills. Asynchronous coursework means you can fit your streaming lectures or online research assignments in to whatever parts of your day happen to be free. Whether it's a late session with your laptop in bed or pouring over your tablet while waiting for the kids after school, you can study whenever and however is convenient.
And with advanced learning management systems, chat connections, and virtual presentations, you can stay just as connected and just as in tune with your classmates and professors as you would with a more traditional class.
No matter what kind of organizational leadership certificate program you choose to attend, you'll take away lessons that are valuable in life as well as at work. Thinking in big-picture terms and learning how people tick are skills that will open up new avenues for you in all kinds of ways. An organizational leadership certificates is a quick way to get that perspective and to make things happen.
2021 US Bureau of Labor Statistics job market and salary figures for Management Occupations reflect national data, not school-specific information. Conditions in your area may vary. Data accessed in November 2022.