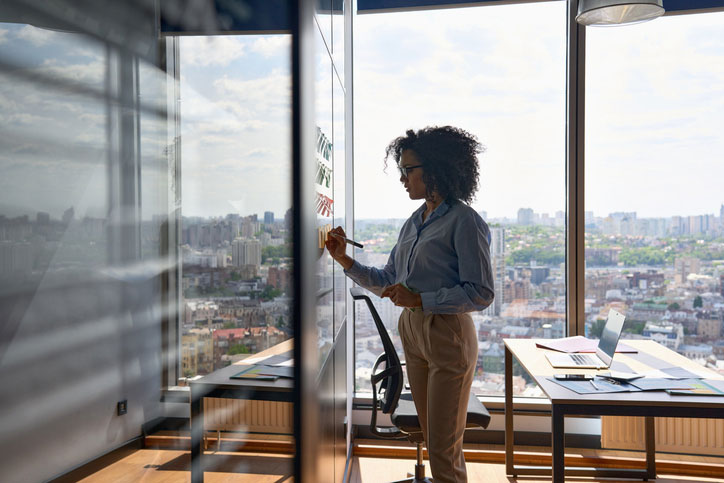 Point to just about any leader of distinction in government, non-profit, or corporate settings in recent history and you are looking at someone who started their journey with a bachelor's degree. The traditional liberal arts instruction in those programs, embracing both scientific and artistic studies, has long been recognized as a key in developing well-rounded managers and leaders.
<!- mfunc feat_school ->
Featured Programs:
Sponsored School(s)
<!- /mfunc feat_school ->
The four-year bachelor's degree is the bedrock on which American business and innovation are built.
Organizational leadership bachelor's degrees both continue and extend that kind of training. On top of the general knowledge and critical-thinking skills that come with any bachelor's, they offer students an in-depth exploration of principles of strategy and leadership.
You won't go directly from your college graduation from a bachelor's program to a top spot guiding a big corporate division or running an international non-profit. But every journey to those major, impactful roles starts there.
What a Bachelor's Degree in Organizational Leadership Can Offer to Future Leaders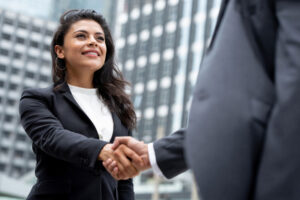 Leadership is a primeval phenomenon for humans. As social creatures, someone has always had to step up to look after the future and goals of the band, the tribe, the nation. So organizational leadership isn't a new concept; it's the study of something ancient and important.
And leadership is required at all levels in all kinds of human groups. Although naturally our minds turn to CEOs and presidents when we speak of the concept, the truth is that influence and initiative are vital in every span of control in every organization. A team leader on a manufacturing floor at a major car company may be the difference between making quarterly production numbers that wow Wall Street or send the stock price into a death spiral. Their ability to inspire and connect the team to larger strategic goals is just as important as that of the CEO.
Building Great Leadership Traits Starts Early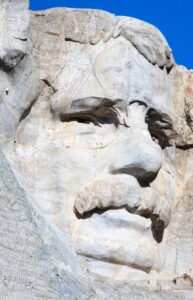 Some people seem to be marked for leadership almost as soon as they are born. Teddy Roosevelt, Jr. was one of them.
As a boy, he had an insatiable appetite for knowledge. He started his own museum of natural history at age 7 with two cousins, starting off with a seal head obtained at a local market then making observations and expanding the collection.
By the time he was 24, Roosevelt had already been elected to the New York State Assembly. He became known as a leader among anti-corruption efforts. Later, appointed as Police Commissioner in New York, he walked the beat with officers at all hours to familiarize himself with their duties and performance. During the Spanish-American War, he raised and recruited for the First U.S. Volunteer Cavalry Regiment and led the diverse unit into combat in Cuba, eventually being awarded the Medal of Honor.
All that happened before Roosevelt was 40. The governorship of New York and presidency of the United States were still ahead of him.
But it's easy to see how formative TR's early leadership experiences were. And they are a strong argument for the kind of preparation bachelor's programs in organizational leadership can offer. They come with the same kind of classical education that Teddy pursued throughout his life. And they put you in a position early on to take charge even in junior roles and to form your own style and brand of leadership.
Those junior leadership roles are ultimately important to the long-term health and development of senior leaders. You can't just parachute into an executive leadership job with only a college degree behind you. Experience is just as vital. Experience you can start acquiring with a bachelor's in organizational leadership behind you.
Finding the Right University for Your Organizational Leadership Bachelor's Degree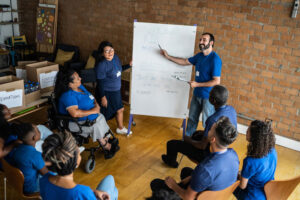 More and more business schools are starting to offer bachelor's degrees in organizational leadership. That's good news because it means you have more choices in more areas. But it also means you will need to spend some time evaluating the best option for your career goals and budget.
You can think of this as a practical exercise developing your OL assessment skills! You'll want to look at factors like:
Educational Resources and Student Support – Studies in organizational leadership require a lot of case studies and other research data, so you will want a school that has solid libraries and expertise on tap for your needs. That goes hand-in-hand with resources for tutoring and academic advising to help you chart the right path for your career plans.
Faculty Quality –Teaching is a kind of leadership role, and you will want to get your knowledge of organizational leadership from the best. So schools that have instructors who are both recognized academic stand-outs and experienced leaders in their own right should be high on your radar scope for OL degrees.
Industry Connections – Universities acquire and maintain domain expertise in different industry and business fields by keeping close ties to the private sector. Much of what you will learn may revolve around projects and challenges that are specific to projects on which your professors have worked, or that the school is cooperating on. Finding a school with ties to the right industry to match your ambitions is a good idea.
Network Development and Career Advising – OL is a relatively new field and graduating with a bachelor's degree doesn't automatically aim you at a particular career path like some other degrees. It's important to get support from your school to help you network and evaluate different job options, not to mention offering guidance in interviewing, resume-writing, and other practical demands of job-hunting.
In some cases, specialty accreditation is a factor that may make your choices easier. In the business world, there are three organizations that offer specialized accreditation for business degrees:
All three of these organizations evaluate business departments or degrees for the right kind of faculty, support, and curriculum to meet the standards of modern business.
Not all OL programs are run by business schools, so not every program is eligible for this accreditation. But in cases where they are, you know you are getting top-notch training by picking an accredited school.
What Does It Cost To Earn an Organizational Leadership Bachelor's Degree?
Cost is a factor that everyone has to spend some time considering when evaluating schools. In an era where student debt is ballooning, you will have to pick a program where the cost of attendance is balanced by solid value in your educational outcomes.
The National Center for Education Statistics tracks costs for both public and private schools across the United States. For 2021, the average tuition and fees per year at a public university amounted to $9,375. At private schools, it was considerably higher, coming in at $32,825.
For four years, then, the total estimated cost of tuition and fees for an organizational leadership bachelor's degree would be:
Considering an Online Bachelor's Degree in Organizational Leadership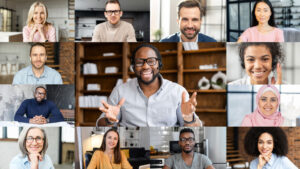 Of course, there's more to account for than just tuition and fees. College costs can include housing, relocation, and other costs associated with attendance. But you can manage many of those costs through an online bachelor's degree. Organizational leadership is one area leading the way in remote studies.
More and more organizational leadership programs are being offered through the internet today. It's an easy call for many students who turn to these programs. Avoiding the necessity of relocating to pursue a degree can not only help keep your costs down, but it can also allow you to keep your lifestyle on track.
Online studies offer more advantages than just being able to hang out in your hometown with friends and family after class, though. They are also offered primarily asynchronously, which means that you don't have to be in class at the same time as your classmates and professors. Instead, you'll watch streamed video lessons, interact through chat rooms and learning management systems, and take care of your coursework whenever and wherever it's most convenient for you.
That lets you take care of family and professional obligations while still moving your leadership training forward. And in many cases, it will help keep your costs down by allowing you to stay at home instead of moving to be close to school.
Wide-ranging Studies Expose You to All Kind of Leadership Skills and Examples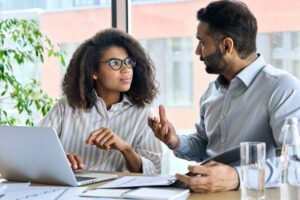 Bachelor's degrees in general offer students a wide range of different courses to help explore the world and their own future.
That's equally true in OL degree programs, and even more so within the field of leadership itself. Bachelor's studies have the broadest variety of different OL subjects available in any kind of organizational leadership degree program. These are the moments in your education where you have the opportunity to spread your wings and find your strengths and interests as a leader.
You'll explore coursework in areas such as:
Leadership requires moral authority, and moral authority is established through ethical behavior. Coursework in this area will teach you the obligations of leaders to their workers, and help you work through challenges in conflict resolution and group management.
Social and Behavioral Dynamics in Organizations
Humans are social animals, but the complexity with which all our collective preferences and personalities come together can result in unexpected difficulties. By studying the psychology of groups and social organizations, you'll spot problems before they develop and have tools to handle them when they do.
Much of what makes effective leaders comes down to the simple mechanics of getting everyone in your charge on the same page. Standard project management tools and techniques are a valuable way to keep your vision on track and on schedule.
Theory and Practice in Leadership
You'll have plenty of time to study historical examples of leadership, and scientific studies of what has made great leaders in business and other venues. In class you will learn to break down how leaders have learned to work with the resources they have and to achieve objectives that are more than the sum of their parts.
Change Management and Innovation
Strategy in modern corporations requires adaptation. Change is one of the most difficult leadership challenges to manage, and this coursework offers a picture into the analysis and techniques strong organizational leaders use to bring innovation to their organizations and industries.
Assessing Individuals and Organizations
Accurately perceiving and analyzing the individuals and culture within an organization is often a key in organizational leadership. Few leaders get the opportunity to start with a blank canvass. More often, you'll be starting with the tools and techniques offered in these classes to see what you have to work with and to build the most effective strategy in the circumstances.
In addition to your core coursework, you'll have plenty of different elective classes to choose from to specialize or further develop your range of leadership expertise. These may include:
Of course, all these areas can be complemented by required areas of study in a typical bachelor's degree. In a field where the soft skills of creativity and interpersonal relationship development are key, you can find enormous benefits in standard liberal arts courses such as:
And many programs offer international or internship experiences, which will give you an even broader view of the cultural and organizational factors that apply in leadership.
You can find organizational leadership bachelor's degrees offered as both Bachelor of Science and as Bachelor of Arts degrees. Arts versions tend to focus more on psychological and interpersonal aspects of leadership, while the sciences lean on analytics and management mechanisms.
Choosing a Concentration to Focus Your Organizational Leadership Studies Toward Your Goals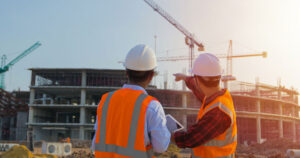 Leadership cuts a wide swath through the human experience. Every industry has different contexts in which leadership is applied. There are different techniques and expectations to be mastered, and choosing a particular concentration in your organizational leadership bachelor's degree is one way to do it.
While it's unusual to find industry specializations at the bachelor's level, there are a number of different general leadership areas that are commonly offered as focus areas in bachelor's degree in organizational leadership. Those include:
Projects absorb a lot of attention in the management ranks in many organizations. Coursework that combines PM techniques and tools with leadership and inspirational ideas helps you master those environments.
Managing diverse workforces is always a hard job. Inspiring and motivating them is even more of a challenge. These concentrations teach you how to apply OL principles to bring your diverse teams together and accomplish great things with them.
There are special challenges that come from managing creative and sales staff in any organization. These concentrations teach you how to use market research, economics, and communication skills to develop and reach new goals in sales and marketing.
Leaders today have a wealth of different technologies and tools to reach out to their organizations. Communications concentrations teaches you how to use social media, public relations, and crisis communication strategies to best effect.
Occupational Safety and Health
There is nothing more important in any organization than the health and safety of the workers. But pressures for productivity and sales can push the boundaries. Real leadership requires pushing back on unsafe practices and this concentration offers the training in occupational, environmental, and health safety to give you the standing to do so effectively.
HR is one of the most common areas where OL is applied in most companies. With extra training in regulation, ethics, and motivational practices, you'll come out of these concentrations with the skills to help any organization maximize their human resources potential.
You may find programs that offer concentrations like healthcare management or industrial leadership that do help tailor your studies to a particular industry, however.
Doubling Up: When an Organizational Leadership Major Works Best as Half of a Dual-degree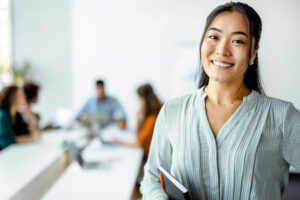 An organizational leadership bachelor's degree can give you a big boost and a lot of confidence in your abilities to take a team or department to the next level. But it doesn't come with the kind of focused, professional training that many industries require of their entry-level managers.
So it often makes sense to take organizational leadership as half of a dual degree bachelor's program. It's a tough academic road to take, but it's one that can double up your expertise while still minimizing your time in the classroom.
That's because double majors don't double up on your core bachelor's coursework. You'll take twice the load in your major coursework, but all the general requirements for a degree are all covered only once.
So you can take an OL major on top of a professional program in fields such as:
Education
Business
Human Resources Management
Public Health
Healthcare Management
Public Affairs
Information Technology
Non-profit Management
When you graduate, you'll be primed not only with the field-specific knowledge needed to earn respect on the job, but the leadership skills to get ahead of the pack.
Organizational Leadership Grads Transition to Management Jobs Straight Out of College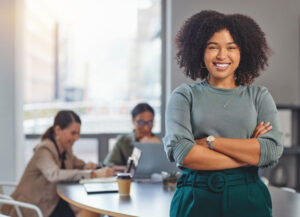 One of the great things about bachelor's degree in organizational leadership is the exceptionally wide range of jobs they will qualify you for. Leadership is needed in every industry and at every level. You can branch your career in any direction that interests you after graduation.
If there's something that all these roles have in common, though, it's management. You're sure to be in a position where you will take on responsibility for a team or department. That means you'll be looking at jobs with titles like:
Of course, these jobs are just the tip of the iceberg in management and executive careers. An entry-level management position lets you put your OL studies to good use while developing the practical experience you need to get promoted.
Organizational Leadership Salaries Average Six Figure Compensation Packages
It's tough to pin down salary expectations for graduates with an organizational leadership bachelor's degree. Every position in every industry has different factors that contribute to the salary range. Regional differences are also a big factor.
The median salary for all management occupations in 2021 was $102,450 per year.
But you can look at the national median for the positions noted above, all of which require a bachelor's degree to get started:
Of course, if you are pursuing a career in a field that requires additional specialized training, like nursing or architectural and engineering management, your salary is likely to be higher. But you'll also have to rely on either a dual degree program or other education to become qualified as both a leader and a professional in those fields.
Most leaders aren't in it strictly for the money, however. You are going to be taking your strategic planning, communications, and other hard-won leadership tools and using them to accomplish great things. You'll inspire staff and innovate in your field. The rush that comes from leading a team to amazing accomplishments is something that money can't buy.
2021 US Bureau of Labor Statistics job market and salary figures for Management Occupations reflect national data, not school-specific information. Conditions in your area may vary. Data accessed in November 2022.