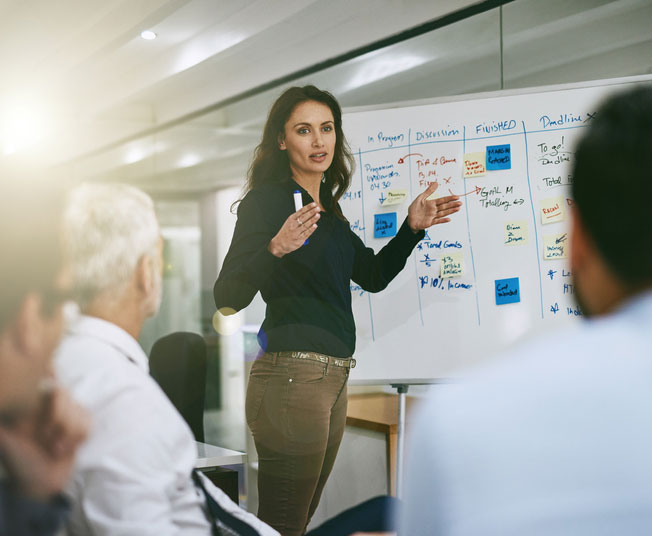 Yet for all the importance that marketing has in every kind of business and sales organization, it can be a very fuzzy career path to take. Many companies don't seem to know exactly what their own marketing department does; marketing departments themselves often have difficulty proving their own value and contributions to the bottom line.
On top of all that, marketing is full of independent, creative personalities. The kind of staff you need to come up with a groundbreaking advertising campaign may not be the sort of people who will sit quietly through a staff meeting or conform to a corporate budget.
A 2022 LinkedIn research report found that marketing jobs have some of the highest turnover rates in the business world… nearly 13 percent.
For executives in marketing, this makes management and administration a challenge from both above and below. Their job requires both developing strong relationships with other senior leaders, while herding their own staff toward a unified vision.
But there are solid academic tools available for dealing with exactly those problems. You can develop the marketing leadership skills you need to avoid joining that 13 percent through a degree in the emerging field of organizational leadership.
What Is Organizational Leadership and How Does It Help With Senior Marketing Positions?
Organizational leadership is a style of management that fits together perfectly with the demands and motivations of the marketing world.
Rather than a highly formal, top-down style of management, OL focuses on supportive, collaborative leadership rooted in:
Marketing leadership is all about vision. You must be able to anticipate the needs and tastes of your market and develop a pitch out of nothing that will appeal to the audience. And in many cases, marketing leaders are also closely involved with product development, pricing, and branding efforts that require entirely new ideas that cultivate excitement and opportunity.
When Marketing Leadership Overcomes Doubts, Great Things Can Happen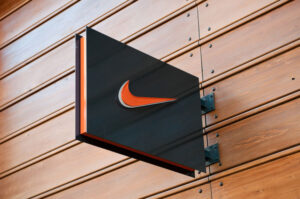 Even if you aren't dreaming of a senior leadership role in marketing or advertising, chances are you are very familiar with Nike's "Just Do It" campaign. Running for a decade, the campaign saw Nike's market share jump from 18% to 43% of the domestic American sport-shoe business. The phrase itself is a trademark.
But if not for strong marketing leadership, it might never have seen the light of day.
"Just do it" was an inspirational phrase that was itself inspired by something far more grim: the last words of a condemned man facing a firing squad.
"Let's do it," said convicted murderer Gary Gilmore just before he was executed at the Utah State Prison. The advertising exec who came up with the "Just Do It" campaign was from the same city as Gilmore and remembered the phrase.
Nike was hesitant about the idea at first. But ultimately, advertising executive Dan Wieden persuaded them to trust him.
$9.2 billion in worldwide sales later, it's safe to say they did.
It's clear how the pillars of organizational leadership can support marketing executives in those parts of the job. All that is left is figuring out how you can get the education you need to learn all about OL.
What Degrees Are Available in Organizational Leadership for Marketing Professionals?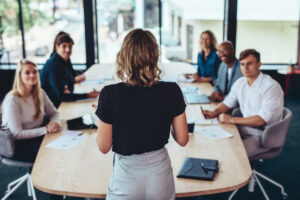 Specializing in organizational leadership in the marketing world is still a slightly unusual choice. So when you look at marketing degree concentrations, it's much more common to find them offered in functional areas like digital marketing, event marketing, or advertising. Some marketing degrees do offer options such as sales leadership or sales force effectiveness which cover many of the same organizational and motivational subjects as an OL degree.
To build leadership expertise, it's been far more common in the past for people interested in taking charge of marketing organizations to pursue degrees in business, particularly the Master of Business Organization (MBA) to round out their executive skills. Another option is the Master of Science in Marketing Management, which can include some leadership-oriented coursework.
You can sometimes find degrees in business that mash up marketing and organizational leadership studies, such as the Bachelor of Business Administration (BBA) with a concentration in Marketing, Management, and Organizational Leadership.
Organizational leadership offers a new option for marketing professionals who want to develop their leadership skills without the broader business management training that comes with an MBA. Many organizational leadership programs at all levels offer marketing concentrations. While this doesn't offer the same full training in marketing principles as a dedicated marketing major, it does allow you to hone your leadership skills with a genuine lean into the specific challenges and needs of marketing leadership.
Different Organizational Leadership Degree Levels Help You Find the Right Training for Your Marketing Management Goals
The depth of education you will get out of any college degree depends a lot on what level of study you engage with. Of course, higher education is also a bit like a ladder. You aren't eligible to pursue advanced degrees until you first get the foundations in.
Bachelor's degrees provide foundational knowledge for developing your core expertise in organizational leadership and marketing. With four years to sink into your studies, you have the time to both explore and develop your professional knowledge and skills. These are also the essential credential that most American businesses look for in even entry-level management candidates.
Master's degrees offer advanced expertise in your field of interest. For organizational leadership, these typically take a year or two to complete. They are common among executives in many marketing organizations.
Doctoral degrees develop academic and research skills in some of the most respected experts in organizational leadership. They can take from five to seven years to complete, and involve considerable specialization and research. You can develop your own thoughts and break new ground in the field, but they are primarily aimed at preparing educators and academics.
Certificate programs deliver a slice of organizational leadership training in a fast, easy-to-access format. They don't provide the depth or breadth of a full degree, but are far less expensive and can take less than a year to complete. They are offered at the post-secondary, graduate, and post-graduate levels to accommodate students at any level of education.
Dual Degrees Offer In-depth Expertise in Both Marketing and Organizational Leadership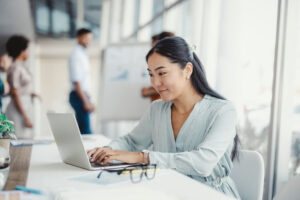 If you don't want to have to pick just one field to develop your skills, there's another option: earn a full degree in both organizational leadership and marketing.
A dual degree involves doubling up your major coursework to cover the full spectrum of classes for both subjects. General requirements only need to be taken once, however, so you can still graduate faster than you would if you pursued both degrees separately. This is particularly useful for bachelor's degrees, which may be as much as half general education coursework.
Because so many marketing managers elect to earn an MBA with a marketing concentration, it may be easiest to pick a dual MBA-MSOL/MAOL program where the MBA includes a marketing concentration. But you may be able to identify master's degrees in marketing at schools with MAOL/MSOL options to double up with.
It's also possible to earn degrees at different levels in different subjects. So, for instance, you could earn your bachelor's degree in marketing, for the full spectrum of general marketing training, and then pick up a Master of Science/Arts in Organizational Leadership (MSOL/MAOL) to hone your executive skills.
Organizational Leadership Coursework Delivers the Knowledge and Skills Needed To Take Charge in Marketing
Organizational leadership classes deliver a combination of foundational knowledge in leadership principles and the practical skills you need to put those lessons into practice.
Foundations of Organizational Leadership
The theory and practice of organizational leadership rests on solid academic and historical backing. These classes will walk you through case studies and analysis that demonstrate the core tenets of strong organizational leadership.
Social and Psychological Aspects of Organizational Behavior
You'll study the psychology of how groups of humans operate and relate to one another, and learn how the rules of interaction can reinforce your leadership initiatives and serve the overall mission of the organization.
OL is based on empathy and understanding. So most OL degrees teach you how to evaluate the marketing organization you are working within, with the tools and analytical techniques that will help you appraise your workforce and design the best strategies to support them.
Effective organizational leaders not only need big-picture vision and inspiration, but also must master the nuts and bolts details of how big marketing projects are launched and managed. Courses in project management teach you how to use the most common tools and give you the techniques you need to keep marketing projects on track.
Marketing and advertising management requires strong ethical standards, and most marketing degrees include coursework in ethics and compliance. Organizational leadership builds on this and emphasizes how effective leaders both set and maintain ethical standards within their organizations.
Change and Conflict Management
– Every organization must deal with change to remain relevant. And every organization has conflict associated with that change. Marketing organizations may have more than most! So learning how to apply professional techniques in negotiation and conflict resolution is a key and useful component of your OL training.
Particularly at the bachelor's degree level, you'll also have plenty of elective options to round out your education. You can use these to tailor your marketing, public speaking, or general business acumen while still getting the full program of OL classes.
At higher level degrees, it becomes more and more common to take part in internships and research projects that immerse you in real-world leadership challenges. With mentoring from experienced marketing leaders, you can develop a better feel for the subtle realities of taking charge in the marketing world. And research experience helps you understand the roots of solid leadership and communication from the ground up.
Finding the Best School for an Organizational Leadership Program to Boost Your Marketing Career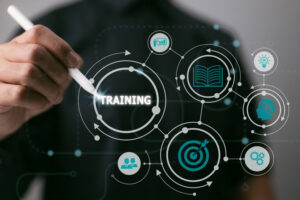 Finding a university that serves up that essential curriculum is the easy part. The bigger challenge is to find a college that has the right quality and right connections to help you launch your marketing leadership career.
That's going to come down to factors such as:
A shortcut to evaluating some organizational leadership and marketing degree programs is to see if the school or program holds a specialty accreditation from one of these three bodies:
AACSB (Association to Advance Collegiate Schools of Business)
IACBE (International Accreditation Council for Business Education)
ACBSP (Accreditation Council for Business Schools and Programs)
Not all OL degrees are eligible for accreditation from these business-focused accrediting agencies. But since both marketing and OL degrees are often offered through business schools, any that are covered by any of these groups have already clearly demonstrated their academic quality as meeting the high standards of the business community.
Online Programs in Organizational Leadership Offer Degrees With Less Disruption
Many schools today are putting more and more focus on online degree options. That's especially true in areas like marketing and organizational leadership where the quality of ideas and interaction are more important than face-to-face meetings.
Online programs can be a golden opportunity for marketing professionals who want to up their organizational leadership game.
Because you don't have to relocate to find programs that combine HR and OL training, you have every chance to find the perfect program for your goals.
And because those online degrees are usually presented asynchronously, you can often fit your studies into your current career and personal obligations. With on-demand class video streams, 24/7 tech support, and online chat options, you can tune in whenever you have the time to focus.
That leaves the rest of your day to deal with work, family, or any other obligations on your plate. And you can complete your coursework with the same level of detail and in the same time as a traditional on-campus program.
How Much Does an Organizational Leadership Degree for Marketing Professionals Cost?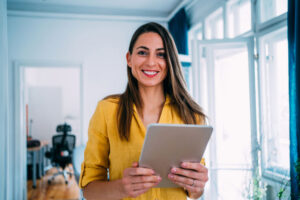 Getting a top-notch education in either organizational leadership or marketing isn't going to be cheap. A first-rate school that offers the best instructors, the right industry connections, and the full slate of resources you need to succeed isn't going to have a bargain-basement price tag attached.
So what will an organizational leadership or marketing degree cost you? The National Center for Education Statistics keeps the books on American college costs. For 2021, they calculated that the average annual cost of tuition and fees for undergraduate programs was $9,375 at public universities, and $32,825 at private schools. For graduate degrees, the annual rates were $12,410 at public colleges and $26,597 at private universities.
Of course, that's just tuition and fees. You're also still on the hook for housing and general living expenses. An online program can often help you keep those manageable, since you can stay at home no matter where your school is located.
High-level Marketing Leadership Jobs Are Easier To Land With Organizational Leadership Skills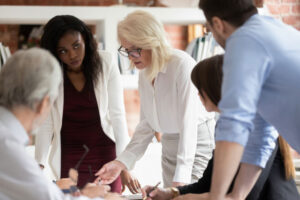 The flip side of the coin to high college costs is the high-level jobs that you can land with the combination of a first-rate organizational leadership degree stacked with the right marketing expertise.
The Bureau of Labor Statistics (BLS) puts these positions into the category of advertising, promotions, and marketing managers. They are responsible for executive decisions such as:
They may oversee small teams of only a handful of creative and marketing professionals, or lead big departments with hundreds of specialists in all kinds of advertising and marketing jobs.
In all cases, the empathy and assessment skills that you pick up in organizational leadership studies are a big help in dealing with the independent and creative souls that are drawn into marketing. Getting sales staff, artists, and PR staff all on the same page and working toward the same big brand vision is no easy task. The right OL training lets you plant a flag that everyone can flock to in your organization.
What Do Senior Marketing Leaders Make?
That kind of leadership talent is rare, and companies are willing to pay top salaries to get qualified managers in the door.
For 2021, BLS found that the median salary for an advertising, promotions, or marketing manager came to $133,380.
But averages can be deceiving. That broad range of managers includes people who are just starting out, and individuals who are basically one-person marketing departments at small organizations.
The kind of manager who takes the time and trouble to hone their leadership skills through a degree in organizational leadership is more likely to end up at the top of the range. And that peak is so high that BLS actually stops counting before they get there. In 2021, the top ten percent of advertising, promotions, and marketing managers made over $208,000 per year.
The BLS salary baseline doesn't even count the kind of incentives and bonuses that are common in the industry. Total compensation can jump massively when you hit all your targets as an effective marketing leader.
Marketing is an exciting part of the business world. Although the money is definitely a factor, many marketing leaders end up where they are because they love the sense of accomplishment and teamwork that comes with success. Organizational leadership skills both make that success more likely, and enhance the very things about working in marketing that you may already love:
When you throw all that together with the high salaries you can pull down as a marketing leader, it becomes clear just how valuable organizational leadership degrees can be in the marketing field.
2021 US Bureau of Labor Statistics salary and employment figures for Advertising, Promotions, and Marketing Managers reflect national data, not school-specific information. Conditions in your area may vary. Data accessed December 2022.