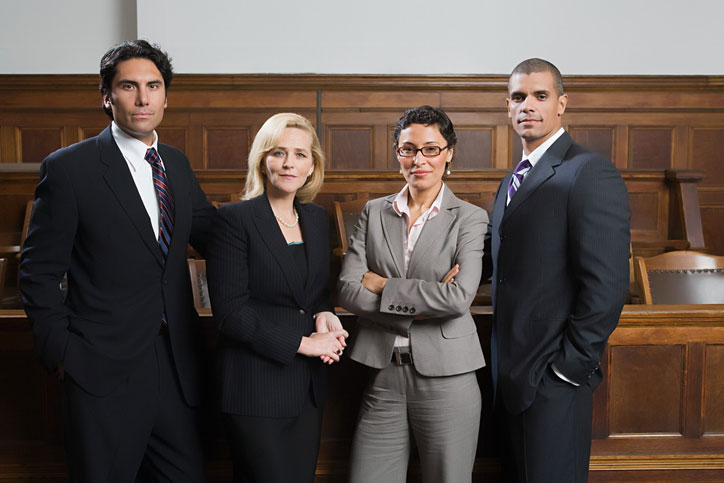 Everyone who has ever watched any sort of courtroom drama is aware that lawyers are almost always part of a larger team. Within legal departments or law firms, they work together with other lawyers and paralegals on complex cases. In the offices of prosecutors or public defenders, they also work with police or investigators. And there are almost always witnesses, clients, court staff, and other kinds of experts and professionals involved with the day-to-day business facing the American justice system.
<!- mfunc feat_school ->
Featured Programs:
Sponsored School(s)
<!- /mfunc feat_school ->
It's often less clear who is in charge. Lawyers may manage their own cases, but there is usually a lead who may assign and manage other legal professionals on the same job. In larger departments or firms, there are supervisors who may assign cases, oversee progress, and handle all the major and minor tasks that come with administration.
What the movies and TV shows don't often show is the leadership that goes into putting those teams together, motivating them, and resolving the disputes that inevitably come up when you get a room full of legal hot-shots together.
Leading legal teams is no cake-walk, but it's not a topic that comes up a lot in legal education. If it's a role you're interested in, however, there are degree options out there to get organizational leadership training designed specifically for legal careers.
Leadership Skills Can Build on and Enhance Legal Training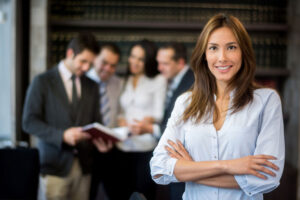 Leadership skills are actually useful for legal careers in several different ways.
First, the most traditional need is for accomplished and knowledgeable legal minds to step up and take charge of handling legal cases. A complex court case is every bit as complex as any kind of business challenge. It requires similar vision, strategic planning, communication, coordination, and decision-making skills… all of which leadership training provides.
Second, law firms themselves are also businesses, and face all of the same issues and needs as any business. That includes elements of positioning and business strategy, marketing, human resources, and communications. A managing partner at a large law firm needs all of the same leadership skills as any executive at a Fortune 500 company… and maybe more, since they will be dealing with employees who are attorneys!
Finally, laws are not just interpreted by lawyers, but in many cases written by them as well. As the operating code that powers society, there is a constant need to revise and update laws and regulations to handle new challenges, new social perspectives, and changing needs in the community. Someone has to step up and propose those changes, and those people need both advanced legal knowledge and the leadership skills to persuade people and advocate for their position.
Of course, that skillset overlaps extensively with the kind of skills that lawyers need and are trained in as a matter of course. Law school itself is a long exercise in developing communication skills, ethical behavior, and conflict management. When you put it together with the advanced interpersonal and strategic planning that come through organizational leadership studies, it's not so much adding new skills as bolting on rocket boosters to your existing skillset.
Identifying Degrees in Law that Provide Leadership Training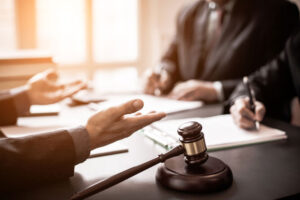 Just like your legal training, that kind of leadership skill only really comes through college-level coursework.
Of course, that also presents a problem: in order to become a lawyer, or even get a job as a paralegal, you're already going to be spending a lot of time in school. And getting through law school is no joke—you'll be operating on full throttle to absorb what you need to pass the bar in a juris doctor (JD) program.
That leaves you with only a few options to get university-grade leadership training for your legal career.
Earn a Leadership-focused Degree at the Bachelor's Level
Just getting into a JD program means earning a bachelor's degree first, since you can't even apply to law school without one. And many law schools aren't too picky about what your undergraduate major is. In fact, many of them prefer to recruit from diverse fields of study.
So starting off with a Bachelor of Arts/Sciences in Organizational Leadership (BAOL/BSOL) is one option. You can find these dedicated programs bundled together with pre-law coursework in specializations such as the Bachelor of Science in Organizational Leadership, Legal Studies concentration. There are also options that come at it from the other direction, such as a Bachelor of Arts in Legal Studies with a minor in Leadership.
And if there is a specific area of law you want to focus on, there are even more choices, like a Bachelor of Science in Criminal Justice with a Leadership emphasis if criminal law is in your future.
Bachelor's programs in general will take four years to complete. They can cost anywhere from $37,500 to $131,300 in tuition depending on whether you attend a public or private university, according to 2021 data from the National Center for Education Statistics.
Your legal and leadership studies are rounded out by more general coursework designed to teach critical thinking, communication, and other skills essential to professional positions in any field. Your choice here will put in the foundation for the advanced studies that will qualify you for a career in the law.
Pursue a Dual Degree at the Master's Level
If you don't opt to pursue leadership studies at the baccalaureate level, your next bite at the apple will come at the graduate level. And the easiest way to pursue both a legal career and leadership is through a dual-degree program.
Dual degrees are very common on JD tracks, since your juris doctor is a must-have to practice law. Options like a JD/MSOL (Master of Science in Organizational Leadership) or JD/MBA (Master of Business Administration) with a Leadership concentration are offered at many universities to allow you to round out both legal and leadership skills.
Although a dual degree is a lot of work, it's still typically faster and less expensive than pursuing two graduate degrees separately. And there is a lot of room to specialize—something like a JD/MS in Government Organization and Leadership might be a great choice if you hope to use your legal leadership training in the legislative world, for example.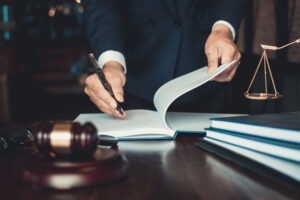 There are also very rare LLM (Legum Magister, or Master of Laws) postgraduate degrees with a leadership focus. These offer advanced, specialized study in specific areas of law, and require a qualifying professional degree for application.
While a law degree will typically take three years to complete, most MSOL/MAOL programs only last for a year or two. It's hard to disentangle the costs in dual degree programs, but according to NCES, the average cost per year of graduate education in 2021 was $12,410 at public universities and $26,597 at private colleges.
Of course, law degrees are widely understood to be more expensive than most other types of graduate studies. NCES no longer tracks the costs of such degrees separately, but data from 2010 suggests that tuition for a legal education can run to double the amount of a typical graduate degree.
Pick up a Certificate in Legal Leadership
If you skipped leadership training at the bachelor's level and didn't want to get distracted in a dual-major at the graduate level, you may find that a certificate program in organizational leadership for legal professionals offers what you need.
With only a handful of courses, these programs aren't as comprehensive as a full degree, but they are much quicker and less costly to complete. You can also zoom in on exactly the kinds of skills you want to polish up without the broader approach found in a full degree.
Certificates such as Leadership in the Legal Profession, Leadership in Law Firms, or even a Business Leadership Program offered by some law schools can focus on the kind of executive leadership skills you might need as you climb the ranks at your firm.
Exploring the Leadership Studies Curriculum for Legal Professionals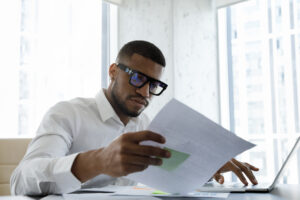 There is a lot of overlap between traditional legal studies and the curriculum in an organizational leadership program. In any dual degree program, this means you'll be getting a double-barrel course load to cover all the communication, negotiation, strategic analysis, and other common skills.
But the organizational leadership side of the table comes with a unique perspective on those skills. You'll learn how they are applied not to legal reasoning and the adversarial realm of the courtroom, but how you can use them to build up and motivate your own team and associates.
In bachelor's programs that combine legal studies and leadership training, you're more likely to find a mix and match approach where topics are covered from both angles.
In either case, you will find classes such as:
Foundations of Leadership – Leadership theory and the practical applications are taught in these courses, which rely heavily on case studies, research, and the social psychology of group behaviors. You'll learn what the evidence shows makes for great leadership and how to turn that into practical approaches for developing your own leadership style.
Change, Conflict, and Negotiation – This coursework is red meat for future legal professionals, who thrive on the adrenaline of balancing competing interests and finding solutions to seemingly intractable problems. From the OL perspective, these classes will be as much about managing change and reducing conflict before it happens as about litigating differences, however. You'll learn how to smooth over problems and resolve issues with a view toward building new connections and opportunities.
Legal and Organizational Ethics – Ethics training has a big role to play in every kind of legal education, but ethics is also an important concept for leaders in every field. Being seen as fair and just is an important quality for a leader to have, and understanding not just the mechanics of ethics, but also the philosophy and psychology behind them is the goal of these courses.
Organizational Behavior and Theory – All good lawyers are good psychologists as well. The same can be said for leaders. This coursework will dive into the important psychological science behind group behavior and social interactions that define organizations. You'll learn how behaviors can be influenced by social situations and how to build organizational structures that encourage and motivate your team.
Strategic Communication – Communication skills are another area where legal training already brings a lot of horsepower; law school can seem like a nonstop series of writing briefs and papers, all designed to hone your clarity and incisiveness in persuasive legal writing. But leadership training adds strategic communication theory and practice to your studies, teaching you how to use your ability to communicate to support larger organizational goals.
Law degree also typically come with externship or internship opportunities that place you in active practices or courts, helping to prepare briefs, observing legal reasoning in action, and seeing how senior partners and judges actually exercise leadership skills.
After graduation, clerkships are a common way to continue this on-the-job instruction, developing your legal and leadership skills even further… and developing mentors and connections that will serve you well for the rest of your career.
Honing Your Capabilities in Legal Leadership Through Elective Options
Both leadership and the law are vast fields with many specialized fields of practice. No single fixed curriculum will prepare you adequately for every kind of job in these fields. So every degree offers extensive options for elective courses that let you brush up on the subjects that you are most likely to need in the course of your career.
Those can include courses such as:
With dual-degree programs, you'll naturally get the full spectrum of elective choices that come with both degrees, so you can specialize even further.
Meeting the Challenge of Finding Schools To Support Both Your Legal and Leadership Education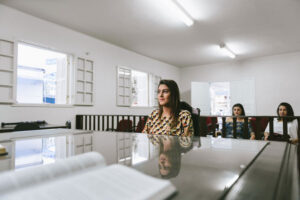 Getting into law school is no easy task. The school you do attend will have a huge impact on your career and opportunities. Yet there is enormous competition, and many law schools can be highly selective.
That path becomes even narrower when you are looking at combining leadership and legal training. Not all law schools come with leadership education options. As you're looking at those that do, they may be even harder to get into.
You have to start planning the course of your legal leadership education early, making sure you are putting together the right credentials and experience to get into the school you want.
Of course, this starts at the bachelor's level. Your degree and academic achievement will have a big impact on graduate admissions.
So it pays to take a careful look at the quality and opportunities that these programs can offer you. Factors to consider should include:
In many cases, you can count on the work of specialty accreditors to help you make your decision about quality schools. The American Bar Association doesn't formally accredit law schools, but it does keep a list of approved law schools, which is the first and last word in acceptable JD-level education in the United States.
ABA also approves paralegal programs, offering an additional seal of approval if that's your path into the legal world.
Things become more complicated when you start looking at the organizational leadership side of your education, however. There's no specific specialty accreditor for leadership programs, and they are often offered by schools in very different fields. In some cases, they may be conducted by the law school itself; in others, a joint program may be run by a business school or other department.
For business school leadership degrees, you can look to the three specialty accreditors in that field for your stamp of approval:
AACSB (Association to Advance Collegiate Schools of Business)
IACBE (International Accreditation Council for Business Education)
ACBSP (Accreditation Council for Business Schools and Programs)
But in cases where the leadership program is conducted by another department, lack of specialty accreditation may not mean anything at all.
An Online Education Can Make Both Studies in Law and Leadership Easier for Busy Legal Professionals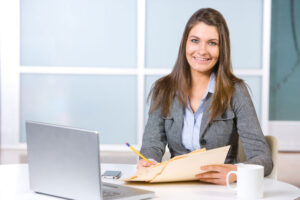 Both legal and leadership training today benefit from a wide variety of programs that are available entirely online. These deliver the same level of excellence as any traditional degree, but offer flexibility that on-campus programs can't match.
That starts, of course, with not having to be anywhere close to campus. With so few schools offering both leadership and legal degrees together, you are very likely to have to look well outside your current community to find the right fit. With online degrees, that becomes possible without the expense and difficulty of physically relocating to attend school.
The flexibility often extends beyond the physical into the temporal, too. Most online programs are asynchronous, meaning that you don't have to attend class at any specific time, either. Your lectures and course materials are likely to be posted online, so you can access them any time that works for you. Similarly, participating in class projects or communication comes down to chat channels or message boards, accessible whenever and wherever you have access to the internet.
It's a combination that is hard to beat, whether you are just starting out and still living at home, or already hard at work in the legal world and don't want to come up short on your job duties.
Taking Your Legal Career Into Jobs That Make Use of Your Talents
Of course, the standard job for someone with a law degree is basically lawyer. But there's really nothing basic about it—the law is so pervasive and widespread that lawyers can specialize in all sorts of different areas, from business law to international law to divorce or immigration law. Indeed, there are entire firms that are dedicated to every type of practice, and any of those firms can use solid legal leadership.
But not all legal leaders work as lawyers. In fact, in some offices, it may be a manager with paralegal credentials who handles most of the business strategy and administration.
Lawyers sometimes also end up as judges, which offers a completely different perspective on leadership in the field of justice.
When Legal Leadership Shapes a Nation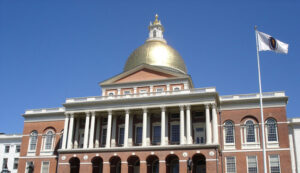 No one was questioning Oliver Wendell Holmes Junior's leadership skills even before Teddy Roosevelt appointed him as an Associate Justice of the Supreme Court of the United States. He had served as an officer of the 20th Massachusetts Volunteer Infantry in the Civil War, eventually being wounded three times, and rising to the rank of lieutenant colonel. After the war, he became a respected Boston lawyer, a Harvard Law professor, and Associate and then Chief Justice of the Massachusetts Supreme Court.
But his mark on American jurisprudence really happened during his thirty years on the Supreme Court of the United States. Known for short but pithy opinions, Holmes rarely dissented, but often foresaw and even charted the future course of legal reasoning when he did so. His opinions cleared the way for later rulings solidifying freedom of speech and the right to organize labor.
Holmes remains the oldest serving Supreme Court justice, having retired only two months shy of his 91st birthday.
Holmes' opinions remain among the most commonly cited and his influence on common law and civil liberties continues even today.
And there is a big chunk of graduates with law degrees who don't actually practice law as a profession. They may go into government, work for non-profits, or even become elected officials.
According to the ABA, 175 members of Congress held law degrees in 2021.
Clearly, all of these jobs can benefit not just from advanced knowledge of the law, but from formal organizational leadership training to inspire and motivate people inside and outside your organization.
Legal Leadership Salaries Are Sky High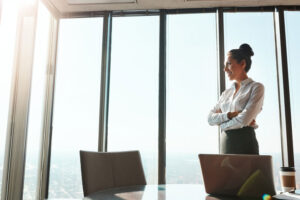 Lawyers are famously one of the higher-paying professions in the United States, so it's not like you are going to be worried about your salary even before you earn a degree in organizational leadership. According to the Bureau of Labor Statistics (BLS), the median salary for lawyers in 2021 was $127,990.
But that's just the average, and leadership skills will put you way above average wherever you land. According to BLS, the top ten percent of all lawyers earn more than $208,000 per year in base compensation. In truth, the figure is probably a lot higher than that—BLS stops counting at $208,000!
And big wins for your office will often translate into bonuses and other compensation that puts million dollar take-home well within reach as a legal mastermind.
BLS pegs the top ten percent of paralegals and legal assistants as earning more than $88,640 per year—a pretty good wage for a lot less education, even considering the time spent studying organizational leadership.
Judges and hearing officers earned a median salary of $128,710 in 2021, just a smidge over the median for lawyers. Like lawyers, those in the top ten percent can make over $208,000 per year. As government employees, however, their true top range is probably lower than that of private attorneys—but the prestige and leadership opportunities are definitely greater.
Even if you are a one-person show running your own practice, you'll find leadership training an advantage in legal work. The same skills you pick up that let you build a team, develop a vision of a case, and motivate staff toward success are skills you can apply toward juries, in negotiations, or even crafting briefs. Being a legal professional comes with immense power in American society—leadership studies let you wield it responsibly and effectively.
2021 US Bureau of Labor Statistics salary and employment figures for Judges and Hearing Officers, Lawyers, and Paralegals and Legal Assistants reflect national data, not school-specific information. Conditions in your area may vary. Data accessed February 2023.