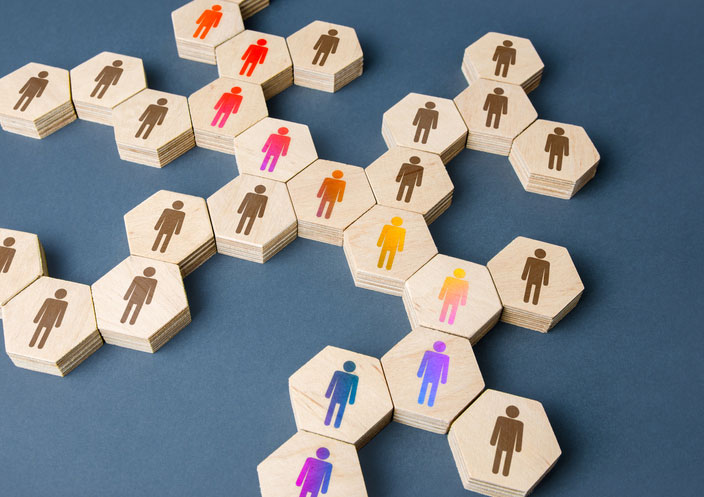 When you start talking about values, vision, and inspiring employees, you are definitely in the wheelhouse of human resources management professionals. Those are exactly the concerns that HR teams take up and invest themselves with in modern corporations, government agencies, or any organization involving more than a handful of staff.
<!- mfunc feat_school ->
Featured Programs:
Sponsored School(s)
<!- /mfunc feat_school ->
As it happens, those are all concerns that are critically important to organizational leadership, too. Developing a broad vision, planning strategic goals, and aligning and motivating staff to accomplish them is the job of every effective business leader.
Some people describe organizational leadership as human resources' other half.
While both business degrees and run-of-the-mill human resources training focuses on the nuts and bolts of managing a workforce, degrees in organizational leadership take a different tack. Although you need to be aware of all the legal, regulatory, and basic administrative requirements of human resources management, it is just as important to learn where the heart and soul of organizations live.
HR professionals who go the extra mile to build on their human resources technical skills with the strong leadership and interpersonal awareness that comes with OL programs are the ones that get the most out of their workforce.
HR Management and Organizational Leadership Go Hand in Glove in Corporate Management
Human resources management is a field that is unavoidably tied together with the same subjects that organizational leadership studies focus on. HR departments and professionals exist to smooth out all the organizational stumbling blocks that the average company runs into through:
While organizational leadership techniques are not a silver bullet for addressing HR issues, they offer a valuable toolkit to human resources professionals.
Senior human resources staff are leaders themselves, stepping up as the face of the C-suite for the rest of the workforce. They are expected to motivate, to model the right culture, and to develop the right level of knowledge and relationships within the company to smooth over difficulties. The HR team are first in line when senior leadership needs to make significant changes; they are the ears on the ground when performance difficulties come up.
Training in organizational leadership gives human resources executives some of their most effective tools for accomplishing those goals.
Explore the Wide Range of Choices for Degrees in Organizational Leadership for Human Resources Professionals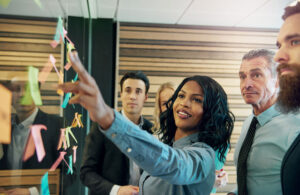 Degrees in organizational leadership are a relatively new thing in American higher education. You can find them being taught by all kinds of different schools and departments, from education to business to healthcare.
They often come with a focus that reflects the school that is offering them… an OL degree from the School of Education at a given university is going to lean toward applying OL lessons to issues in education leadership, while one from the School of Business is going to come at a more general business context with similar principles.
In the case of HR, your degree is going to need to pack in the coursework you need to develop expertise in core human resource concerns such as:
While these core HR topics are certainly relevant to organizational leadership, you will only find them in programs specifically geared toward HR professionals. This is an issue that comes up in many professions where OL has useful applications—the degree of specialization often requires very specific professional training.
Putting Together Specialized HR and Organizational Leadership Education Options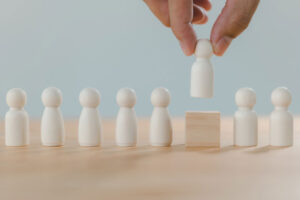 How can you combine the sort of specialist education you need in the HR world with the broader leadership and strategic studies that come in organizational leadership? It turns out there are a lot of different ways to put the two together.
For starters, organizational leadership degrees at all levels are available with human resources administration concentrations or focus areas. Conversely, you can also find degrees in human resources that offer concentrations in organizational leadership.
These are all a matter of emphasis, with the major area absorbing most of the focus. The concentration delivers a quick punch of studies in that area, but isn't as comprehensive as the major. So your choice of which to pursue should reflect the degree to which you want to highlight OL versus your basic HR competencies. That decision will come down to where you see yourself going in your career, whether it's leading an HR department or giving yourself the option to lead corporate teams outside of the HR sphere.
It's also quite common for students to pursue OL studies as part of a dual degree program, or to stack degrees at different levels. For example, you might earn your bachelor's degree in HR, and then go on to get a master's in organizational leadership (MAOL/MSOL, a Master of Arts or Sciences in Organizational Leadership).
Finding the Right Level of Organizational Leadership Degree To Fit Your Current Career Needs
Because there are so many different levels of OL studies in American colleges, you have a lot of options to mix and match. These include:
Certificate Programs in Organizational Leadership and Human Resources
Certificates offer a quick fix of OL training. Lasting less than a year, they also cost far less than a full degree. In return, you get a handful of classes and an elective or two to help burnish your leadership credentials. These programs are offered at post-secondary, graduate, and post-graduate levels. You can sometimes apply credits from a certificate program toward a full degree at the same level at the same school.
Bachelor's Degrees in Organizational Leadership and Human Resources
A four-year bachelor's degree backs up in-depth OL studies with the traditional liberal arts approach of American college education. That builds critical thinking and problem-solving skills into your training, a valuable complement to leadership studies. A bachelor's qualifies you for all kinds of entry-level HR positions in any industry.
Master's Degrees in Organizational Leadership and Human Resources
The advanced studies of a MAOL/MSOL dive deep into the theory and practice of the field, honing your strategic communications, assessment, and leadership skills. Although they take a year or two of intensive study, these programs are a fast-track to executive positions.
Doctoral Degrees in Organizational Leadership and Human Resources
A PhD in organizational leadership can take from four to five years to achieve. They are aimed mostly at research and academic knowledge, with less practical application than lower level programs. A PhD is pretty much a requirement if you plan to teach OL, but it can also be used to develop a high level of expertise in any specific focus area of organizational leadership that interests you.
Any of these can make sense depending on what stage of your career you are in and what level of organizational leadership training you need. Certificates are always available for a quick hit or polish; a bachelor's degree can make sense as a dual-degree option when you are just starting out; a master's may be the ticket to the C-suite when you've already maxed out your HR-specific expertise.
Organizational Leadership Studies are the Perfect Way to Augment HR Management Skills – and Vice Versa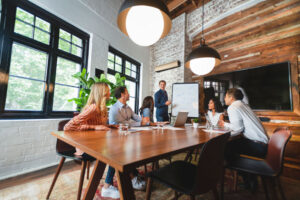 You'll find some overlap between human resources and organizational leadership degree coursework, particularly in areas around ethics and training. But while HR studies are mostly focused on the technical aspects of compliance, setting up systems, and using good management practices, organizational leadership classes go further into inspiration and motivation with classes covering:
Leadership Theory and Practices – Cases studies and historical studies of leadership feed into what the science of modern organizational leadership draws on. You'll learn what the essential elements of OL are and how to practice them in your own career.
Organizational Behavior – Psychology has a lot to contribute to how effective leadership happens. You'll study social and psychological elements of group behavior and learn how to anticipate and influence them in your organization.
Change and Conflict Management – HR is often on the front lines of dealing with big shifts in structure or focus in organizations. It's one of the biggest challenges in both HR and leadership, so you will find dedicated classes in learning how to help staff cope through trying times.
Assessment and Evaluation – HR professionals are often asked to evaluate and assess individuals in the organization. These courses take a bigger picture perspective, applying the same kind of quantitative and qualitative observations to the organization as a whole. You'll learn how to assess the performance and health of an entire department or company along with the individual employees.
Communications – HR staff are expected to be experts in communications, and that's a benefit in organizational leadership as well. Clarity goes hand-in-hand with motivation and coordination, so OL programs also have a significant focus on communication theory and practice.
Strategy and Innovation – In most companies, HR doesn't have a lot to do with the overall mission and vision. But in organizational leadership, you'll learn how great leaders incorporate their organizational knowledge and interpersonal skills in the development of innovative new methods and strategic goals for the entire business.
There is plenty of room for elective coursework in most OL programs, and you can use those options to customize your classes to fit your own career objectives.
Particularly in more advanced degrees, you'll also find the option to participate in internships, or participate in overseas learning experiences. These broaden your horizons and show you how leadership happens in real-world HR contexts. You'll get new perspectives on the effects of culture and bring back actual experience to inform your theoretical studies.
Making Sure Your HR Training is Comprehensive Even in Organizational Leadership Programs
An HR degree or concentration will also deliver coursework in specialized subjects such as:
In the best programs, these courses will be aligned with the requirements of the Society for Human Resource Management (SHRM™) Body of Applied Skills and Knowledge Model (BASK™). At both graduate and undergraduate levels, SHRM puts out guidance every few years on curriculum content as advised by both the business community and prominent HR academics. Those same standards are used to inform the content covered in the exams that lead to the widely-recognized professional certifications that some HR professionals and managers choose to earn:
SHRM Certified Professional (SHRM-CP®)
SHRM Senior Certified Professional (SHRM-SCP®)
Some SHRM BASK™ required content areas line up almost exactly with core organizational leadership subjects, like Organizational Development and Change Management.
Any type of HR-related program can align itself with SHRM BASK™ standards – it's simply up to the university offering the program to submit to the process, and many do. That means a Master of Science in Organizational Leadership with a concentration in Human Resource Management is just as eligible as an MS in Human Resource Management.
Choosing the Right College for Your Organizational Leadership and Human Resources Education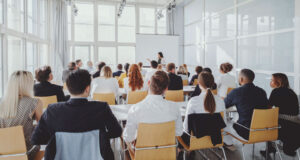 Organizational leadership has been a serious field of professional study since at least the 1940s. It's building on deep research and strong theoretical foundations in higher education. So you'll find degree programs available at plenty of colleges today, all around the country and online.
Choosing the right school and program for your needs is where the challenge comes in. Not every school offers the same philosophy or delivers the same quality of education.
The first bar to clear, of course, is finding schools that offer the right combination of degrees or concentrations to fit your needs. Fortunately, there are many OL degrees offered by business schools that also have strong human resources programs or concentrations.
How do you know which programs are strong, though? Some key pieces to look at in evaluating any college are: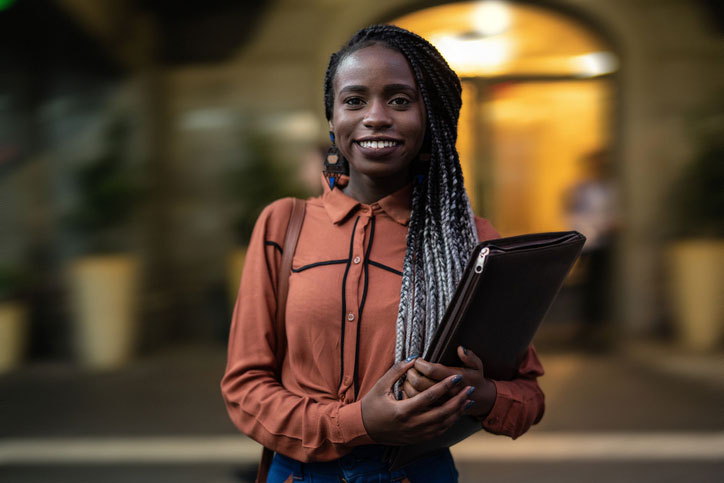 Getting What You Paid For Out of an Organizational Leadership Degree
There's no question that college is an expensive proposition in the United States today. Multiple degrees at different levels means facing those costs more than once. According to the National Center for Education Statistics, as of 2021, that looked like:
Undergraduate degrees

Public – $9,375 per year
Private – $32,825 per year

Graduate degrees

Public – $12,410 per year
Private – $26,597 per year
But there's also value associated with the knowledge you receive. By matching your studies to the right phase of your career, you'll more than make up the costs of college that come with it.
Online Organizational Leadership Degrees Bring Flexibility to Your Studies
Anyone working in HR today has a pretty good familiarity with the advantages and new developments in online training systems. It's no surprise that colleges have latched onto these at the same time as major corporation training teams, and for the same reasons:
You'll get all those same benefits out of an online degree in organizational leadership.
As an extra bonus, you will find a much wider selection of schools and programs available online than you could ever expect to find locally.
Most online OL degrees, particularly at the advanced level, are actually hybrids. While most of your work will actually be online, you'll also have one or two on-campus meetings per year. This is the best of both worlds for many HR pros, who need the flexibility that primarily online studies bring, but also like to make eye contact and press the flesh a bit for networking and relationship-building.
Many Kinds of Human Resources Jobs Benefit From Organizational Leadership Degrees
Human resources is a specialty area in modern business, but it's a fairly broad one. You'll find all kinds of sub-specialties to make a career out of. In many cases, organizational leadership skills will help you advance to the top of the ladder in those areas.
Demand is high for human resources professionals; the Bureau of Labor Statistics (BLS) estimates an 8 percent growth rate for HR Specialists between 2021 and 2031, faster than the average.
HR departments offer opportunities in areas such as:
…as well as the all-important HR generalist who can handle any challenge that walks in the door.
These are all people-centric roles, requiring a lot of interpersonal contact, and offer a lot of opportunities to put strategic communication, organizational development, and sociological observation skills to the test. You'll solve problems and drive new initiatives. And organizational leadership training will give you new tools to accomplish all of those duties.
Bachelor's degrees can get you started in almost any HR role, but to advance to executive positions, master's degrees including MBAs that offer a focus in HR are becoming increasingly common. And they often lead to significant salary bumps.
Human Resources Salaries Get a Boost Out of Leadership Skills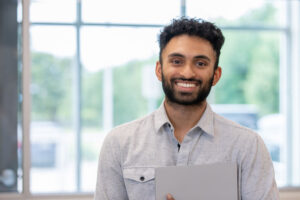 HR salaries reflect the high demand and importance that the role plays in modern industry and government. And you can easily see the progression and opportunities that come with advanced leadership skills by comparing the general HR roles in a sub-specialty with the corresponding management positions:
The challenges and demands of HR jobs aren't the same in every organization. Modern knowledge-based industries like IT, healthcare, and engineering rely more heavily on HR for competitive recruiting and compensation strategies. So they also pay more for top leadership talent.
For HR management jobs, for example, you can see this clearly by looking at the five top-paying industries for the profession and the average salaries they offer:
And those are just the average; top-performers in those roles and industries can all bring in more than $208,000 per year—the level at which BLS stops counting.
An organizational leadership degree isn't a guarantee of that kind of salary, but it is a way to put yourself out ahead of the pack. When big government, corporate, and non-profit organizations need top-notch human resources expertise, candidates with leadership chops go right to the front of the line.
2021 US Bureau of Labor Statistics salary and employment figures for Human Resources Specialists, Human Resources Managers, Compensation, Benefits, and Job Analysis Specialists, Training and Development Specialists, and Training and Development Managers reflect national data, not school-specific information. Conditions in your area may vary. Data accessed December 2022.