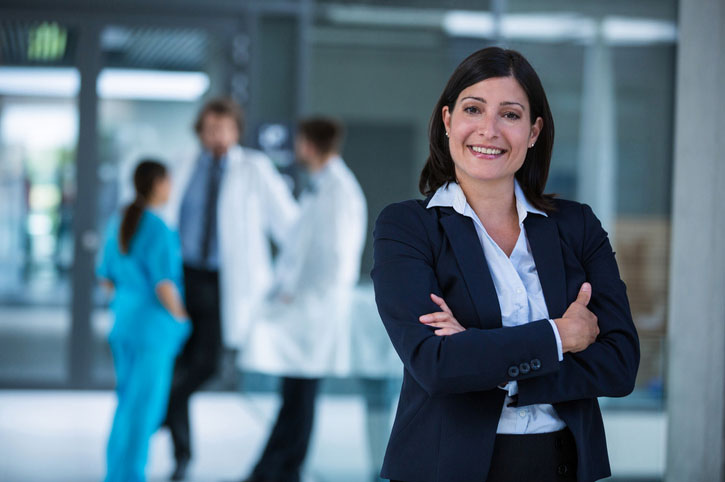 To say that American healthcare needs strong leadership today is probably the understatement of the decade.
<!- mfunc feat_school ->
Featured Programs:
Sponsored School(s)
<!- /mfunc feat_school ->
Even before the COVID-19 pandemic, healthcare organizations were facing some significant structural challenges:
Then came COVID. And a tsunami of patients rolled into hospitals, clinics, and nursing homes even as staff fell sick and sometimes died of the disease.
Today's healthcare system continues to reel under the impact of COVID and all the secondary and structural problems. The future of the field is far from clear.
What is clear is that strong, visionary, compelling leadership is more important in hospitals, clinics, and medical research facilities than ever before.
The solutions are out there. It will take healthcare administrators with innovative organizational leadership skills to find them.
How Organizational Leadership Aligns Perfectly With The Demands of Healthcare Management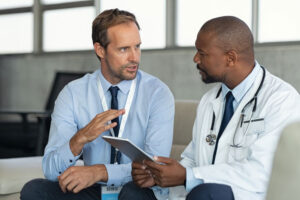 Healthcare executives not only face some astounding challenges; they also must deal with a unique working environment.
In many cases, the professionals who work for them are some of the highest-paid and best-trained individuals in the organization. They have been taught to exercise independent judgement and to rely on research and analysis to make decisions. These aren't people that take orders easily or without question.
To say that there are some strong personalities in medicine is like saying chemotherapy is slightly uncomfortable.
So top-down decision-making and management by decree are recipes for failure in hospitals and clinics. Healthcare administrators must build consensus. They have to offer inspiration and hope. And they have to offer an example of the kind of values and standards the field demands.
These are all right in line with the modern understanding of leadership developed through theories of OL.
Organizational leadership is an approach to management that involves deep strategic analysis, psychological knowledge, and people skills to develop plans and processes to achieve organizational goals. It revolves around motivation and positive reinforcement rather than command and control. And it's a perfect fit for the healthcare environment.
Earning a Degree That Offers Both Healthcare Management and Organizational Leadership Skills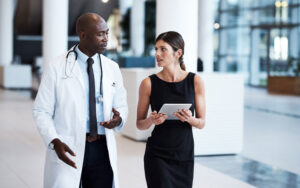 Like any other kind of advanced leadership training, the best way to develop OL skills is through a degree.
But you face a fundamental issue when you want to get a college-level education in organizational development. While there are plenty of degrees offered in the field of OL, there is also a lot of very specific information and training you need in the field of healthcare, too.
Unless you're pursuing a dual degree program, you're going to have to concentrate in one of these areas or the other. There are majors in organizational leadership that offer a healthcare administration focus, and majors in healthcare administration that offer an organizational leadership focus.
No matter which of these you pick, there is a trade-off. The major will be the field of emphasis, and you'll have fewer courses in the specialty area.
Either of these can be a solid choice depending on your individual career plans.
Building Healthcare Leadership Expertise at Different Degree Levels
Leaders come at all sorts of different levels within the healthcare industry. The same thing is true of degrees in organizational leadership, which can be found from the bachelor's level all the way up to advanced PhD degrees.
Bachelor's Degrees in Organizational Leadership for Healthcare Administrators
These four-year programs offer not just leadership-specific training, but also the kind of general grounding in critical thinking and problem-solving that good leadership rests on. They are essential for professional roles in entry-level healthcare administration and a springboard to more advanced education later on.
MHA and Other Master's Degrees in Organizational Leadership for Healthcare Administrators
Master's programs represent the level of advanced study that most organizations expect their senior leaders to have. In healthcare, the degrees that represent this level of education that include organizational leadership training include:
Leadership jobs in specific healthcare fields may require more specialized degrees. You can also find OL tracks in programs such as:
Master of Science in Public Health
Master of Management in Healthcare Management
Master of Science in Nursing
Master of Public Administration
DHA and Other Doctoral Degrees in Organizational Leadership for Healthcare Administrators
Even after you earn a master's degree, there is plenty of territory to cover in the most advanced aspects of healthcare administration and organizational leadership. This is the realm of the PhD or doctoral level programs, taking another three to seven years to complete. In most cases, PhD programs are academic degrees designed to prepare you for work researching or teaching in the field. But there are also some practice-oriented doctoral degrees in healthcare administration designed for senior executives, such as the Doctorate in Healthcare Administration (DHA). Other options include:
Certificate Programs in Organizational Leadership for Healthcare Administrators
For students looking for a quick shot of OL training without the expense and time commitment of going back for a full degree, there are certificate programs available at the post-secondary, graduate, and post-graduate levels. These programs last months, not years, and distill down the essence of organizational leadership training in the healthcare setting to a handful of classes. You may have one or two elective choices, but for the most part your training is on rails, delivering the essentials quickly and efficiently. You can find certificates like:
Dual Degrees Offer the Full Menu of Both Healthcare Administration and Organizational Leadership Training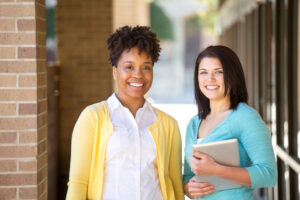 Even with a specialization, you're leaving knowledge on the table when you pick either OL or healthcare admin as your major. Inevitably, the other field just isn't going to get as much time and attention in your coursework.
One particularly hardcore way around this is to go for a double major. By earning a full degree in each field, you know you're not missing out on anything. But you are doubling down on key coursework, too. While general requirements only need to be taken once, core classes in each degree come on top of each other.
Another option is to pursue different degrees at different levels. A bachelor's degree dedicated to healthcare administration, or even a sub-specialization in the field, can you get started on your career path. But when the time comes to think about earning an advanced degree, you might choose an organizational leadership program that enhances the specific leadership qualities you need to vault to the next level.
A Specialized Curriculum Prepares You for Leadership in Healthcare Settings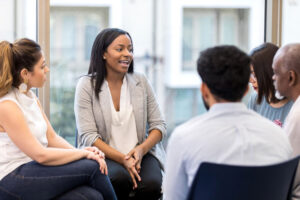 The curriculum offered in organizational leadership programs generally hits all the basics of assessing, engaging, and developing strategic plans for any organization.
But the uniqueness of the healthcare environment calls for a unique take on all those bedrock OL principles and practices.
Depending on the way you approach your organizational leadership studies, you'll find different ways that all these subjects are mixed and matched. But you will almost always find yourself taking coursework that covers subjects like:
Healthcare Economics and Risk Management
The financial elements of American healthcare and the life safety and welfare aspects of the service make it a business unlike any other for administration and leadership purposes. You'll get an essential understanding of those issues in these classes.
Understanding and being understood are an absolute must for effective organizational leadership. Coursework in strategic communication within and outside of your organization will help you master those skills.
The Psychology of Organizational Behavior
Diversity and culture have a significant impact in healthcare. That's just as true within the organization as in the patient base. These courses teach you the psychological bases of behavior of individuals in social and organizational contexts, and how to evaluate and set the tone for your organization.
Ethics and Healthcare Policy
Ethics is a core concern in any medical setting, but it's also an important factor in leadership. Setting the standards and running an organization consistently and fairly are the key to establishing respect. You'll study ethic problems and their solutions, as well as looking at the larger picture of healthcare policy in the United States and how it impacts equity.
Organizational Assessment and Analytics
Keeping one ear to the ground and understanding what is happening in a big healthcare organization is half the battle of guiding it. With insights into informatics options, both clinical and in human resources, these courses will help you understand how to develop data and analyze it to see what's happening, and what needs to happen next.
Leadership Theory and Practice
The field of organizational leadership didn't come out of nowhere. Decades of studies and examples have been developed showing how effective leadership is practiced. Your grasp of the standards and practices in the field will be informed by case studies and theory that you pick up in these classes.
Of course, a full MHA also comes with coursework in all the traditional aspects of healthcare management, including:
Most MHA programs and many MSOL/MAOL degrees will also involve field experience requirements. These practicum placements or internships get you out into the real world to put your newly learned skills into practice. You will observe and be coached by existing professionals in the field to develop a more practical understanding of putting leadership theory into play.
Another requirement of more advanced degrees is the completion of a final capstone project or paper. Traditionally, a thesis or dissertation has been how master's and doctoral students prove they have absorbed and integrated knowledge and research. But more and more degrees are offering practical capstone projects, where you distill and synthesize your ideas, your research, and your experience into a practical project.
Finding a School That Delivers Both Top-Notch Healthcare Management and Organizational Leadership Education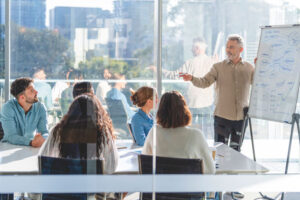 Sitting at the intersection of business and medicine, healthcare administration education requires a special blend of expertise and opportunities. That becomes even more of a challenge when you throw in organizational leadership training. The college you pick must have the resources, the faculty, and the relationships to give you a full measure of education across the board in each of those subjects.
To figure out if the school you want has the right chops, you'll look at factor such as:
Finally, you may want to consider whether the program offered holds a specialty accreditation from CAHME, the Commission on Accreditation of Healthcare Management Education.
Clinical Professionals Come at Healthcare Administration From the Other Side of the Table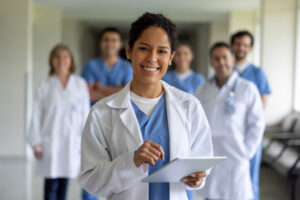 The intersection of management and medicine doesn't just pull in dedicated healthcare administrators; there are many clinicians who aspire to management and leadership roles in healthcare.
In many ways, this is the perfect combination of medical knowledge and executive expertise. No one understands better what patients and providers need than someone who has worked with them first-hand.
But it presents challenges when it comes to getting a strong organizational leadership and healthcare administration education. Clinicians all have a strenuous, lengthy, specialized path through college just to earn a license to practice.
Getting leadership and administrative training as a clinician requires taking an entirely different path, exploring specialized degrees such as the Doctor of Nursing Practice in Organizational Leadership or going through a Physician Leadership Certificate program.
CAHME only evaluates programs at the master's level, but that's where the most serious OL studies for executive healthcare leaders happens. In addition to MHA programs, they also accredit healthcare-focused programs such as:
They even evaluate dual degree offerings. With a strong set of standards for curriculum, quality improvement, and faculty qualifications, this is a stamp of quality you can count on in evaluating your OL study options across a wide range of degrees.
What Will It Cost to Get a Healthcare Organizational Leadership Degree?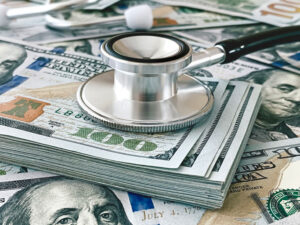 Right alongside the increasing costs of healthcare, the price of an American education has been steadily creeping up over the past decades. Your degree is the ticket to a high-paying career in healthcare leadership, but it's an expensive ticket.
The costs of college attendance are tracked by the National Center for Education Statistics. For bachelor's degrees, you can expect to pay an average of $37,500 at public universities and $131,300 at private colleges for your four-year program.
At the graduate level, the cost-per-credit is higher, but the total length of the program will be shorter. Both MHA and MSOL/MAOL programs typically take a year or two to complete. At public universities, graduate programs will run you $12,410 per year, and at private schools an average of $26,597.
The same costs apply at the doctoral level, but you will be paying them for between four and seven years, typically.
Online Organizational Leadership Education Keeps Your Options Open
You can keep some of your costs down through online organizational leadership studies, however. Although the tuition may be no different, remote programs allow you to attend schools across the country without relocating. And through asynchronously shifted online learning systems, you can also keep up with your current career and family commitments.
With video streaming, remote whiteboard and discussion forums, and online chat systems, you'll get the same exposure to the same curriculum that you would in a traditional on-campus format. But you have the advantage of being able to shift that class work to any part of your day where it fits, rather than having to show up in a classroom at a certain time.
This gives you a tremendous amount of flexibility to balance your organizational leadership education with your work and life. And it opens up affordable degree options across the country.
For Accomplished Organizational Leaders, the Healthcare Management Job Market is Hot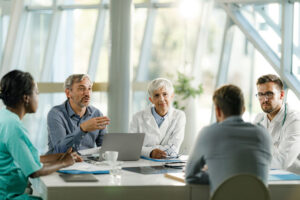 With a job growth outlook topping 28 percent between 2021 and 2031, the role of Medical and Health Services managers is going to be a hot one for at least the next decade and probably long. The Bureau of Labor Statistics (BLS) puts most healthcare leadership roles into that category, collecting everything from urgent care clinic managers to executives working in the largest multi-state provider and insurance networks.
That puts a lot of diversity and possibility into your role as a healthcare leader. You could be leading a small time in a research facility, developing new treatments or technologies for critical health vulnerabilities. You might become the chief executive at a big non-profit inner city hospital, dealing with the challenges of caring for a vulnerable population on a tight budget. Or you could be taking an elite private surgery clinic into the next era of profitability and service.
While each of those jobs involve very different day-to-day functions, they all require some core knowledge and activities that are fueled by organizational leadership expertise:
Those talents won't just land you in such jobs in the first place; they'll help you rise to the top in whatever healthcare administration specialty you choose to pursue.
How Much Can You Earn as a Healthcare Administrator With Organizational Leadership Training?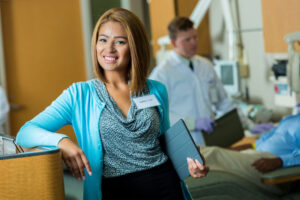 When you're in a field where the job growth rate starts pushing 30 percent, it's a good sign that talent is hard to find and to retain. And in an industry like healthcare, which for 2020 represented almost 20 percent of American GDP and generated over $4 trillion in expenditures, you can bet that employers are going to be throwing money at top candidates to hire and keep.
That shows up in the BLS data for salaries for medical and health services managers, which averaged $101,340 in 2021.
That's six figures at the median for a job you can get into with just a bachelor's degree. So it doesn't even reflect the kind of money you can bring in with an OL degree and a top position in leadership. Those folks end up in the top ten percent of the profession, making more than $205,620 per year.
Of course, with a wide range of different healthcare organizations and roles, you'll also find a broad range of salaries. For the top industries that BLS tracks employment of health services managers in, the average salaries for 2021 were:
It's serious money no matter how you look at it. The return on your investment in an organizational management degree for healthcare administration is solid. But along with big money comes big expectations.
As the healthcare system moves into the new era of treatment and equity in the 21st century, it will take every ounce of your leadership skills to build health organizations that deal with patient needs and serve the community while motivating and retaining staff. Your organizational leadership training is just the first step in a challenging but rewarding career path in healthcare leadership.
2021 US Bureau of Labor Statistics salary and employment figures for Medical and Health Services Managers reflect national data, not school-specific information. Conditions in your area may vary. Data accessed December 2022.