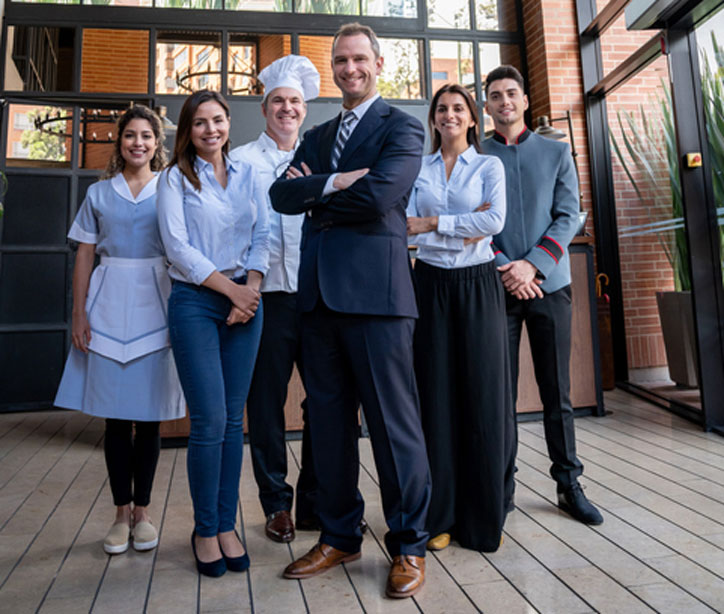 Leadership in the service sector is a constant tight-rope walk. Whoever said the customer was always right never dealt with many customers. At the same time, any hospitality business that doesn't make the customer feel like they are always right isn't a business for very long.
<!- mfunc feat_school ->
Featured Programs:
Sponsored School(s)
<!- /mfunc feat_school ->
That was true even before the COVID-19 pandemic, and it's twice as true now.
The hospitality industry has been taken for a wild ride by the 'vid. As both business and recreational travel shut down, and all indoor dining was stopped in many parts of the country, layoffs ran wild and businesses collapsed. The American Hotel and Lodging Association estimated in 2021 that the pandemic had wiped out more than 10 years of job growth in the accommodation sector.
Hotels without patrons in some cases converted to housing for exhausted medical staff isolating to keep their families safe in hotspots like New York. Others were converted to homeless shelters.
At the same time, hospitality businesses were scrambling to find new ways to remain in business or capitalize on a stir-crazy nation. Any kind of outdoor recreation business exploded. Restaurants rapidly converted to outdoor seating.
And when restrictions ended, a public desperate to get out and socialize stormed back with plump savings accounts from their enforced isolation and benefits. But hospitality businesses faced another problem: staff worried about exposure or departing for higher-paying jobs elsewhere left the entire industry under-staffed to deal with the demands.
According to the Bureau of Labor Statistics, job openings in leisure and hospitality in 2022 were fifty percent higher than 2019.
The roller coaster ride may not be over yet. And hospitality businesses of all stripes will need strong leadership to get through the next phase.
Great Hospitality Leadership Makes a Better Experience for Millions of Americans Every Year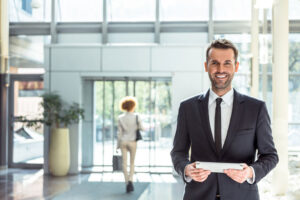 Although we tend not to think of the tourism and hospitality sector as the birthplace of great leaders, it's definitely a place where leadership is routinely needed. With a highly transient workforce, morale and retention is a constant issue. High customer expectations create pressure to achieve excellence. And there is a lot of money to be made… according to the Bureau of Economy Analysis, gross output in the accommodation and food services sector rebounded to over $1.5 trillion in the third quarter of 2022.
Hospitality is almost always a very personnel-intensive industry. It's high-touch, which means dealing with both a lot of staff and directly with customers. So communication and interpersonal skills get a workout for leaders in hotels, restaurants, ski resorts, and other tourist hot-spots every day. Their interactions with both customers and staff can make or break the entire operation.
Leadership skills are what make customers feel like they are your top priority while assuring staff that they are actually number one. You need the tact, interpersonal skills, business training, and ability to think on your feet that only an organizational leadership degree can teach you.
What Degrees Are Available to Provide Leadership Skills for Hospitality Managers?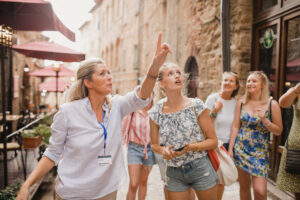 It's true that you don't find a lot of folks working in restaurants, hotels, and in the tourist industry in general who have college degrees. In fact, it's a sector that is famous for finding jobs while you're still going to school. Hospitality and restaurant work is easy to get started in without a formal education, and there are many opportunities for advancement.
But that doesn't mean that you won't benefit from earning a degree, particularly in an area that is as in-demand as organizational leadership.
In many cases, you'll come to that point in your career only after working your way up through the ranks for a while. Fortunately, there are plenty of leadership degrees that are aimed to hospitality professionals in exactly that position.
Of course, the hospitality and tourism industry are major businesses and have specialized roles exactly like any other major industry. So many people get their start through majors like marketing, business administration, or human relations. You'll also find plenty of organizational leadership specializations available in those fields if you decide to major there instead.
Leadership Degrees and Certificates Are Available at Every Level To Match Your Career Goals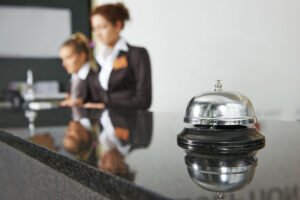 A bachelor's degree is enough to get you into the management ranks in many hospitality businesses. That's where you will find the greatest variety of options with this focus, like a Bachelor of Science in Organizational Leadership with a concentration in Hotel, Restaurant, and Tourism Management, a Bachelor's in Leadership Science with a Hospitality Administration concentration or a Bachelor's in Hospitality Leadership.
These programs last about four years and costing anywhere from $37,500 (public) to $131,300 (private) according to the National Center for Education Statistics (NCES). But they come with a broad background in critical thinking and general knowledge studies that make you a well-rounded leader and manager.
There are also options for degrees that are more highly focused on hospitality and leadership, with fewer liberal arts and general studies courses available. Programs like the Bachelor of Applied Sciences in Organizational Leadership and Learning – Hospitality Management concentration skip over some of the general knowledge classes that are typical in bachelor's degrees to keep your studies zeroed in on hospitality work.
At the master's degree level, you'll get a similar kind of focus and an even more advanced level of coursework. A Master of Science in Hospitality Leadership or Master of Science in Hospitality Leadership and Operational Performance take a year or two, and cost $12,410 (public) or $26,597 (private) per year according to NCES. But that year or two is packed with advanced concepts and practices to take your hospitality leadership skills to the highest level.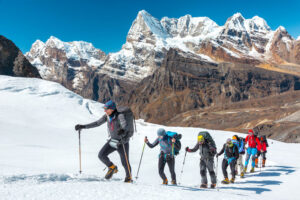 You can also find programs that combine both leadership and hospitality management studies with more traditional business skill mastery, such as the Master of Business Administration in Hospitality Leadership.
And in a field where higher education isn't always required, particularly at the entry level, a very popular way to brush up on your advanced leadership skills comes through certificate programs. These are available at various levels, aimed at everyone from recent high school graduates to senior managers who already hold a master's. They are aimed squarely at hospitality and tourism leadership skills, however, giving you a focused boost in just the areas you want to work on.
A Hospitality Leadership Certificate, Hospitality Supervision and Leadership Certificate, or Hospitality and Tourism Leadership Certificate can take only a few months to complete, and come in at a far lower cost than regular degrees. There are even more specialized programs available, like a Graduate Certificate of Business in Global Hotel Leadership, that might be a better fit for your personal career goals.
There's not much at the doctoral level for hospitality management, but PhD studies in organizational leadership are often flexible enough to accommodate your individual interests and goals. When you design your own course of study together with your professors, you can shape the degree however you choose. But most PhDs in this area are designed for preparing you for academic or research roles rather than actual hospitality leadership.
How Online Organizational Leadership Programs Make It Easier for Hospitality Professionals To Earn a Degree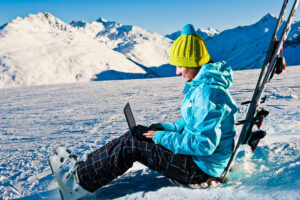 As with every other kind of degree program, organizational leadership studies found themselves largely heading online during the pandemic. And like many types of studies, they found a happy home there, delivering the same quality of education as traditional studies, but without the inconvenience of fixed class times or classroom locations.
You can still take advantage of online studies even with in-person classes back on the menu, however. Many workers in the hospitality industry don't enjoy the kind of fixed schedules that traditional classes are made for. And you may be working in some exotic location that isn't exactly near your first choice of university.
Online means you can still pick that perfect school, and you can attend classes when you have time for them, not at some arbitrary time of day. Catch up on streaming lectures after your closing shift, or work on your latest assignment before the lift you are running gets busy at the ski resort.
The convenience factor allows you to focus on what is really important: learning the material that will make you a strong leader for the rest of your hospitality career.
A Practical Curriculum Underlines Leadership Studies in Tourism and Hospitality
Whether you decide to pick an entirely online program or go the traditional route, you'll find all the same kind of classes in just about every organizational leadership degree in hospitality and tourism. The courses all resemble the core lessons that every modern leadership program has to offer, but with a specific focus on the challenges and operations of a restaurant, hotel, resort, or other hospitality operation.
They will include classes in:
Organizational Team Building
Whether you are running a restaurant, a cruise liner, or a resort, getting a team of part-time, occasional, or otherwise not entirely committed staff all on the same page is a struggle. Yet it's also critical to smooth operations and happy customers. So coursework in team building is a must-have part of every hospitality leadership curriculum, cluing you in on the psychology and the techniques you can use to weld even the most disparate group into a tight, effective team.
Customers will long remember anything shady or deceptive about your services, so it's important to understand how to approach tourism and hospitality management from a strong ethical base. You'll explore the philosophical sources of morality and ethics and learn how to apply them in an industry that isn't always on the up-and-up.
Hospitality Operations and Analysis
Leaders in any industry can only work with what they can assess. With modern digital tools, from tablet-based ordering apps for servers to electronic key card systems for hotel rooms, there's a wealth of information to help inform your planning and decisions—if you can process it. This coursework will teach you how to look at reports and raw data and glean the most important information from it, with a focus on hospitality operations and how to shape them strategically to hit your goals.
Hospitality and Tourism Administration Strategy
The process of running a major hospitality operation is complex, covering everything from building out supply chains to developing HR processes to integrating marketing and retention campaigns. So coursework in the art of administration is a must, giving you the nuts and bolts of running everything from a tiny Michelin 3-star restaurant to a 2,000-room resort property.
Labor Relations and Conflict Resolution
Many hospitality operations are unionized, which makes understanding labor law and negotiations critical for keeping your workforce happy. This coursework will give you the overview of how labor relations work and teach you techniques for managing change and resolving conflicts in the fast-paced hospitality world.
Consistency and excellence are a hallmark of a good hospitality experience, but with high turnover, they are a constant challenge in the service industry. That means leaders have to be experts in designing and managing training systems and developing their staff. This coursework offers methods for developing those systems and ways to encourage and motivate your staff to progress in their own careers while serving the goals of the organization overall.
Professional Communication
Strategic communication skills are a major factor in organizational leadership. You need to be able to communicate clearly and effectively to support your team and your plans. These courses offer training in both professional written communication, public speaking, and in the ways that your communication strategy can support your overall business strategy in everything from marketing to internal memos.
Of course, just sitting in class doesn't really cut it for leadership training in such a hands-on industry as hospitality. So you will find that pretty much every degree, both bachelor's and master's, includes internship opportunities as well. These put you out in the field, actively working in restaurants, casinos, or tourist operations under the close supervision of successful leaders. You'll see the day-to-day challenges they face, and you'll have the opportunity to match up what you have learned in class with how those challenges are handled.
At the master's level, most programs also offer up significant research opportunities. Working independently or with your professors, you'll study in detail how leadership is conducted and develop new insights into better ways to lead. Your thesis or capstone project will serve as a monument to your academic accomplishments and land your resume a lot closer to the top of the stack than the competition.
Picking the Right Electives Can Help Round Out Your Professional Expertise
Hospitality is a very broad industry, covering a lot of different subsets of expertise. You will get the chance to fine-tune your degree to the specific kind of hospitality work you plan to do, whether it's front-of-house restaurant management or senior leadership at private clubs.
Popular electives available in many hospitality leadership degrees can include:
You can also bone up on the business side of operations with coursework in business management, accounting, and human resources management.
The Jobs and Salaries You Can Expect To Find in Hospitality Leadership With the Right College Degree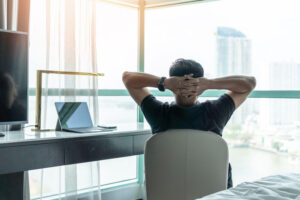 Jobs in hospitality that require leadership skills tend to start off very low in the ranks. Even a sous chef is expected to step up and help make the average restaurant kitchen run like a well-oiled machine.
Of course, with a leadership degree in hospitality under your belt, you will certainly be looking at positions higher up the food chain than a sous chef. But it does mean that jobs in the sector that require leadership skills may not command salaries as high as other industries, at least not right off the bat.
The Bureau of Labor Statistics (BLS) is the government agency that tracks salary levels for different careers and industry categories in the United States. They have several areas where hospitality leadership skills will find value. Most of these jobs don't require any degree at all, so we can assume that if you earn one, by default you are probably going to be making in the upper ten percent of the salary range. They include:
While all of these line leadership positions are critical in the operation and success of their businesses, there are also senior, corporate positions that you can eventually work your way up to. These are often jobs that require a master's degree and years of experience. They may supervise teams of hundreds, or dozens of departments, and oversee budgets in the millions. The median salaries, according to 2021 BLS data, reflect the responsibility:
But the sky is really the limit in these senior level positions. The top ten percent in these jobs can rake in more than $208,000 per year… and that's before you figure in bonuses and cushy benefits packages.
All of these jobs have a role in helping the world get back to normal, and helping people enjoy themselves after a very stressful few years dealing with the pandemic. Your leadership training can help you take a lot of the stress out of the lives of not only your customers, but your own team.
2021 US Bureau of Labor Statistics salary and employment figures for Food Service Managers, Chefs and Head Cooks, Lodging Managers, and Top Executives reflect national data, not school-specific information. Conditions in your area may vary. Data accessed February 2023.