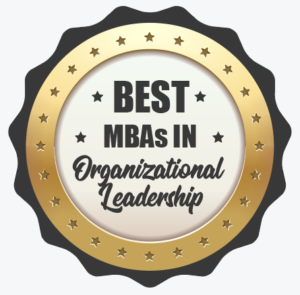 A Master of Business Administration is widely recognized as the degree held by the best of the best in executive management circles. It's even considered a key credential in fields other than business, including non-profit management and in plenty of government agencies, including those in the business of intelligence and law enforcement.
<!- mfunc feat_school ->
Featured Programs:
Sponsored School(s)
<!- /mfunc feat_school ->
When you put that elite level of business strategy, economic theory, HR oversight, and operational methods together with studies in organizational leadership, it becomes even more valuable. An executive who knows all the tricks when it comes to management and administration is one thing. But one who can also bring the interpersonal skills, the communications training, and the large-scale vision to motivate a team to get it done is solid gold in the business world.
If that's the kind of manager and leader you plan to be, then you know you can't compromise on the degree that will give you the edge you're looking for. You need the best training from the best possible school for the career path you're on.
Why the Right MBA in Organizational Leadership Paves the Path for Your Leadership Career
One of the great things about MBA programs in the United States today is how diverse they are. You can find all kinds of different business philosophies, specialized concentration tracks, and industry ties scattered in schools across the country. No matter what your industry or goal, there are probably a dozen different programs that offer exactly what you are looking for.
The only real question, then, is to find the best of the best. Where you earn your MBA matters. Whether you are competing for a promotion or getting started on your climb up the executive ladder at a new organization, the very first thing anyone is going to look at is the name of the school in the education section of your resume. And that name is going to carry a lot of weight in whether or not you get the job.
Organizational leadership isn't something that just any school can teach well. It's a knack for connecting with people, for seeing through the process and procedures and evaluating the human strengths, and for finding a way to bring out the best. MBA programs in the field have to accomplish the same thing with their students.
Each of these schools has got that magic dialed in cold. The leadership degree concentrations they offer have what it takes to pass it along to you.
How We Found the Best Available MBAs in Organizational Leadership Today
Of course, it takes a little bit of work to drill down through all the different MBA programs in organizational leadership to find that special few. You won't find any of them that advertise themselves as second best.
So our editors took a page out of the OL playbook and did a deep-dive analysis on every MBA leadership concentration offered through accredited universities coast to coast. And we looked way past all the marketing materials to give you a list that reflects the reality of which degrees are actually delivering on the promise of turning out amazing organizational leaders.
The key factors we looked at aren't mysterious, but they are of the highest importance in every case.
Overall Reputation in the Community and Strength of Graduates
Great MBA programs get talked about a lot in both the business and the academic communities. This is the factor that draws the attention to that line on your resume next to the letters "MBA" that every future employer you ever have is going to look at. Are they going to sit up and pay a little more attention to the rest of your skills and experience, or are they going to slide that paper over closer to the slush pile? That's the power of reputation.
It gets built on the back of those who came before you and those you will learn from. So we listened to the word on the street when it came to MBAs with strong leadership concentrations. Whether it was graduates of those programs giving them high marks in evaluations or major rating organizations like U.S. News & World Report putting them high up on the lists of the best schools in the country, we looked at what the community had to say about these schools.
Instructors Who Have Developed Real Leadership Expertise and the Skill To Teach It
Leadership is tough. Any program in organizational leadership will teach you that right off the bat. And it's even tougher to find people who can actually teach others how to be leaders. There aren't many professors out there who have the right combination of actual industry experience and the key academic and research credentials to pass the skills along.
These programs have found exactly those individuals and put them to work training the next generation of great business leaders. They have the kind of real-world experience to know the pitfalls and tricks of leadership first hand. And then they've gone on to study the theory and history of organizational behavior, strategic communication, and all the other disciplines that put in the foundations beneath that knowledge. If you want to learn how to lead a business, there is no one better to learn it from than the professors working at these schools.
The Right Industry and Community Connections to Hone Your Expertise
When we're talking about how important real-world skills are on top of academic experience, you have to realize that's just as true for your own development as it was for your instructors. So the kind of opportunities that your MBA program offers you to combine your classroom learning with real, on-the-street experience are a big deal.
These schools have options that let you explore real-world leadership alongside your academic studies. Of course, no one is going to make you a leader in a major corporation while you're still learning the ropes, but you will find internship opportunities, practicum courses, and various mentorship options that will put you together with effective leaders in their native environment so you can see how it's done.
And many programs here have partnerships with major corporations that allow you to work on projects involving actual leadership problems, ones that you'll learn to solve with a full view of all the complications that come in a real leadership position.
Networking and Career Services To Help Launch Your Leadership Journey
Getting an amazing education is just the first step to actually becoming a leader. Next, you have to go out and get that promotion or pick up that new job.
All of these schools work hard to help you put your new training to use in a genuine organizational leadership job after you graduate. In part, that comes through great networking opportunities that put you into internships in the right places to meet people you'll count on through the course of your career. Or it might be conferences and other academic events to let you rub shoulders with movers and shakers plying organizational leadership skills in a variety of industries and fields.
On top of that, you can count on career services teams that genuinely care about getting you into positions you want and that will go the extra mile to make it happen.
The Academic Resources and Support to Excel in Your Studies
Getting a good reputation in the MBA world means one thing: a very tough degree program that forges strong, well-trained leaders.
Getting through those programs isn't something you can do on your own. You need the help and support along the way to get through the rough spots. And these schools have academic advising and counseling services to help you do it. They also make sure you have all the resources, from research opportunities to voluminous case studies, to make sure answers are always at your fingertips.
Choosing the Right MBA in Organizational Leadership for the Path You're On
Superb business schools offering OL concentrations aren't that common, but they aren't exactly rare. You'll find enough top programs on this list that you're still going to have some hard choices to make when deciding where to apply.
So we're giving you a lot more to work with than just telling you how great all these schools are. You want to find the perfect fit for your own career path, and we're going to give you all the data you need to find it.
Each of these listings includes information like:
You'll also find a quick highlight reel laying out what makes the school truly outstanding, even among its superb peers. Special connections to different industries, unique overseas study experiences, or extra accolades from a particular rating organization will all get a mention.
And for when you narrow your list down, there's a link to get you right back to the program page for any other details you need.
Our Top Picks for the Best MBAs in Organizational Leadership
Becoming an amazing business leader starts with an amazing MBA in Organizational Leadership. Your best option is right here somewhere on this list.
Pepperdine University (private)
MBA with a concentration in Leadership and Managing Organizational Change (on-campus, online)
Also offers: MS in Management and Leadership
Pepperdine University's MBA in Leadership and Managing Organizational Change is offered in a convenient and flexible on-campus (called the Full-Time MBA) or online format and ranked among the top programs of its kind in the nation by the Princeton Review. Whether you earn your MBA here in-person or from a distance you'll complete a dynamic and rigorous course of graduate study that's focused on preparing students to become the leaders who drive meaningful change. This exciting MBA program effortlessly blends theory and practice and allows students to work in small teams for hands-on projects. We love the online program's on-campus immersion in Malibu, which allows students to connect and engage with instructors and one another, and the opportunity to participate in either a Global Business Intensive course or a trimester exchange at one of the universities 30+ international partners through the online MBA.
Mount Saint Mary's University (private)
MBA with a concentration in Organizational Leadership (on-campus)
Mount Saint Mary's University's MBA with a concentration in Organizational Leadership is a superb weekend MBA that is dynamic, collaborative, and accelerated, offering today's and tomorrow's leaders with everything they need to elevate their skillset and lead individuals and teams with confidence. Students of this program attend weekend-only courses for 20 months (usually about two weekends a month). During this exciting course of graduate study, students have the opportunity to engage with their peers, faculty, experienced alumni, and corporate partners. This strong community has allowed this MBA program to stand out from the competition and provide students with access to an inspiring network of pros. Students of the MBA in Organizational Leadership learn how to executive organizational initiatives, become a stronger, more effective leader, and develop the skills they need to succeed in both the private and nonprofit sectors.
Woodbury University (private)
MBA with a concentration in Global Strategy-Leadership (on-campus, hybrid)
Woodbury University's MBA in Global Strategy – Leadership is built on three tenets: responsible leadership, sustainable business, and self-empowerment. Students of this esteemed course of graduate learn to become socially responsible leaders who develop and lead sustainable businesses and make positive organizational decisions. This program is ideally designed for both business and non-business undergrads alike, and those with an undergraduate business degree can complete this program in just one year. Designed as an applied, practice-based MBA, Woodbury's MBA features convenient, seven-week courses; evening, weekend, and hybrid courses; and interactive, workshop-style classes that include an engaging capstone experience that allows students to work together on a real-life business strategy.
Upper Iowa University (private)
MBA with an emphasis in Leadership (on-campus, online)
Also offers: Certificate in Organizational Development
Upper Iowa University's MBA in Leadership provides both recent college grads and seasoned pros with an exciting course of graduate study that's designed to take their careers to the next level. Just some of the many reasons we love this MBA program include a faculty of experienced professionals who bring their life experience to the classroom… an convenient format that features five, eight-week sessions and an accelerated, six-week summer session… and the option of completing coursework entirely online or at select campus locations.
Newman University (private)
MBA with a concentration in Leadership (online, hybrid)
Also offers:
BS in Organizational Leadership
Leadership certificate
Newman University's MBA in Leadership offers a superb course of graduate study that effortlessly blends a strong MBA core with an exploration of leadership. Here, students hone their personal leadership style, examine how interpersonal skills influence leadership behavior, and begin examining the methods that create effective, efficient, and productive work environments. Just some of the topics explored include individual employee support and success, leadership style and practices, and personal leadership resources. You're sure to love the flexible format that features convenient, eight-week courses and your choice of online or hybrid course delivery. Newman's BS in Organizational Leadership is also one of our top choices for undergraduate programs in leadership and is offered as both a traditional, four-year program that's delivered both on-campus and online and as a bachelor's degree completion program that's delivered in a fully online format for busy, working adults who have already completed some college coursework.
Bentley University (private)
MBA with a concentration in Leadership (on-campus, online)
Bentley University's MBA in Leadership offers an exceptional academic experience that's built on a cutting-edge curriculum that combines classroom instruction with international trips for a truly one-of-a-kind graduate program. Students of this program study theory in the classroom and then head out into the world to apply what they've learned while elevating their understanding of the world's economy and foreign cultures. Unmatched learning experiences with top business executives allow students to get a clear understanding of how today's leaders face and conquer their biggest business challenges.
Davenport University (private)
MBA in Leadership Strategies (on-campus, online)
Also offers: Leadership Strategies Graduate certificate
Davenport University's MBA in Leadership Strategies is where students become transformative, motivational leaders who develop the strategies that result in organizational growth and development. Here, students focus on elevating their critical thinking, ethical decision-making, and problem-solving skills and learn to apply modern business decisions that help drive success. Offered both on-campus at the university's Lettinga campus in Grand Rapids or online through their Global Campus, this program offers both emerging and seasoned leaders an outstanding course of graduate study that's taught by an esteemed faculty of business experts and entrepreneurs. Designed for busy, working professionals, the MBA in Leadership Strategies boasts plenty of hands-on learning experiences and a 96% graduate satisfaction rate!
Augsburg University (private)
MBA with a concentration in Leadership (on-campus)
Also offers: 
MA in Leadership
Leadership Studies minor, certificate in Leadership Studies
BA in Accounting and an MA in Leadership joint program
MAL/MBA dual degree
Augsburg University's MBA in Leadership is robust, dynamic, global, and engaging! This exciting course of graduate study comes complete with small class sizes and a cohort model of learning that encourages communication, collaboration, and support between students and with faculty. We also love the program's evening class format that accommodates today's busy, working professionals and the exciting experiential learning opportunities that ensure unparalleled, hands-on learning. Students here learn engage in learning experiences with Fortune 500 companies and the famous Mayo Clinic! Study at the Minneapolis-St. Paul or Rochester campus and considering taking your MBA to the next level by studying abroad in Europe or Latin America.
Queens University of Charlotte (private)
MBA with a concentration in Leadership and Change (on-campus, online, hybrid)
Also offers: 
Minor in Leadership
Certificate in Not-for-Profit Leadership
Certificate in Organizational Leadership
MS in Talent and Organization Development
Queens University of Charlotte offers an MBA in Leadership and Change – your opportunity to elevate your business acumen and leadership skills and take your career to the next level. We love this flexible course of graduate study because in addition to a strong MBA core, students have the option of personalizing their program by adding an optional concentration in Leadership & Change, Healthcare Management, Finance, Executive Coaching, Cybersecurity Management, or Global Business Management. We also really like this program's flexible format that includes your choice of on-campus or online study. You can even choose a combination of online and on-campus study – whatever works best for you! This program can be fast-tracked and completed in less than two years or taken at a slower pace, if desired. Want to take your MBA to the next level? Consider an international experience to South Africa!
Xavier University (private)
(Full-Time) Emerging Leaders MBA (on-campus)
Also offers: BA in Organizational Leadership (online, on-campus)
Xavier University's Emerging Leader's MBA (ELMBA) is a one-year, full-time, cohort-style program that blends a strong MBA core with experiential learning, career development, and a team-based learning environment. Courses here are blended with exciting experiences that include international study, internships, consulting projects, business plan development, company visits, and executive mentoring. You'll also have the option of pursuing a concentration in areas like General Business; Business Intelligence; Finance; Innovation/Change/Entrepreneurship; International Business; Marketing; Pricing Strategy; Supply Chain Management; and Values Based Leadership.
Oklahoma Baptist University (private)
Transformational Leadership MBA (on-campus, online)
Oklahoma Baptist University's Transformational Leadership MBA prepares leaders who have the tools and knowledge to excel in an increasingly global, dynamic market. Graduates of this exciting and robust course of graduate study learn to become effective and confident leaders who find resourceful solutions to challenging problems and create value by transforming the organizations they work for. We love the personalized nature of this program – professors work alongside students to craft projects that best align with their career goals. And an Ethics, Business Law and Leadership course ensures that all students graduate with a strong business ethic.
Drexel University (private)
MBA with a concentration in Effective Leadership, option for Executive MBA (on-campus, online)
Also offers: 
BS in Business Administration-Ogranizational Management co-major
(Certificate, MS) in Higher Education Leadership
Ed.D in Educational Leadership and Management
Certificate in E-Learning Leadership
MS in Arts Administration and Museum Leadership
(MSN, Post-Master's Certificate) Clinical Nurse Leader
Drexel University's MBA in Effective Leadership effortlessly blends a strong MBA core with current leadership methods to produce confident, effective leaders in today's ever-changing business environment. Whether you're an emerging or seasoned leader, you'll love this program's focus on contemporary topics in leadership, such as virtual team leadership, negotiations, sustainability, digital supply leadership, ethics, and value creation. Complete this program on a part-time basis in 24-36 months or choose a full-time course of study and you can graduate in as little as 12 months! Not quite ready for graduate study? Drexel's BS in Business Administration-Organizational Management co-major provides a solid foundation in organizational management for emerging leaders and is designed in a co-op format that alternates six months of learning with six months of professional experience. Through the co-op program, students can gain as much as 18 months of professional experience before they ever graduate!
Lebanon Valley College (private)
MBA with a concentration in Leadership and Ethics (on-campus, online, hybrid)
Also offers: Leadership and Ethics Certificate
Lebanon Valley College's MBA in Leadership and Ethics is designed for both emerging and seasoned leaders who want to excel in a constantly changing, increasingly global world. There's plenty of love about this program: it's taught by a faculty of expert business leaders in their fields… offered in a flexible format that includes your choice of on-campus, online, or hybrid study… designed in an interactive structure that features a blend of team-building projects, mock negotiations, and real-world case studies… and features an accelerated design that allows you to complete your MBA in as little as a year!
Seattle University (private)
Executive MBA in Leadership (hybrid)
Also offers: 
BA in Humanities Leadership
Doctorate in Educational and Organizational Learning and Leadership
Executive Leadership Certificate
Fundraising Leadership Certificate
Leadership Formation Certificate
Master of Nonprofit Leadership
Major in Interdisciplinary Arts with an Arts Leadership specialization
Major in Performing Arts and Arts Leadership
Minor in Arts Leadership
Seattle University's Executive MBA in Leadership boasts a convenient, hybrid format to accommodate the needs of today's busy, working professionals. It also features a focused curriculum that's designed to elevate your vision and skills and prepare you to become a confident, effective leader who makes a profound impact on the individuals and companies you serve. This program's strong MBA core is effortlessly blended with an intense emphasis on personal leadership to create a superb course of graduate study that serves as a transformative leadership education and experience. You're also sure to love the support and guidance that are woven into this program. With dedicated, one-on-one executive coaching, you'll feel supported throughout your MBA experience.
Saint Martin's University (private)
MBA with a Global Leadership concentration (on-campus, online, hybrid)
Also offers: 
Post-Graduate School Administrator Certification
PhD in Leadership Studies
Featuring your choice of on-campus, online, or hybrid study and open to students with or without an existing business degree, Saint Martin's University's MBA in Global Leadership is the picture of flexibility! This exciting course of graduate study boasts an innovative curriculum that allows students to elevate their leadership skills by honing their business knowledge and skills, their soft skills (leadership, ethics, communication, and teamwork), and their competencies (critical thinking, problem solving, global perspectives, and innovation and change). Complete your MBA in Global Leadership online, at the Lacey or Saint Martin's – JBLM campus, or through a blend of the two – the choice is yours!
Milwaukee School of Engineering (private)
MBA in Leadership (on-campus, hybrid)
Also offers: MBA in Educational Leadership, or New Product Management
The Milwaukee School of Engineering's MBA in Leadership is an innovative course of graduates study for future leaders who confidently lead individuals and teams and solve problems in an increasingly complex, technical world. The program's integrated curriculum combines theory with dynamic field projects and includes specializations in leadership and business analytics that allow you to personalize your program according to your specific career goals. This program is built upon a 50-year tradition of preparing engineers and technical professionals for advancement to leadership positions!
Alverno College (private)
MBA with a concentration in Organizational Leadership and Development (on-campus, hybrid)
Alverno College's MBA in Organizational Leadership and Development offers an innovative graduate pathway that comes complete with limited enrollment; a tightknit, cohort design; plenty of individualized teaching; and a robust curriculum that was expertly developed by business leaders and designed with career readiness in mind. This is where seasoned leaders flock to get the education and tools they need to become top-notch business or organizational leaders. You're sure to love the flexible design of this program, which features year-round electives (offered in an on-campus, online, or hybrid format). The required courses of the program are delivered every other Saturday on campus. All students of this program are employed full-time in a business-related or organizational field, thereby creating a robust, peer-to-peer network.