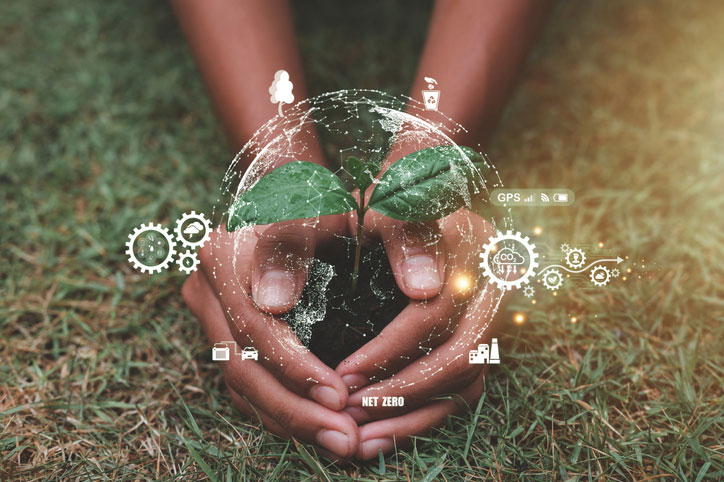 There are few fields in the world today where strong leadership is as important is it is in sustainability. On a planet that is creaking at the seams from the pressures of human population and consumption, forward thinkers understand that every other part of our lives and society matter very little unless the sustainability problem is cracked.
<!- mfunc feat_school ->
Featured Programs:
Sponsored School(s)
<!- /mfunc feat_school ->
Strikingly, there are plenty of solutions to deal with sustainability issues. Scientific breakthroughs in green energy, in carbon capture techniques, in efficient water use and processing have offered up all the tools needed to sustain a human population on Earth indefinitely. And even more encouraging developments are in the works.
But it turns out that the best technology and innovation is completely worthless without the leadership drive to adopt it. Electric cars languished until Elon Musk's Tesla turned them into a must-have accessory for the rich and famous. The hole in the ozone layer threatened to grow and increase ultraviolet radiation to dangerous levels, until world leaders joined together in the Montreal Protocol in 1987 to phase out chemicals causing ozone depletion.
Everywhere you look, any sort of environmental sustainability success story has the vision and drive of leaders in business, government, or non-profits behind it. If your goal is to become one of those individuals who will make a difference in the future of our planet, then a degree in organizational leadership with a sustainability focus is one of the best ways to get started.
Sustainability Leadership Is in Demand Across Industries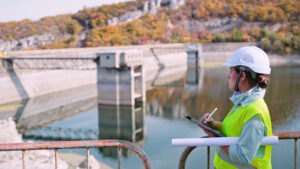 There is a lot of interest in sustainability in both business and government today, and for good reason. The lack of sustainable energy, manufacturing, and social policies is starting to come back to bite us all. From civil unrest in the face of economic uncertainty and water shortages in agricultural communities around the world to the rising damage from mega-storms, the evidence of unsustainable practices has become clearer than ever. Reversing those trends is a job for leaders.
Sustainability includes social justice.  It isn't just about environmentalism. It's a movement that recognizes that social stability and justice are also necessary pieces for a society to survive and thrive.
Sustainability is also good business. Making money by pumping a finite resource out of the ground and selling can make you a lot of money for a lot of years, but it's hardly a way to create an organization that will last for the ages. Which is why you see Big Oil pivoting to sustainability efforts like carbon capture and storage today.
Sustainability is the ethical choice. Ethics is an unavoidable part of leadership studies. It's also a critical piece of the logic and requirement of sustainability. The need to leave a planet and society for the next generation that is livable and enjoyable is a basic commandment of humanity.
Why There Is No Sustainability Without Leadership
Sustainability is ethical and important, but it's not easy. That's where organizational leadership studies can help.
The path with the easy choices was the one that we all followed to get here. It takes leaders with vision and a plan to take us to the more sustainable trail to the future.
Unlike other fields that offer specialized OL studies, sustainability isn't really an industry. Graduates from leadership programs with a sustainability focus go on to work in diverse areas ranging from conservation to manufacturing to sales and marketing. Their leadership skills don't have a single, easily-defined area of application.
Sustainability leaders think at a global scale but act on initiatives that are within their organization's reach.
Instead, leaders in sustainability pick their battles on a case by case basis. Whether it's spearheading a solar power plant project at a regional electrical utility or developing an initiative to cut down on plastic packaging at a toy manufacturer, they make a difference in their own unique way wherever they land.
Leadership Degrees To Build Your Sustainability Management Credentials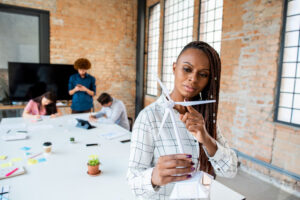 Degree programs that teach sustainability leadership follow the same pattern: they offer general training in leadership skills that can be applied in all kinds of different industries and jobs.
The breadth of the field means there are a lot of paths into sustainability work. Some of these are in jobs that require significant professional credentials in their own right, like engineering or architecture. In other cases, you can get a foot in the door with a general sustainability degree.
In every case, throwing in leadership training will take you further and allow you to accomplish more in the cause of sustainability than any major by itself. But exactly how and where you decide to get that organizational leadership training may depend a lot on your personal career path.
Sustainability Leadership Programs Are Available at Any Stage of Your Career
Fortunately, you will find degrees that focus on sustainability leadership at almost every level of study in American universities. For example, a Bachelor's in Leadership, Ethics, and Organizational Sustainability gets you started at the four-year degree level.
Costing an estimated $37,500 at public universities, or $131,300 at private schools according to 2021 data from the National Center for Education Statistics (NCES), this is the degree to get your foot in the door in sustainability management. In addition to specific training in both leadership and sustainability science, a bachelor's program also comes with general knowledge and critical thinking skills that are important for leaders of every stripe.
But the more common level of education for leaders in sustainability is at the master's degree level, like a Master of Arts in Sustainability Leadership or a Master of Science in Leadership for Sustainability. These programs can take a year or two and cost $12,410 per year at public schools and $26,597 at private colleges according to NCES. They build up advanced skills in communication, strategic planning, and conflict management to allow you to take on the most senior roles in sustainability in your organization.
There are also degrees that offer a stronger focus on leadership in very specific areas of sustainability work, like an Environmental Leadership Master of Environmental Management.
You can also find programs that have more of a leadership focus, with sustainability courses added as a focus area, like the Master of Arts in Organizational Leadership with a Sustainability Concentration. A MAOL or MSOL (Master of Science in Organizational Leadership) isn't necessarily a better or worse choice than a sustainability major. It all depends on your needs and focus.
Of course, you may already have significant amounts of on-the-ground experience or training in one area or the other. In those cases, a certificate program can make a lot of sense. A Certificate in Sustainable Organizational Leadership or Certificate in Socially Responsible Organizational Leadership can help you polish up your skill in a certain carefully defined field.
Although they don't offer as broad a base as a full degree, they do come at a much lower cost and with much faster results. That makes them a prime choice for leaders who are already working in the field, but who need credentials or additional expertise to advance further.
While you'll also find doctoral level programs available, such as the PhD in Organizational Development and Change with a Concentration in Sustainability Leadership, these are most commonly aimed at preparing graduates for research or teaching positions. Lasting four years or more, and charged at the same rate as master's programs, they represent a strong commitment to leadership studies, but aren't typically required even at the most senior levels.
When Dual Degree Programs Are the Best Option for Leadership Skills in Sustainability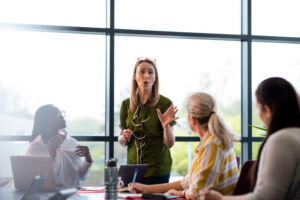 In some cases, you might find that a generalist degree in sustainability leadership doesn't quite cut it. That can be true in very technical, scientific sustainability fields like biology or engineering, for example.
In those cases, you'll almost certainly need to get your professional degree in the major field you will be practicing in. Just tacking on a few electives won't cut it.
But you don't want to short-change your leadership studies, either. That's when dual-major programs start to look attractive.
A dual major doesn't involve quite the same amount of work as pursuing two degrees separately. You will be able to count any general studies courses toward both programs, so only required courses for your major will be doubled up. And you'll get the full measure of training in both fields as any other graduate.
You can also choose to stack degrees, earning, say, a bachelor's degree in engineering and following it up with a Master of Arts in Sustainability Leadership to hone those important communications, strategy, and vision skills.
What Skills Will You Learn in a Sustainability Leadership Degree Program?

Organizational leadership coursework in sustainability leadership areas tends to lean in hard on the visionary, transformative aspects of being a leader. After all, going from unsustainable to sustainable means change. Managing that change for your team and for your society is one of the most challenging parts of being a sustainability leader.
To help you get through those tough spots, you'll study subjects such as:
Global Context in Sustainability
Sustainability has to happen on a global scale or it doesn't happen at all. To understand how your own ideas and innovations fit into the big picture, you will have courses that show you how all the pieces fit together. You'll explore current efforts in sustainability and look at how future initiatives might evolve in the field.
Transformative Leadership Principles
While all leaders have to master the arts of change management, that's not the same as being a change agent. Through study of theories of transformational leadership, you'll learn not only how to react to change as it comes your way, but also to initiate and manage grand shifts in your organization to more sustainable practices without creating dissent and disturbance.
Communications and Sustainability Storytelling
Organizational leadership programs always include coursework in strategic communications. It's important both for clarity and for selling your vision as a leader in any field. In sustainability, how you pitch your concepts is of particular importance. These classes offer an edge in developing a story of transformation that is honest but hopeful, giving you the kind of rhetorical tools you need to master to get buy-in on your sustainability ventures.
No matter how grand your vision of the future is, it will take a lot of hard work and elbow grease in the present to make it happen. The nuts and bolts subject of project management will help develop your skills in actually lining up and coordinating the tasks needed to make your dreams a reality. Through technical instruction in tools like Gantt and burn-down charts and practical discussions of conflict resolution and scheduling, you'll learn how to keep your organization on track and on budget.
Assessment, Resource Allocation, and Strategic Planning
Smart sustainability leadership requires a keen sense of the possible. The very art of sustainability requires understanding how resources are created and allocated, and an ability to forecast consumption and regeneration. So coursework in assessing your organization and its capabilities, and in distributing available resources where they will do the most good will serve you well.
In a field that is really all about making ethical choices, expect to have some heavy-duty instruction in what exactly ethics are and how they influence your actions and decisions. You'll get a full slate of the philosophical and logical girders of sustainability ethics, as well as discussions on the latest thinking and implications of moral thought around sustainability.
Most sustainability leadership programs also include a range of elective options that allow you to hone your scientific and business skills in your area of interest. You'll find courses available in areas like:
Particularly at advanced degree levels, you'll be asked to come up with your own original thinking in sustainability. You demonstrate that knowledge and those ideas through either thesis or dissertation papers, or a practical capstone project that puts them into practice. These all involve significant research and can absorb as much as half of your degree program at the master's or doctoral level. But the results will also help define your thoughts and career path for future employers.
Other practical experiences that come with these degrees include internships or partnership projects with organizations already active in the sustainability game. Even undergrads often have the opportunity to get out and observe and participate in sustainability work under leaders who will pass along their tips and tricks.
And overseas studies may be more common in this sort of organizational leadership program than any other. There's no better way to truly absorb the logic of global sustainability than travel to countries where the impacts of unsustainable practices are hitting hard. And there is much to learn from projects in countries that are ahead of the curve in sustainability, whether it's offshore wind farms or water conservation efforts in the deep desert.
Choosing the Right School To Meet Your Sustainability Leadership Education Needs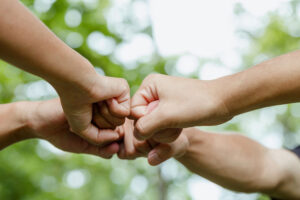 Picking the right school to pursue organizational leadership training with a sustainability focus requires a bit of digging.
Although sustainability is a real focus in both business and government today, it remains a field that is more emphasized in environmental science programs. So you're looking for a university that can put together both the technical business considerations with the scientific and ecological studies that inform them.
You'll have to make your own decisions about whether the schools you are considering for your degree pass this test. But there are other factors you will want to take into account, too.
Depending on the type of schools you are looking at, you can find a shortcut for figuring out if they are up to snuff in all these areas by seeing if they hold a specialty accreditation from a relevant accrediting body.
Specialty accreditation validates how well a school meets the requirements of certain fields. For example, business schools and programs may be evaluated by three different accrediting organizations with strong ties to both business and academic communities:
AACSB (Association to Advance Collegiate Schools of Business)
IACBE (International Accreditation Council for Business Education)
ACBSP (Accreditation Council for Business Schools and Programs)
Not every OL or sustainability leadership program fits in the box of a specialty accreditor, so it's not a must-have. But if you pick one from a field that does offer specialty accreditation, that's an easy way to check on the overall quality of the program.
Online Degree and Certificate Programs Offer a More Sustainable Way To Get Your Organizational Leadership Training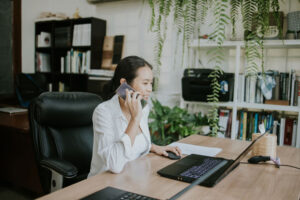 There's nothing more sustainable than earning your degree online instead of commuting to campus every day, or worse, having to relocate halfway across the country to attend school.
By sticking close to home, you're doubling up on your virtues: taking advantage of living spaces and routines you already inhabit, and also boosting your sustainability leadership knowledge.
There are also real advantages beyond saving the planet that come with online studies. There are all kinds of flexible options built into the online model, including asynchronous classes that you can attend at your own convenience. That offers the ability to view lectures and contribute to discussion threads at times that don't conflict with your current obligations.
So you can hold down your current job, a huge benefit if you are already working toward senior positions, without missing a beat. And you can spare your family your absence, putting home life first and taking care of schoolwork only when you have the time for it.
Jobs in Sustainability Leadership Can Take You to Anywhere on the Planet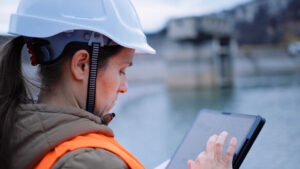 Although sustainability is a recognized field of practice, the applications are so broad it's hard to nail down any particular job or industry that it is associated with. It's true that you can find many positions out there today with job titles like Sustainability Manager, Sustainability Director, or VP of Sustainability. But you can find them across industries, in all kinds of departments, ranging from ski resort management to manufacturing firms to Wall Street investment banks.
That makes it a little hard to pin down any specifics about what you might be doing on the job. It could range from evaluating international automotive supply chains to find more efficient and economical ways to ship input resources, to spending your days wandering fields and factories looking at land and water quality as a key player in agribusiness.
The common thread to all of these sustainability leadership positions is that you will apply the skills you acquired in your college studies to finding healthier, safer, more economical ways for your organization to operate.
Sustainability Leadership Salaries Are Only Likely To Increase in the Coming Years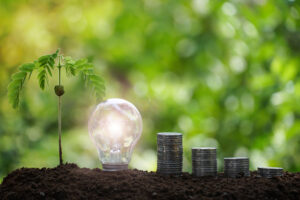 Just like the job descriptions for sustainability leaders, salaries can vary widely. The Bureau of Labor Statistics no longer tracks green jobs and doesn't have any separate category for sustainability management.
But you can take a stab at finding some ballpark salaries by looking at where leaders almost always end up in every kind of corporation, non-profit, or government agency: at the top.
That means the BLS category for Top Executives. As of 2021, the median salary for these senior roles is $98,980 per year. That includes both chief executives and general and operations managers, any of whom could have a sustainability focus depending on the organization.
But that number probably lowballs what you can expect with a leadership degree, particularly in a hot field like sustainability. While you might find yourself sitting at the median for a while with only a bachelor's degree, more experienced sustainability leaders, including those who go on to earn graduate degrees, are more likely to end up in the top ten percent salary range. In 2021, that came in at over $208,000 per year.
And it's important to remember that's just the level at which BLS stops counting. Particularly considering incentives, bonuses, and other perks that come with top executive positions, many sustainability managers bring in much more than $208,000 in total compensation.
Sustainability is something you do for reasons that go far beyond the money, however. Although it's a great career choice today, it's also simply the right thing to do for tomorrow. By focusing on leading your organization and your industry to more sustainable practices, you're ensuring a future for all of us.
2021 US Bureau of Labor Statistics salary and employment figures for Top Executives reflect national data, not school-specific information. Conditions in your area may vary. Data accessed February 2023.