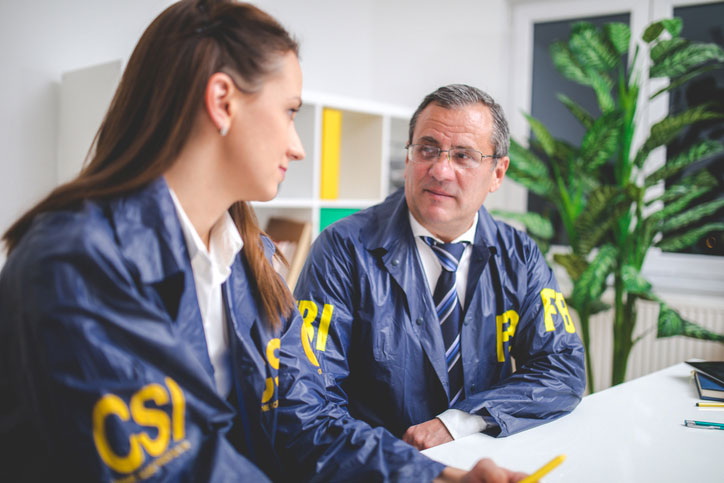 It's no stretch to say that the field of criminal justice today is facing some of the strongest leadership challenges in a generation.
<!- mfunc feat_school ->
Featured Programs:
Sponsored School(s)
<!- /mfunc feat_school ->
From jam-packed jails and prisons to questions of racial discrimination in law enforcement and the social tensions that surround it, American society is at a crossroads in how it views and operates the criminal justice system.
It's a field that is crying out for strong leadership. And it takes a real leader to stand in the face of the pressures coming from unions, elected officials, and citizens. Someone with incredible work ethic, a strong sense of social justice, clear communications skills, and a vision of a society with more peace and compassion.
You'll have to bring along your own sense of motivation, but most of the rest of those leadership skills can be found in a degree in organizational leadership with a criminal justice focus.
Meeting the Challenges of Modern Criminal Justice Organizations With Organizational Leadership Training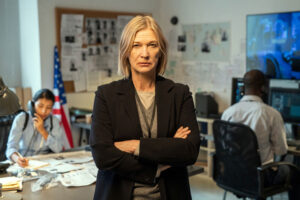 As a paramilitary organization, law enforcement agencies have plenty of experience with formal leadership roles and training.
But something has been missing in criminal justice leadership in recent years. Agencies have been lurching from crisis to crisis. Police abuses of authority and violence, particularly against minority communities, have become more visible than ever due to new technologies like cell phone and body cameras. Questions over funding have created problems in the ranks and fired debates over the role of policing in society.
An increasingly divided electorate and media environment has broken community consensus over solutions to modern issues in criminal justice. Strong leadership is the only way to rebuild it.
It's created a descending spiral in criminal justice where plummeting morale creates recruitment and retention problems, which then only lead to more problems of discipline and accountability. According to a 2019 report from the International Association of Chiefs of Police, almost 80 percent of agencies report problems recruiting eligible candidates for open positions, and a quarter have had to eliminate services or positions to accommodate staffing problems.
How Leadership Skills Impact Decisions at Every Level of the Criminal Justice System
The training that comes with organizational leadership degrees has broad applications in criminal justice work. From a jail warden tasked with maintaining order and rehabilitating hundreds of inmates to a chief prosecutor trying to earn the trust and respect of the community by making the right charging decisions, there are a lot of tough calls for leaders in law enforcement. Almost all of them can be made better through some of the standard techniques available in organizational leadership teaching.
Every officer on every shift has an opportunity to exercise leadership skills.
The communication skills that come with OL training may be the biggest advantage for CJ professionals in any role. Whether it's sharing intelligence about crime patterns, explaining law enforcement procedures to citizens, or gathering information during investigations, the ability to communicate clearly and to a defined purpose is key to criminal justice work.
Criminal Justice Leadership That Comes From the Least Likely Places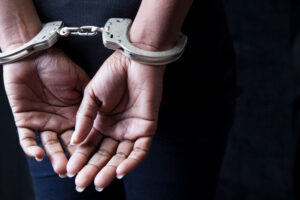 It's often noted in the law enforcement world that sometimes the best criminals make the best cops. But you don't hear it that often when people are talking about criminal justice leaders… unless they are talking about DeAnna Hoskins.
There's no question that Hoskins is a recognized and effective leader in criminal justice circles. She served as the founding Director of Reentry for Hamilton County in Ohio, dealing with the Cincinnati area, then became a senior policy advisor for corrections and reentry at the Department of Justice. She currently sits on the New York City Board of Correction and serves as president and CEO of JustLeadership USA. Her academic credentials are formidable, with a BSW from the College of Mount St. Joseph and a Master's in Criminal Justice from the University of Cincinnati.
That's a long way from the correctional facility she ended up in during her late 20s after nearly a decade of drug addiction.
That experience, together with a path through a reentry program herself that helped her back on her feet, are part of what make her an effective advocate and leader today. With both empathy and first-hand experience, her skills today serve as a hand up to other individuals in a similar position.
And in such a dangerous job, leaders also need to tap into OL skills to build cohesion and training programs to bring their team back safe at the end of the day. Discipline is important, whether it is in collecting evidence that will stand up in court, or acting with restraint in tense situations.
Degrees That Build Organizational Leadership Skills for Jobs in Criminal Justice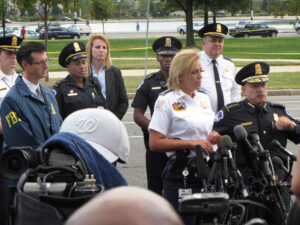 Many criminal justice jobs don't require a college education to enter into, although that is changing. But it does mean that you can start your leadership career path at a relatively low-level of college education.
For many law enforcement leaders, that means starting off with a four-year bachelor's degree. For leaders, you'll find two kinds of choices: degrees like a Bachelor of Science in Criminal Justice with a Leadership emphasis, or something like a Bachelor of Arts/Science in Organizational Leadership with a Criminal Justice concentration.
Either option offers four years of extensive training in not just law, justice, strategic planning, and interpersonal relationship-building, but also more general studies in the liberal arts. They are designed to turn out well-rounded individuals with the character and critical thinking skills to become effective junior supervisors and managers. The typical annual cost of a bachelor's degree is $9,375 at a public university, or $32,825 at a private school, according to the National Center for Education Statistics (NCES).
For more senior leadership roles, a master's degree takes one to two years to complete. These degrees, like a Master of Arts/Science in Organizational Leadership (MAOL/MSOL) with a specialization in Criminal Justice Leadership, or a Master of Science in Criminal Justice Leadership and Management, offer a more intensive and in-depth focus on both justice and leadership to hone your skills.
You can also pursue a more general Master of Public Administration (MPA) in Public Leadership and Management to qualify for some criminal justice leadership jobs.
At the highest level, a doctoral degree may take from three to six years. You can find these in areas such as a PhD in Public Management and Leadership with a Criminal Justice Specialization or with a PhD in Criminal Justice with a specialization in Public Management and Leadership or Organizational Leadership. You'll also find PhDs in Organizational Leadership itself, but they tend to be aimed at preparing you for academic and research posts, not active leadership roles.
Graduate studies, both for master's and PhD programs, typically cost $12,410 a year at public institutions and $26,597 at private universities according to 2021 NCES data.
Another option, at every level of college education from post-secondary to post-graduate, involves taking fast-paced certificate programs. These are packaged units of three to four courses that you complete quickly and that cost less than a full degree. They don't include the full level of detailed study that a degree would offer, but they can be just the thing to brush-up on your leadership skills in specific subjects. They have titles like:
Dual Degrees May Be the Only Option for Some Criminal Justice Roles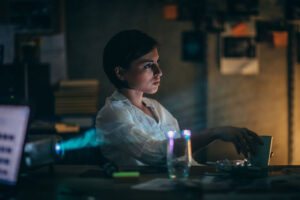 While there are plenty of options in both CJ and OL degrees to pick up the respective specializations, you still only have time to cover a subset of what a full degree in either field would get you. If you think you have the grit to handle it, it's also possible to pursue two full degrees at the same time.
A dual-degree program combines the general education and other shared requirements for graduation so that you aren't duplicating your efforts entirely. But you'll complete the full required courses for each individual major, which brings the entire benefit of both degrees to your arsenal.
For some kinds of jobs in criminal justice, a dual degree might be your only option for real organizational leadership training. That's the case for prosecutors, for example, who need a JD (Juris Doctor) to become licensed to practice law. A combined JD/MSOL program can give you both the legal chops and the leadership skills to take on the toughest decisions and cases.
A Leadership Curriculum for Criminal Justice Professionals Combines Legal and Leadership Training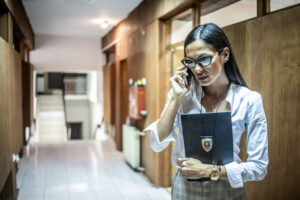 There is a surprising amount of crossover between the typical OL curriculum and a specialization in criminal justice skills. After all, the meat and potatoes work of law enforcement is basically about resolving conflicts and establishing order… not so different from what leaders in any organization do on a daily basis, except with pepper spray as a backup option.
So the courses you take will often present the same skillsets from two different angles. They'll include subjects like:
Ethical Issues in Leadership and Law Enforcement
It's critical for both leaders and criminal justice officials to have a strong ethical grounding. Not only is it important to be perceived as just and fair, but it also offers a toolset for making the many tough decisions that face criminal justice professionals every day. The philosophical and logical background of ethics and justice is where you'll learn how to set high standards in your organization.
Human Resources and Administration of Criminal Justice
The law extends well past the mean streets and comes into the workplace even for cops. As a criminal justice leader, you will be dealing with public employment labor laws, a sometimes tense workplace, and handling moral issues every day. So coursework in the laws and regulations governing employment in the public safety sector as well as common HR functions such as handling grievances will be an important part of your education.
Negotiation and Conflict Resolution
Whether it's hammering out a new union contract or talking a suicidal student down off a tall building, skills in negotiation and conflict resolution will serve you well as a leader. You'll learn how to read your audience, engage with their motivations and issues, and come up with ways to resolve conflicts that are seen as fair and just.
Criminal Procedure and Rules of Evidence
The basic processes of the justice system and law enforcement procedures are also covered, particularly at the bachelor's level. You'll need to master the same sort of basic knowledge as any of your staff in order to earn respect and develop your strategic plans for your organization.
Justice Systems and Policy
You'll learn all the ins and outs of the American justice system, from making an arrest to handling parole and reintegration of convicts to society. Particularly in advanced degrees, you will also get a historical and contemporary picture of criminal justice policy, covering everything from cashless bail proposals to de-escalation strategies.
Whether it's talking to elected officials, the public at large, your own team, or even criminals, you need to be able to get your point across as a criminal justice leader. Strategic communication classes teach you how to communicate effectively in support of your overall plan and vision, so that instead of becoming a spectacle on the five o'clock news, you can quietly and efficiently make your community a better place.
Choosing the Right School for Your Criminal Justice Organizational Leadership Studies
With a wide range of organizational leadership degrees offering criminal justice expertise, you won't have trouble finding plenty of schools to choose from. But that may mean that you have trouble picking only one!
You can make that process a lot easier by focusing on the essential factors that make for a great leadership program:
Some of the spadework in these critical qualifications may already have been done for you depending on the degree focus. Many criminal justice programs are eligible for certification by the Academy of Criminal Justice Sciences (ACJS), for example which sets standards for quality for criminal justice programs and assesses schools for their compliance.
Degree majors in organizational leadership, on the other hand, are often offered through business schools, which may earn specialty accreditation from one of three major accreditation agencies:
ACBSP (Accreditation Council for Business Schools and Programs)
IACBE (International Accreditation Council for Business Education)
AACSB (Association to Advance Collegiate Schools of Business)
Any of these can attest to the program's compliance with quality standards in the larger business community.
Online Studies Offer New Advantages For Leadership Degrees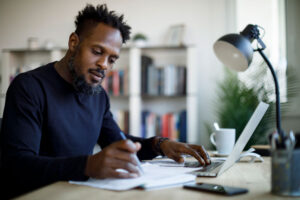 Online education has become a new normal at the college level in pretty much every industry and field. The pandemic proved that online degrees deliver just as much expertise as traditional programs. And the flexibility that comes as part of the package is a gift to leaders who need to jam in study time anywhere they can.
That can be after you finish up a graveyard detail at the county jail, on the weekend, or while you are on a meal break with a phone or tablet to stream lectures on. You can keep up with class developments through online chats, and turn in your homework anywhere you have an internet connection.
And since you don't have to relocate in order to attend, online options also open up your choices for schools and programs. So your current job and family obligations can come first, even while you're taking your leadership skills to the next level.
Exploring the Wide Array of Available Criminal Justice Leadership Positions
One thing is sure about jobs in criminal justice leadership: they'll be there as long as there is crime. And because that is a permanent feature of human societies, it means there are all kinds of potential roles you can fill as a leader in law enforcement and justice. Big cities, small towns, state and national agencies, even international agencies like INTERPOL… it's all on the table, focused on a dazzling area of different specialties and focus areas.
Most jobs in criminal justice are by their nature government positions. But beyond that, they offer a tremendous variety of different career paths and day-to-day responsibilities.
With an organizational leadership degree focused on criminal justice, you could find your day filled with tasks like:
Each of these positions come with their own challenges and unique demands in leadership. All of them are critical in some way to both the future of policing and to the safety and stability of society.
The Kind of Salary Can You Expect as a Criminal Justice Leader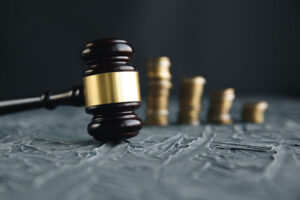 Most people who get into law enforcement as a career aren't doing it for the money. For many, there's really no amount that can measure up to how demanding the job of a leader can be in this field. But it's still something you need to consider as you plan for a career in criminal justice.
The Bureau of Labor Statistics is the go-to source for data on what different jobs in different parts of the United States pay. But because law enforcement jobs are on a continuum rather than having separate leadership roles with a different educational track, BLS doesn't have separate categories for police chiefs or other higher ranks in the force. But you can assume that most senior leaders, the kind who are likely to have earned an OL degree, are likely to make in the top ten percent of the field. For 2021, that came to more than $105,540.
The median salary for first-line supervisors of police and detectives is $98,760 per year. But an organizational leadership degree is likely to put you higher up the ladder, into the top ten percent of such positions, which pay $159,850 or more.
Another factor to consider, however, is that government jobs generally also come with very generous benefit packages. So although your paycheck might have a lower number than someone in a private sector position at the same level, you'll probably have a secure pension, excellent health benefits, and good vacation and family leave provisions.
But in some senses, that's all gravy. You want to make a difference in a troubled society. Leading a path in the field of criminal justice is a way to do it. Even the most average beat officer can do a lot of good each day out on patrol—imagine how many more lives, and how much more impact, a criminal justice leader can have in the community.
2021 US Bureau of Labor Statistics salary and employment figures for Police and Detectives and First-Line Supervisors of Police and Detectives reflect national data, not school-specific information. Conditions in your area may vary. Data accessed February 2023.