There is a serious range of options when it comes to choosing the right organizational leadership degree. You'll find bachelor's programs, MOL (Master of Organizational Leadership) and MAOL/MSOL programs, not to mention the specialized advanced degrees in business administration (MBAs), public health (MPHs), human resources (MHRs), public administration (MPAs), and educational leadership (EdDs) that offer OL concentrations.
<!- mfunc feat_school ->
Featured Programs:
Sponsored School(s)
<!- /mfunc feat_school ->
And once you've earned your degree, you'll be ready to ratchet your career into high gear, no matter what industry you work in.
Sure it's the nation's least-populated state, but that's never stopped Wyoming's leadership talent from punching above its weight. Energy, stunning natural beauty, military might: they're all here, and it all factors in to making Wyoming a unique place to do business, lead companies, and effect meaningful change in government and the non-profit space.
How Visionary Leadership and Clever Marketing Helped a Wyoming Restaurant Chain Become One of the Biggest in the West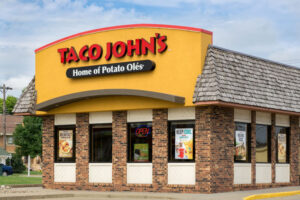 You wouldn't guess that a well-known Mexican-inspired franchise came out of a perfect combination of the things that make Wyoming unique: ranching, the geo-strategically located Warren Air Force Base, and an open-minded entrepreneurial spirit.
John Turner served in the Air Force, and that's what brought him to Wyoming. When he was honorably discharged in 1952, he liked the state so much he decided to stay and started working in restaurants around Cheyenne.
Turner wanted to capitalize on the tourists who came to the state for the Cheyenne Frontier Days rodeo, so he started selling tacos from a food truck. Emphasizing the same freshness, quality, and flavor that Taco John's is known for today, Turner's idea was an instant success.
Soon he was operating two food trucks, then taco stands, and by 1969 Taco John's was an established franchise. Today it has nearly 400 restaurants in 23 states and it's still growing.
Turner's initial business strategy was to focus on small towns where amenities like fast food restaurants didn't exist. Freshness and flavor have always been a part of the chain's winning recipe; the same fresh salsa that you'll find today has been bespoke-made from the beginning. And as the company that trademarked Taco Tuesdays, skillful marketing has also ensured continued growth through the present.
Through adept organizational leadership Taco John's has reached the point where it is today. Franchises are currently sold out in nine states, executives are competitively expanding in 14 focus-market states, and restaurants can open for business in over a dozen others.
One visionary leader with an understanding of the marketplace can turn an idea into something huge. John Turner had a knack for business when he started Taco John's, and through consistency, market comprehension, and an ability to rally investors and employees around a simple vision, he was able to capitalize.
Fortunately today, those same skills are taught and developed in organizational leadership programs, so you don't just have to bootstrap your way to the top. Whether it's a bachelor's, master's, or MBA with an OL focus, students today have the ability to draw from academic training and faculty experience to start taking deliberate steps down the path to success.
What You Can Do in Wyoming With a Master's or Bachelor's Degree in Organizational Leadership
Nuclear Power Headed to Wyoming
Until recently the town of Kemmerer was best known as the seat of Lincoln County and home of the coal-fired Naughton Power Plant.
By 2028 after a $4 billion investment it's slated to become home to one of the world's most advanced nuclear power plants, ironic considering that Wyoming produces around 40% of the nation's coal. Kemmerer's mayor has already said that real estate prices in the town are up.
Project planners forecast thousands of construction jobs will be created, along with hundreds of permanent jobs once the facility is fully operational.
This new reactor will be a proof of concept and as such the US Department of Energy is chipping in $2 billion, banking on an investment payout that will follow once the new technology proves effective.
The Natrium salt reactor is described as being both more efficient and safer than traditional nuclear power plants. So far Russia is the only nation that has fielded this type of reactor to scale.
The leadership behind this new investment includes none other than Bill Gates, executives with Rocky Mountain Power, public officials from Wyoming, and even the president of the United States. Gates is the chairman of TerraPower, the company behind the engineering of this new power plant. Rocky Mountain Power is a subsidiary local private electric utility ultimately owned by Berkshire Hathaway Energy.
Successfully getting the ball rolling for this new endeavor wouldn't have been possible without strong leadership from the private and public sector. From POTUS on down to the DOE and multi-billion-dollar Berkshire Hathaway Energy plus a major philanthropist; when billions are involved, you'd better believe so is skilled leadership.
Yellowstone's Success Through Strong Leadership
Without strong leadership Yellowstone National Park would quickly turn into a Disneyland-esque tourist attraction. It's natural beauty would be spoiled, it would be covered with trash and vermin, its wildlife would cease to exist as it does today, and it would be overrun by street vendors.
Thankfully that's the opposite of what Yellowstone is today. The world's first national park and still one of its biggest, Yellowstone is many things including one of the largest last temperate-zone ecosystems on earth.
1,000 staff members manage the park's 2.2 million acres on a $60 million annual budget. Each year the local economy benefits to the tune of over half a billion dollars, with Yellowstone tourism estimated to generate an additional 7,000 jobs in the area.
There are always challenges for park leaders, with some more unique than others. Wildlife conservation is always an ongoing effort, and that includes current efforts to combat non-native invasive species. 2022 was unique for its devastating floods.
Until the 1970s Yellowstone's trash disposal was managed by bears. Literally. Operators would deposit garbage openly at the Trout Creek Dump for bears and other wildlife to come from all around and scavenge. Back then there wasn't a strong understanding about ecosystems and natural resources.
Today the more-than 4,000 tons of waste generated at Yellowstone National Park is processed normally. Less than half of all its trash ends up in a landfill thanks to recent initiatives that have emphasized composting and recycling. Going into the future park leaders are planning to compost or recycle 75% of all waste.
Coordinating with private companies, federal and local government agencies, staff, and millions of tourists is no small task but Yellowstone's Superintendent pulls it off. In addition to millions of awestruck tourists who pass through the park every year, it collects approximately $14 million in recreation fees annually.
Universities in Wyoming Offering Master's and Bachelor's Degrees in Organizational Leadership
Today you can learn the tradecraft of organizational leadership anywhere in the nation as long as your computer has an internet connection. However you study OL, one of the most exciting times in your life will be when you graduate from your program with confidence and competence knowing that you're ready to hit the ground running.
Accreditation: HLC
Public School
Campus, online

BAS in Organizational Management and Leadership
Also offers: Leadership Studies Certificate
Accreditation: HLC
Public School
Online

BAS in Organizational Leadership
Also offers: Leadership Minor