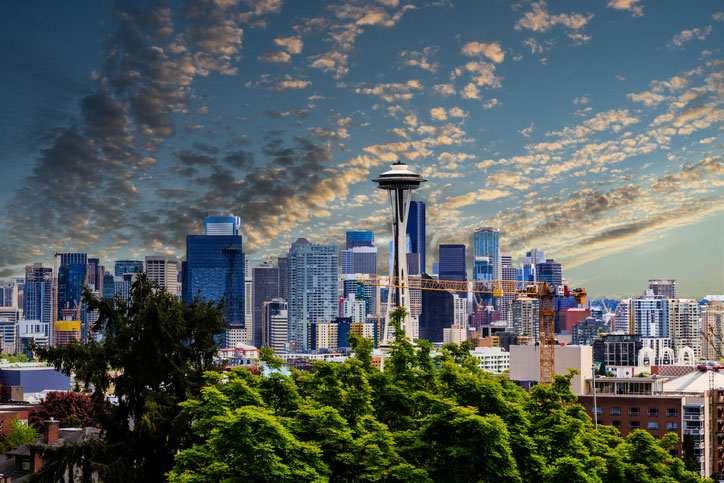 Garages, at least in Seattle, are extremely underrated tech incubators. Seattle's grunge music scene came out of them, and so did the nation's second most profitable company, Amazon.
<!- mfunc feat_school ->
Featured Programs:
Sponsored School(s)
<!- /mfunc feat_school ->
In 2021, Jeff Bezos – competing for the #1 spot to be the world's richest person – flew to space for fun in his own rocketship. Only a few decades earlier in 1994 he and his wife's crowning achievement was their Seattle garage-based online bookstore – at the time worth a whole $10,000.
In 1997 when Amazon went public, it was in the right place at the right time. The place was Seattle, already known for its Microsoft-famous tech industry. But whereas plenty of dot com businesses went bust, Amazon bucked the trend thanks to Bezos' leadership.
Bezos has famously outlined 14 leadership principles, among them a hint about confidence, recognizing that natural leaders are often the ones who instinctively make the right decisions. He also pays homage to the age-old adage that the customer is always right.
Today Amazon employs approximately 1.5 million full-time team members and nets somewhere in the neighborhood of $514 billion a year. It ranks in second place on the Fortune 500.
How Seattle Built the New Tech Industry, Offering Brainpower and Access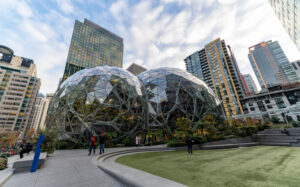 People across the rest of the nation probably missed it, but around the late twenty-teens Seattle's real estate market seemed like it was going off the rails. Headlines about how homes sold faster in Seattle than anywhere else in the nation started appearing more frequently. Locals were raising their eyebrows, and all of a sudden people just getting into the housing market found the rug pulled out from under them.
What was going on?
Microsoft and Amazon were already headquartered in the area. Google staked out a claim in Seattle's Fremont district in 2006. Getty Images, Expedia, and Redfin all call Seattle their corporate headquarters. Facebook, Apple, Twitter, Dropbox, Uber, and Yahoo! are just a handful of other companies who've established branch offices in the Emerald City.
As one analyst explains, what's happening in Seattle is a version of what happened in Silicon Valley.
Long established as the home turf of giants Microsoft and Amazon, for a while any tech company that had a chance of getting big in Seattle would be quickly scooped up and bought out by one of the two.
However once out-of-towners like Google (Alphabet), Facebook, and Apple started getting involved in the area everything changed. Compared with Silicon Valley, Seattle's relatively low housing prices also drove movement to the Pacific Northwest.
A massive local talent pool and cheap housing: you couldn't ask for a better combination to drive tech growth and innovation.
This has worked out very well for anyone already invested in Seattle's real estate market, and it bodes extremely well for anyone from Washington State who's interested in pursuing a career in leadership with any of the nation's leading tech companies with a presence here in the shadow of Mount Rainier.
Amazon quickly outgrew its 1994 garage. When it went public in 1997 with a $300 million valuation it was time to expand to a second distribution facility. From there it diversified into music, then clothing, and then web hosting. At this point Amazon's expansionist eyes were on everything that could carry an online price tag.
Continuous innovations –Amazon Prime, Kindle, its $300 million Audible and $970 million Twitch acquisitions, and Echo– have paved Amazon's path to where it is today. Bezos' company has even gone so far as to diversify into completely different industries like news and grocery, buying the Washington Post and Whole Foods.
Describing himself as an inventor, in 2021 Bezos chose to pass the CEO torch on to the next person. And along with that torch came a piece of leadership advice: he hopes future leaders of the company will take steps to cause its employees to rank Amazon as the best employer the world.
What's indisputable is that Amazon vigorously guards its status as a successful company, and its talented leadership staff have great prospects in front of them.
A degree in organizational leadership is the first step you can take towards building your scaffold and signaling to the world that you're serious about leading teams to greatness like so many Washington natives before you.
What You Can Do in Washington With a Master's or Bachelor's Degree in Organizational Leadership
Today's companies are looking for people with demonstrable skills in marketable fields. An OL degree is just such a credential. At the bachelor's level this gives you a strong foundation in the basics: emotional intelligence, strategic management, inspirational leadership, and the like.
For those ready to advance careers and compete for leadership roles, MOL (Master of Organizational Leadership), MAOL/MSOL, and MBA programs with concentrations in organizational leadership, in addition to other specialized degrees in fields as diverse as public health and technology provide the answer.
How Redmond's Microsoft Became a Leading Global Tech Corporation
Contrary to popular lore Microsoft didn't start in Washington State. In 1975 a company dealing with microcomputer software –"Microsoft"– was founded by Seattle-natives Bill Gates and Paul Allen in Albuquerque. It was only in 1979 that Microsoft was officially incorporated in Bellevue, Washington.
By 1981 Microsoft developed the widely popular operating system MS-DOS. By 1983 the first version of Windows was released, and when Microsoft went public in 1986 31-year-old Gates became a billionaire.
Innovation has always been central to Microsoft. Internet Explorer was released in 1995, and in 2001 Microsoft made its first serious attempt at capturing shares from the gaming market with its introduction of the Xbox.
A steady vision from the company's leader Gates has also kept Microsoft competitive. From the beginning there was a vision of a computer on every desk in every home; a concrete visualization of Microsoft's market success.
Just to scratch that cult-of-personality itch, Gates is reportedly a stickler for time, accounting for every minute in his daily schedule. Anyone who's worked for Microsoft or in general for a large corporation can probably relate to this.
In fact, Gates is a stickler for a lot of things. If a company is your baby, then you're going to treat it as such. This seems to be Gates' approach for Microsoft. In one speech at Microsoft, he talks honestly about how he's consciously had to take a more hands-off approach to things like writing code and hiring. For a person who's used to writing every line of code and having a say over every person who gets hired, this could obviously be a challenge.
Good leaders will always compensate for their blind spots, just like how Gates delegated code-writing and HR tasks to others so he could have more time to focus on leading Microsoft.
And that leadership has paid off both directly while Gates was in charge and indirectly with a homogeneous company ethos even after Gates stepped away from the helm. In 1996 Microsoft employed 20,561 professionals. Today in 2023 that number is up to 221,000 people, with the company earning $204 billion over the past 12 consecutive months.
Day-Old Diner Drip Meets Starbucks
Before Starbucks coffee was something workers drank out of a communal pot, the result of boiled water being poured into a grounds-filled paper filter that dripped out of a never-cleaned plastic mechanism into a glass pitcher.
Seattle changed all that.
Seattle was an early adopter of the farmers' market model: in 1907 its city council designated Pike Place officially as such. Soon after produce-filled wagons began filling the space.
Fast forward to 1971 and a small local coffee establishment opens its first store at the Pike Place Market, named after a Nantucket Quaker character from the Melville novel Moby-Dick: Starbucks.
Starbucks at Pike Place was doing its thing until along came a person named Howard Schultz. He loved Starbucks from his first sip in 1981. By the next year he was Starbucks' director of operations and marketing at a time when the chain was four-stores strong.
Like plenty of Americans before and after him, Schultz had a brief hiatus of falling in love with Italy after a trip there in 1983. This notably included its coffee culture, and by 1987 after coming back to his senses he was able to combine his extraterritorial affair with Starbucks, purchasing the latter outright.
By the year 2000 Schultz had grown Starbucks to over 3,000 stores, and his leadership initiatives were credited with the brand's success.
Chief among these was a sense of giving back: early on Starbucks provided its employees with health insurance coverage as well as company stock options. Later the company would be among the first of its kind to offer employees the benefit of tuition-free online college education.
It's a good thing that Starbucks was taking off starting in the 90s up until the present: otherwise Seattle's tech sector wouldn't have the necessary caffeine availability it needs to push the envelope.
Today the Starbucks team employs over 400,000 people. Its total revenue over the past 12 months comes out to $32.3 billion. Investing $1,000 in Starbucks 10 years ago would be worth $3,895 at present.
Starbucks' market share continues to climb as it emerges victorious from the coffee wars thanks to its leadership and company-wide values like a strong core confidence in its workforce.
Universities in Washington Offering Master's and Bachelor's Degrees in Organizational Leadership
Just like its diverse and innovative companies, Washington is home to schools that offer attractive options for OL degrees. Private or public, online or on-campus, undergraduate or graduate; the choice is yours and the options are clear. Do your own research and find the program that best fits your career goals. Knowledge is power, and the next step is up to you.
Central Washington University
College of Business
Accreditation: NWCCU
Public School
Campus

BS in Business Administration
Also offers: 
M.Ed in Curriculum and Instruction with a STEM Leadership specialization
IT Leadership Graduate Certificate
City University of Seattle
Accreditation: NWCCU
Private School
Online, hybrid

MS in Organizational Leadership
Also offers:
Graduate Certificate in Change Leadership
MS in Management and Leadership
M.Ed in Educational Leadership
Graduate Certificate in Educational Leadership
Doctor of Education Leadership
Graduate Certificate in Executive Leadership
Ed.S in Educational Leadership
Graduate Certificate in Change Leadership
MS in Management and Leadership
Faith International University
Accreditation: TRACS (Transnational Association of Christian Colleges and Schools)
Private School
Online, hybrid

MA in Leadership Ministry
Also offers: Doctor of Strategic Leadership
Accreditation: NWCCU
Private School
Online

MA in Organizational Leadership
Also offers: 
Doctor of Educational Leadership
Master of Education in Educational Leadership
PhD in Leadership Studies
Great Northern University
Accreditation: TRACS (Transnational Association of Christian Colleges and Schools)
Private School
Campus

College of Ministry
Center for Leadership Studies
College of Business
Accreditation: NWCCU
Private School
Online, campus, hybrid

BA in Organizational Leadership
MBA with a Leadership concentration
Also offers: 
BA in Organizational Management
BA in Church and Ministry Leadership
Graduate Certificate in Christian Leadership
MA in Ministry Leadership
(BA, Associate's, Certificate) in Ministry Leadership
(Ed.D, Ph.D) in Organizational Leadership
Accreditation: NWCCU
Public School
Campus

Bachelor of Applied Science in Organizational Leadership and Technical Management
Also offers: 
AAS in Leadership and Occupational Studies
AAS in Organizational Leadership-Resource Management
Certificate of Completion in Advanced Leadership Development
Certificate of Recognition in Leadership and Human Relations
Certificate of Recognition in Servant Leadership
Saint Martin's University
School of Business
Accreditation: NWCCU
Private School
Campus, online, hybrid

MBA with a Global Leadership concentration
Also offers: 
Post-Graduate School Administrator Certification
PhD in Leadership Studies
College of Arts and Sciences
Albers School of Business and Economics
Accreditation: NWCCU
Private School
Campus, hybrid

BA in Humanities Leadership
Executive MBA in Leadership
Also offers: 
Doctorate in Educational and Organizational Learning and Leadership
Executive Leadership Certificate
Fundraising Leadership Certificate
Leadership Formation Certificate
Master of Nonprofit Leadership
Major in Interdisciplinary Arts with an Arts Leadership specialization
Major in Performing Arts and Arts Leadership
Minor in Arts Leadership