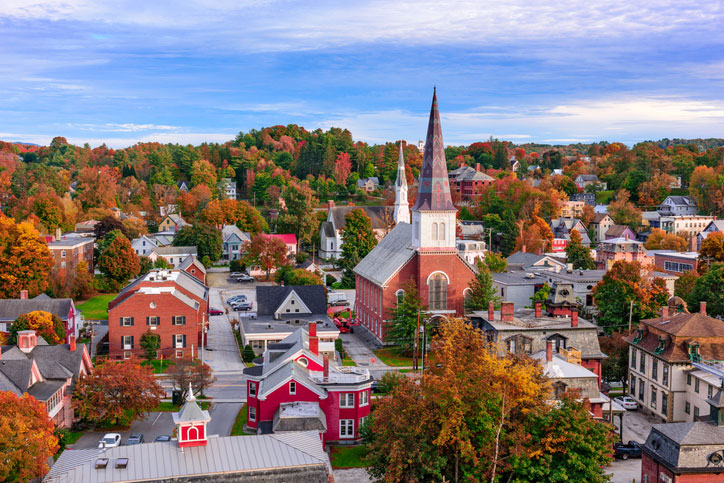 Vermont may be a small state, but it boasts an economy that is diverse, on the cutting-edge of innovation, and supported by a well-educated workforce that is the envy of business leaders across industries. But even with such a strong business environment, few could've predicted that in 2021 Vermont would be the beneficiary of the biggest capital infusion the state had ever seen, according to the Vermont Technology Alliance.
<!- mfunc feat_school ->
Featured Programs:
Sponsored School(s)
<!- /mfunc feat_school ->
With 38 separate deals bringing in more than half a billion in new money for new and expanding operations in the state, capital investments in 2021 represented a mind-blowing 500 percent year-over-year increase, the largest increase seen anywhere in the U.S. that year.
Vermont fully embraces its reputation as a progressive, tiny Mountain state known for its natural beauty. What that magnificent backdrop does more than anything, though, is remind Vermonters of the things they love most about their state and the potential it holds. That potential is being realized as the state becomes a powerhouse thanks to visionary leadership and a growing tech economy that supports nearly 16,000 high tech jobs paying tens of thousands per year above the median state income.
Savvy business leaders recognize that this is just the beginning. Investing well means investing early, and Vermont offers one of the biggest opportunities in the country for getting in on the ground floor.
The Story of Ben & Jerry's Offers a Lesson in Visionary Leadership and Vermont Values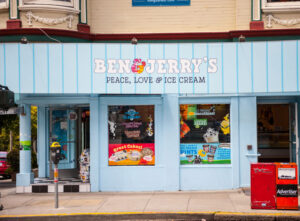 Perhaps the most famous name to come out of Vermont is Ben & Jerry's. Sure, today, Ben & Jerry's is one of America's most recognized names in ice cream, but in 1978, the business holdings were little more than a renovated gas station in Burlington where two guys – Ben and Jerry – were selling their homemade ice cream.
After taking a $5 ice-cream making course at Penn State, they were more prepared than most entrepreneurs to make a run at turning their passion for organic, local ingredients into a viable business. And with that, they started out with a meager $12,000 investment, renovated an old gas station, and set up their ice cream scoop shop. A year later, they decided to give back, launching their very first Free Cone Day to show how much they appreciated the customers who had supported them through their first year in business. As demand for the product grew, Ben and Jerry came up with new ways to market and expand the business, which led to packaging their ice cream in pints to sell at local grocery stores. Over the next decade, the business boomed and new locations began to pop up across the state. Perhaps the ultimate marker of their success, though, was receiving the prestigious "U.S. Small Business Persons of the Year" award from Ronald Reagan himself.
Lake Champlain Chocolates is another native Vermont favorite, and its beginnings are as unique as Vermont's culture itself. This company began with a dare. Every year, during the holidays, Jim Lampman, the owner of Ice House Restaurant in Burlington, bought fancy chocolate gifts for his staff. One year, his pastry chef commented that the chocolates were not so good, so Jim initiated a simple challenge – make something better. And, together, they did.
Little did they know that the hand-rolled, cream-filled truffle they made would change their future. Today, Lake Champlain Chocolates is known for its premium, high quality chocolates. The company is still family owned, based out of Burlington, and relies on local famers for the freshest supply of ingredients.
Entrepreneurs like Ben and Jerry and Jim Lampman are standout examples of how simple ideas combined with an uncompromising commitment to quality and customers can come together with visionary leadership to build beloved brands and business empires. Of course, it takes more than just ambition and love to get new ideas off the ground. But the unique blend of leadership skills that ignites the engines and sets it all in motion can all be developed through a degree in organizational leadership.
What You Can Do in Vermont With a Master's or Bachelor's Degree in Organizational Leadership
One of the companies taking advantage of Vermont's strong business environment is Beta Technologies. This unique maker of all-electric aircraft has been recognized the fastest-growing aerospace start-up in the world. In fact, business leaders proclaimed that watching the company's first all-electric aircraft land at Rutland-Southern Vermont Regional Airport was like watching history in the making.
Now, engineers at Beta Technologies are working hard to make battery-powered flight a reality for commercial flyers. Part of this plan includes expansion into the old Energizer plant in St. Albans, where it plans to develop and test batteries for all-electric aircraft. However, Beta isn't alone in this venture, and in fact, has secured more than $500,000 from the Vermont Employment Growth Incentive (VEGI) program.
There's no doubt that this grant will have a positive effect on Vermont's economy. Strong organizational leadership is going to be essential to ensuring that resources are used judiciously, and that infrastructure upgrades and all phases of the project are managed appropriately. You better believe that a large-scale operation like this is being led by business leaders skilled in the art and science of organizational leadership.
Universities in Vermont Offering Master's and Bachelor's Degrees in Organizational Leadership
With a degree in organizational leadership, you'll be ready to lead great projects like these, bringing together the systems thinking, talent development, and creative problem-solving skills you learn. It may be your ability to lead and bring your team together that makes something like the St. Albans expansion successful.
Here you'll find a list of all the accredited universities in Vermont that offer bachelor's, MOL (Master of Organizational Leadership), MAOL/MSOL, MBA, and other specialized degrees with a focus in organizational leadership.
Accreditation: NECHE
Private School
Online

Also offers: 
Leadership Graduate Certificate
MBA with Leadership Specialization
Northern Vermont University
Accreditation: NECHE
Private School
Online

Accreditation: NECHE
Private School
Online

BS in Business Administration