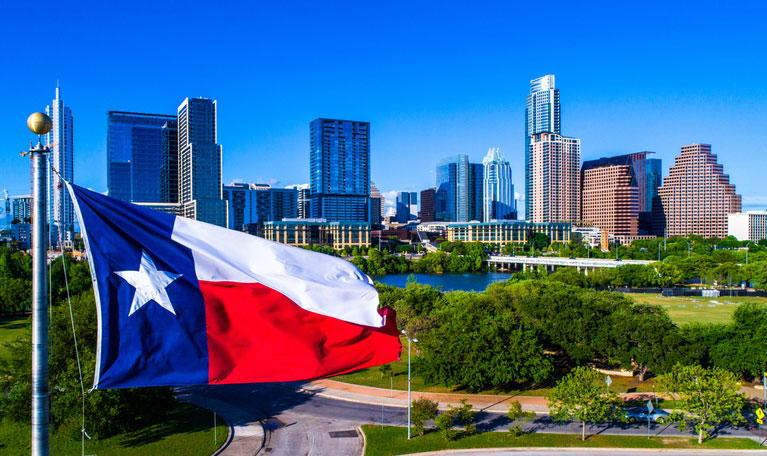 As the nation's GDP leader, Texas continues to be a hotbed of economic growth. In 2021, Texas' annual GDP grew by 10.1%, compared to a national average of just 6.9% that year. Not only was it the number one state in terms of GDP growth, it was also the leading export state in the nation for the 20th consecutive year.
<!- mfunc feat_school ->
Featured Programs:
Sponsored School(s)
<!- /mfunc feat_school ->
Consider the fact that Texas overtook Brazil as the ninth largest economy in the world, and it's not hard to see why the state is developing a reputation for being a top producer of one of the most precious commodities in modern business: visionary leadership.
From Tesla to Samsung, some of the world's most innovative and forward-thinking companies are flocking to Texas to establish new operations in a place known not just for an affordable and low-regulatory business environment, but also for being a place where visionary leaders come to make big things happen.
Big ideas lead to big successes, and here in Texas, many of these success stories have become ingrained into the fabric of the state culture.
Texas Has a Long Legacy of Visionary Leadership and Innovative Thinking in Business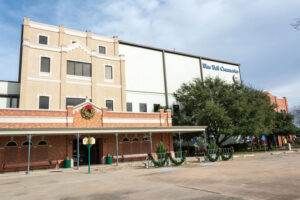 One of the most recognized brands in the nation, Blue Bell Creameries, has its roots in Texas. In 1907, Brenham Creamery Company was started by a group of local dairy farmers in an abandoned cotton gin. It was a group who seemed to appreciate the tenets of what we now call organizational leadership 100 years before it had a name. Their idea was to use their excess cream to make butter. However, butter production didn't generate much income for the company, so the general manager decided to try something new – ice cream production.
The idea was an immediate hit. Brenham Creamery Company began to expand by delivering its ice cream locally. In 1930, the company rebranded itself as Blue Bell Creameries, paying homage to Texas' native bluebell wildflower. Butter production continued until the late 1950s when Blue Bell switched its primary focus to ice cream production. For most of its history, though, Blue Bell wasn't known outside the borders of Texas. In fact, it wasn't until the 1980s that Blue Bell gained market share outside of Texas thanks to some visionary leaders with a smart market strategy. Today, of course, it's one of the nation's most recognized brands in ice cream, while still maintaining its headquarters in Brenham, Texas.
Dr Pepper is another iconic brand to come out of Texas. The recipe for Dr Pepper was developed in the 1880s by Charles Alderton, a pharmacist in Waco. At the time, he was working at Morrison's Old Corner Drugstore, and it's said that he wanted to replicate the store's sweet smell in a carbonated drink. He decided to try his concoction out on the customers, and the drink immediately became a fan favorite. As demand grew, he made the decision to team up with a local chemist. Together, they opened the Artesian Manufacturing and Bottling Works in 1891, which gave them enough manufacturing power to distribute the drink statewide. How's that for teamwork and visionary leadership? In 1904, Dr Pepper was introduced at the Louisiana Purchase Exposition in St. Louis, which gave the sweet drink the recognition it needed to go nationwide.
What we now know as Dr Pepper didn't really get its name until 1923 after the company changed hands a few times. Dr Pepper is so ingrained into Texas culture that there's even a Dr Pepper Museum in Waco dedicated to its origins. And, to this day, Texans put it in pretty much everything, from barbecue sauce to chili.
The origins of legacy Texas-born companies are remarkable examples of how effective organizational leadership translates to the kind of success that can keep brands alive and thriving across many generations. And at the same time, corporations like Tesla, plucked straight from the future, are choosing Texas as the place to build both their products and their brands in electric vehicle manufacturing and other green technology concerns. This says a lot about the nature of Texas, its people, and it's leadership in both the private sector where great ideas come to life and in the public sector where policy decisions are made that help clear the way for those ideas.
Today, though, as commercial markets evolve, you'll need much more than just an idea and some ambition to be competitive. It's that formal bachelor's degree, MOL (Master of Organizational Leadership), MAOL/MSOL, MBA or other specialized degree in organizational leadership that's going to give you the key strategic-thinking, communication, and organizational psychology skills to lead and innovate in any industry.
What You Can Do in Texas With a Master's or Bachelor's Degree in Organizational Leadership
Texas Instruments (TI) has been in North Texas for more than 90 years, and it has no intention of moving any time soon. In fact, in May of 2022, TI broke ground on its new semiconductor wafer fabrication plant in Sherman. The $30 billion investment is the largest private-sector investment in the state's history, and with this investment will come 3,000 new jobs and the capacity to manufacture millions of electronic processing chips every day. Though production won't start until 2025, you can be sure that business leaders at every level are being called upon to develop the kind of strategic implementation plans that organizational leadership degrees teach.
Another leading tech giant, Samsung, is also expanding its operations in Texas. Samsung has announced plans to expand its semiconductor manufacturing operations with a $190 billion investment to build 11 new chip fabrication facilities across the state. The company plans to add two facilities to its semiconductor complex in Austin and nine to the complex in Taylor. The first of these plants is expected to be operational by 2034. There's no doubt that a large-caliber operation like this is going to rely heavily on business leaders equipped with a degree in organizational leadership.
Clearly, investments from Texas Instruments and Samsung will continue to prop up an already strong Texas economy. It will take strong organizational leaders, though, to mobilize teams and deliver on strategic implementation to ensure the success of these ventures.
Universities in Texas Offering Master's and Bachelor's Degrees in Organizational Leadership
With a degree in organizational leadership, you'll be well-prepared to direct large projects like these. You'll be well-positioned to take on leadership roles that help solidify organizational success through innovation, systems thinking, benchmarking, and talent development. It may be your guidance that steers the teams that make massive expansion projects in Texas a success, and it will be your training in organizational leadership that will put you in that position.
Below is a list of all accredited universities in Texas that offer bachelor's, MOL, MAOL/MSOL, MBA, and other specialized programs in organizational leadership.
Abilene Christian University
School of Organizational Leadership
Accreditation: SACSCOC
Private School
Online

BS in Organizational Leadership
Also offers:
Leadership Studies Minor
Ed.D in Organizational Leadership
Bakke Graduate University
Accreditation: TRACS (Transnational Association of Christian Colleges and Schools)
Private School
Hybrid

MA in Transformational Leadership
Also offers: 
Doctor of Transformational Leadership
Ph.D. in Innovative Urban Leadership
College of Biblical Studies - Houston
Accreditation: SACSCOC
Private School
Online

BS in Organizational Leadership
Dallas Baptist University
The Graduate School
Accreditation: SACSCOC
Private School
Campus

Also offers: 
Advanced Certificate in Leadership Studies
MBA with a concentration in Executive Leadership
MA in Professional Development with a concentration in Leadership Studies
Ph.D. in Leadership Studies
East Texas Baptist University
Fred Hale School of Business
Accreditation: SACSCOC
Private School
Online

BAS in Leadership Studies
Accreditation: ACCSC (Accrediting Commission of Career Schools and Colleges)
Private School
Online

School of Business
Accreditation: SACSCOC
Private School
Online

Master of Strategic Leadership
Also offers: Leadership Minor
School of Business and Industry
Accreditation: SACSCOC
Public School
Campus

BAAS in Leadership and Management
Also offers: 
AAS in Business Administration and Leadership
Business Leadership Certificate
Our Lady of the Lake University
School of Business and Leadership
Accreditation: SACSCOC
Private School
Campus

MS in Organizational Leadership
Also offers: 
Dual Degree in Organizational Leadership/Business Administration (MBA)
PhD in Leadership Studies
Organizational Leadership Minor
School of Arts and Humanities
School of Behavioral and Social Sciences
Accreditation: SACSCOC
Private School
Campus, online

BA in Ethics and Leadership
MS in Organizational Leadership
Also offers: 
BLA in Leadership and Social Justice
Leadership and Ethics Certificate
Southwestern Assemblies of God University
College of Bible and Church Ministries
Harrison Graduate School
Accreditation: SACSCOC
Private School
Campus, online

BAAS in Occupational Leadership
MA in Organizational Leadership
Accreditation: SACSCOC
Public School
Campus

(BA, BS) University Studies with a Concentration in Organizational Leadership
Also offers: 
BAAS in Applied Leadership
Organizational Leadership Minor
The University of Texas at Dallas
Naveen Jindal School of Management
Accreditation: SACSCOC
Public School
Online

MS in Leadership and Organizational Development
Also offers: Certificate in Transformational Leadership
C. T. Bauer College of Business
Accreditation: SACSCOC
Public School
Campus, online

BBA in Management with a track in Applied Leadership
MS in Management and Leadership
Also offers: 
Leadership Studies Minor
Technology Leadership and Innovation Management Minor
Air Force Leadership Minor
Management and Leadership Minor
Public Leadership Minor
Military Leadership Minor
BS in Technology Leadership and Innovation Management
MS in Global Energy Leadership
MS Sales Leadership
Ph.D. in Management and Leadership
University of Mary Hardin-Baylor
Accreditation: SACSCOC
Private School
Online

BAS in Organizational Leadership
University of the Incarnate Word
School of Professional Studies
Accreditation: SACSCOC
Private School
Campus, online

MS in Organizational Development and Leadership
Wayland Baptist University
Accreditation: SACSCOC
Private School
Online

MA in Organizational Leadership
Also offers: 
Leadership Minor
Leadership in Business Undergraduate Certificate
MPA with a Community Leadership Specialization