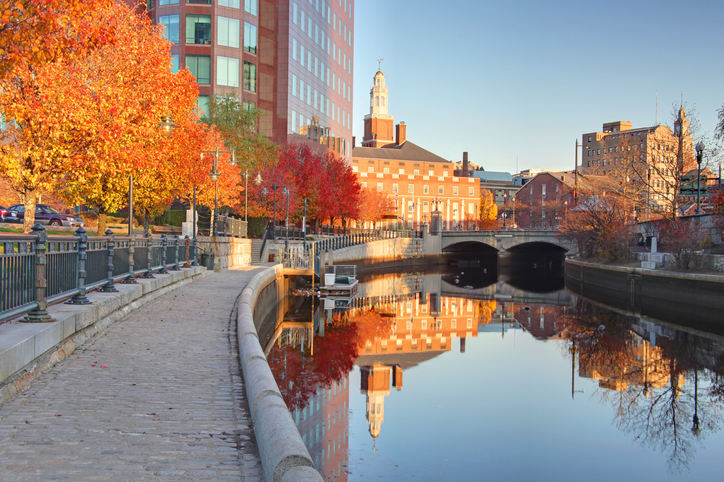 Rhode Island's economy is rock-steady and growing, with the monthy Current Conditions Index (CCI) that economists use to assess economic health showing consistent improvements year over year. Small businesses get a lot of the credit. Accounting for nearly 99% of all business in the state and employing more than half of the state's workforce, small business is a major chief economic driver here, and a key place where enterprising business owners and the managers they entrust are putting organizational leadership skills to work.
<!- mfunc feat_school ->
Featured Programs:
Sponsored School(s)
<!- /mfunc feat_school ->
It's not surprising, then, that the state is making major investments in the small business community and leaning on business leaders to put those resources to work in the state.
In recent years, this has meant allocating money to offshore wind energy production. Most recently, it's the partnership between the Rhode Island Commerce Corporation's SupplyRI Initiative with offshore wind energy developer Mayflower Wind. For its part, Mayflower Wind has committed to serving as a SupplyRI Anchor, supporting local businesses by utilizing Rhode Island made supplies and components for its offshore wind energy projects.
Building and maintaining cross-sector partnerships between industry and state government is what innovative leaders with degrees in organizational leadership were made for.
What You Can Do in Rhode Island With a Master's or Bachelor's Degree in Organizational Leadership
In 2022, the Rhode Island Department of Transportation (RIDOT) announced its plan to push $2.1 billion into more than 100 infrastructure projects statewide. It's an ambitious plan that was originally slated to be rolled out over ten years. An additional $576 million in funding recently secured from the federal government is expected to shrink the timeline even further, allowing many projects, including pedestrian walkways, bike-paths, stormwater quality systems, and crucial bridge repair to begin in just four years.
But extra funding alone won't be enough for RIDOT to execute large infrastructure projects like these within the tight schedules being projected. It's going to require leaders at every level capable of dynamic planning and implementation strategies, exactly the skills that degrees in organizational leadership are designed to teach. RIDOT knows this and has been hard at work with the first phase of the project already: recruiting civil engineering firms with exactly that kind of leadership structure in place.
When Rhode Islanders Get Lemons, They Make Lemonade – A Storied History of Innovative Approaches to Business
One name that's truly synonymous with the state is Del's Lemonade. Its story starts in 1840s Italy with Great Grandfather DeLucia. During the winter, he would take snow into a cave and leave it hidden there insulated with straw. When the summer came, he would harvest fresh lemons, mix the lemon juice with sugar, and then combine it with his stowed away snow. Then, he'd take his creation to the local market for sale. In the early 1900s, when Franco DeLucia came to America, he brought his father's recipe for frozen lemonade with him. Franco's son, Angelo, had the ingenious idea to develop machinery that could produce his father's frozen lemonade more efficiently and in bulk quantity, all while maintaining quality. And so DeLucia set up a little stand in Cranston and Del's Frozen Lemonade was born. Del's was instantly a success and since 1948 has continued to flourish and grow to the international franchise that it is today.
Another business venture unique to Rhode Island is Autocrat Coffee Milk. Coffee milk is not something well-known outside the state, but to Rhode Islanders, it's a household staple. In fact, it's so ingrained into the state's identity that in 1993 the Rhode Island State Legislature designated it the official state drink. This sweet coffee-milk-sugar concoction was originally brought to the United States by Italian immigrants, and in the 1890s, Autocrat Coffee Syrup opened for business in Lincoln. As dine-in food joints gained popularity, coffee milk made its debut. Over the years, Autocrat continued to duke it out fiercely with its Warwick-based competitor, Eclipse, but eventually bought it out in the early 1990s. Clearly, business strategists at the top of Autocrat's leadership understand their buyer, as the company continues to manufacture and sell both coffee milk brands.
The founders of Del's Lemonade and Autocrat Coffee Milk are reminders that simple ideas can be hugely successful in the hands of creative and enterprising thinkers.
Universities in Rhode Island Offering Master's and Bachelor's Degrees in Organizational Leadership
As innovative ideas interplay with global markets, it takes more than just experience and drive to be competitive. Whether it's a bachelor's, MAOL, MSOL, or MBA that you're after, a degree in organizational leadership offers a uniquely people-focused skillset you won't find in other types of business programs. With a degree in OL, your expertise in team development, strategic planning, and systems thinking will make you highly valued in any organization.
College of Business
Accreditation: NECHE
Private School
Campus

BS in Business Administration
Johnson & Wales University
College of Business
Accreditation: NECHE
Private School
Online, campus

BS in Business Administration - Leadership Studies
MBA with a concentration in Organizational Leadership
Also offers: Leadership Studies Minor
University College
School of Justice Studies
Accreditation: NECHE
Private School
Campus, online, hybrid

Bachelor of General Studies in Technology Leadership and Management
Also offers: Leadership Certificate