Oklahoma ranks nationally when it comes to successful CEOs. It's a state with tons of potential that stems most of all from its natural inborn talent.
<!- mfunc feat_school ->
Featured Programs:
Sponsored School(s)
<!- /mfunc feat_school ->
Whether it's in the state's burgeoning tech sector, its pharmaceutical industry, or a public sector that's looking strategically over the horizon, Oklahoma is tried and true when it comes to strategic leaders who have proved capable of turning vision and tenacity into growth.
In Oklahoma, You Can Take Effective Leadership to the Bank
In 2020 the CEO who received the most compensation in all of America wasn't Jeff Bezos or Elon Musk: it was Oklahoma's own Chad Richison.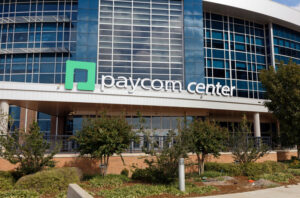 The founder of Oklahoma City-based Paycom, in 2020 Richison earned $211 million in compensation for his work as CEO and president. Richison has led Paycom from its inception when he founded it back in 1998.
2014 saw the company's public debut on the New York Stock Exchange and by 2020 it was listed on the S&P 500. Today Richison is worth $2.5 billion, and his company's revenue over the past 12 months is $1.3 billion.
Paycom is a leader in online payroll and HR management, and one of the first companies in the nation to process payroll entirely online. Paycom's "there's-an-app-for-that" approach to HR and company payroll earned it the #6 spot on Fortune magazine's 2019 Fastest-Growing Companies.
The company itself is proud to have served 34,000 clients to-date and currently employs over 5,000 people. Between 2016 and 2023 Paycom's market capitalization grew from $3.1 billion to $18.8 billion.
Unlike so many other companies that have gone public, it's noteworthy that since its IPO in 2014 Paycom's board of directors has endorsed Richison's leadership and opted to keep him on as president and CEO.
Paycom distinguishes itself through innovations like whole-spectrum employment life tracking. It's identified the following five key categories for data tracking, and turned these into a proprietary algorithm:
Labor and time management
Human resources
Payroll
Talent acquisition
Talent management
In addition to being the top-paid CEO in America, Richison's innovations combined with his emotional intelligence has earned him a place on Glassdoor's top-25 Highest Rated CEOs During the Covid-19 Crisis, a distinction awarded based on employee reviews.
It should also come as no surprise that Paycom is known for its pervasive philanthropic spirit, especially in its charitable contributions to local OKC and state community assistance programs.
Paycom continues to lead in its industry, its employees feel valued and even give back to their own communities, it steadily gains dividends for its investors, and its outlook going forward into the future looks great.
All these achievements have come under the same consistent CEO, president, and founder; it's no wonder Richison ranks at the top of the charts for so many leadership metrics.
There's nothing geographically or culturally special about the success of Paycom. It's simply an innovative solution backed by some savvy leaders who capitalized on the right idea and the right ethos at the right time. But that innovative solution has earned an Oklahoma CEO the highest salary in the nation, proving that if you've got the leadership skills to match your innovative ideas, the sky's the limit.
A bachelor's degree, MOL, MAOL/MSOL, or MBA in organizational leadership is a concrete way to develop the skills you need to leverage your talents and rise to the top of your field, just like Richison has.
What You Can Do in Oklahoma With a Master's or Bachelor's Degree in Organizational Leadership
There are plenty of programs out there devoted to management and business administration.
Programs in organizational leadership are a cut above those, placing you ahead of the curve.
OL programs cover topics like group-team building, global change, business intelligence, and leadership ethics. OL specializations allow you to tailor your studies towards your career goals; common emphases are offered in subjects not limited to:
Upon graduation you'll be prepared to lead the next big developments in Oklahoma that have the potential to propel you onto the state, national, and even global stage.
Nearly $8 Billion Slated for Oklahoma's Infrastructure
685 bridges and nearly 2,300 miles of roadway improvements are set to get major makeovers through 2029, including big projects in OKC, Tulsa, and Lawton.
State officials are proud to announce they've positioned Oklahoma to be among the first states in the nation to gain access to US DOT funds made available through a new section of the federal Transportation Infrastructure Finance and Innovation Act.
In addition to federal funding, the state budget has also picked up millions of dollars in this behemoth infrastructure push.
Key players in the deal include the state's Secretary of Transportation, the Oklahoma Department of Transportation's Executive Director, and perhaps most notably, a plethora of private contractors who've bid competitively on the wide range of infrastructure upgrade and development projects that are up for grabs.
Oklahoma's state leaders have shown initiative in securing funding for a major infrastructure overhaul. Leaders of private sector construction companies are now able to step in and capitalize on the opportunities laid out for them by their elected public representatives.
This multi-billion dollar infrastructure package is a win-win between the leadership of the public and private sectors, the results of which will be a net gain in the standard of living for all Oklahomans.
Benefits will most directly be felt by Oklahoma's construction companies, their employees, and their families.
More people making money also means more spending and a knock on positive effect on economic growth in the state, plus more tax revenue. The public will benefit from more commerce and comfortable, safer commutes thanks to better transportation infrastructure.
In the long term, better access to good transportation options is highly attractive to manufacturers who want to easily reach big markets.
In sum, Oklahoma's future is all-the-brighter thanks to its strategic leaders.
Biggest Transaction in the History of Oklahoma Biosciences
In a deal that still has those in the pharmaceutical industry talking today, in 2016 Switzerland-based Novartis Pharmaceuticals acquired OKC-based Selexys Pharmaceuticals for a reported $665 million.
Hinging at least in part on Selexys' involvement in hematology studies and OKC-based unique talent, Novartis has followed up on its initial $23 million in equity financing invested in Selexys over a decade ago.
During its victory lap after this acquisition was announced, Selexys' former president and CEO Dr. Scott Rollins credited the state's Economic Development Generating Excellence (EDGE) program for providing significant grant money that helped the company to initially be viable. Even before that, Rollins' initial research and development was supported by the state's Seed Capital Fund.
For Rollins, commenting on the more-than-half-a-billion-dollar acquisition of his company by a pharmaceutical heavyweight had even more poignancy considering his first job was cleaning the bathroom in his dad's gas station in Moore. And Rollins doesn't dismiss this experience either; he credits it with teaching him valuable lessons on how to interact with people.
All in all the acquisition of OKC's Selexys Pharmaceuticals represents a win-win for everyone in the state.
Oklahoma-based former Selexys employees who are now with Novartis are earning a wage that's big-pharma competitive. The state is raking in tax dollars thanks to the success of a Novartis subsidiary, an EDGE and Seed Capital Fund investment that has paid off many-fold.
But these win-win successes wouldn't have been possible without strong and strategic leadership. This includes dues paid to the corporate leadership of Selexys and Novartis. It also includes those behind state incentives leveraged through the EDGE and Seed Capital Fund programs.
These incentives were all clearly laid out on paper, but it took individual leaders to shake hands and cement lasting bonds of trust.
Universities in Oklahoma Offering Master's and Bachelor's Degrees in Organizational Leadership
A degree in organizational leadership is a strategic step you can take to gain a vantage from which to view Oklahoma's next big economic, social, and business developments. With a degree in organizational leadership, you'll gain the skills you need to effectively lead the workforce of tomorrow.
School of Arts and Sciences
Accreditation: HLC
Public School
Campus

BS in Organizational Leadership
Mid-America Christian University
Accreditation: HLC
Private School
Online

Oklahoma Baptist University
Accreditation: HLC
Private School
Campus, online

Transformational Leadership MBA
Oklahoma Wesleyan University
Chesapeake Energy School of Business
Accreditation: HLC
Private School
Online, campus

BS in Management and Leadership
MS in Strategic Leadership
College of Arts and Cultural Studies
Accreditation: HLC
Private School
Online, campus

(BA, BS) in Leadership Studies
Master of Organizational Leadership
Also offers: 
Doctor of Strategic Leadership
Empowered Leadership Certificate
MBA in Leadership
Southwestern Christian University
Department of Business
Department of Graduate Studies
Accreditation: HLC
Private School
Online, campus, hybrid

BS in Business Leadership
Also offers: Minor in Leadership
Southwestern Oklahoma State University
Everett Dobson School of Business and Technology
Accreditation: HLC
Public School
Online

BS in Organizational Leadership
University of Central Oklahoma
College of Education and Professional Studies
Accreditation: HLC
Public School
Online

BS in Organizational Leadership
Also offers: 
Leadership Minor
MA in Strategic Communications – Leadership in Communications