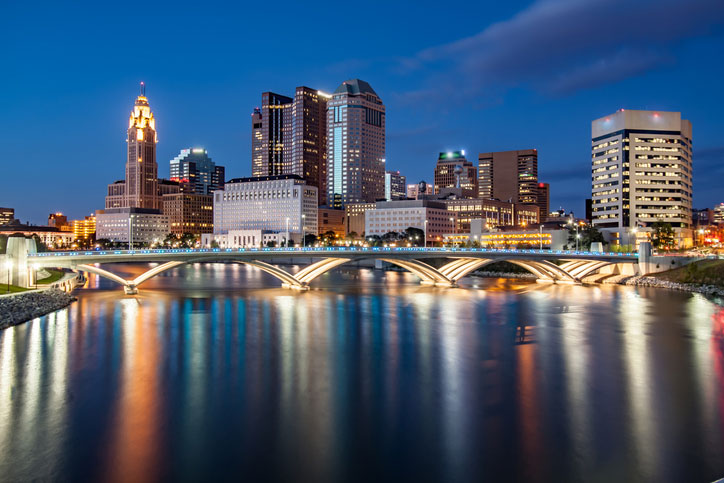 It's an exciting time to be doing business in Ohio. At the end of 2022, Ohio's GDP was among the top-10 in the nation at $829.6 billion. Ohio's economy has always been hot, and it's still heating up, creating a tide that lifts all boats, especially the companies headquartered here in the state's top industries – retail, energy, and insurance. That means leadership opportunities have never been better than they are right now in Ohio's well-connected economy.
<!- mfunc feat_school ->
Featured Programs:
Sponsored School(s)
<!- /mfunc feat_school ->
Organizational leadership programs aren't about glorified management or conventional business administration; they cover a unique skillset that fills a niche no other academic program can touch –emotional intelligence, team building, critical thinking, strategic communication, and a whole lot more.
A bachelor's degree in organizational leadership gives you a strong foundation in any field that you can take to the job market and add on to later. If you're mid-career and looking to advance, a master's degree, whether an MOL (Master of Organizational Leadership), MSOL/MAOL, or even an MPH, MPA, or MBA with an OL focus will take you to the next level.
Leadership Transforms a Local Cincinnati Store Into the Nation's Largest Retail Grocer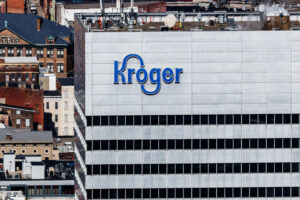 From the moment he spent his $372 life savings on opening his first store in Cincinnati, Barney Kroger was committed to the grocer's golden rule: never sell anything that you wouldn't want yourself.
In addition, he also placed a premium on innovation, normalizing grocery store amenities we all take for granted today.
Grocers of Kroger's time in Cincinnati would buy bread from bakers and resell it. Kroger figured that he could bake this staple at his own store, save money, and offer a fresher product. Ditto for an in-store butcher. His store was also the first where customers could browse for products on their own isle-to-isle and take them home immediately, as opposed to waiting for a delivery.
That was all 140 years ago. While Kroger-the-grocery-outlet has grown and its leadership changed, the original values founded by Kroger-the-person haven't. This is thanks to the company's organizational leaders who ensure that consistency and company goals are held in common by all members of the team.
Today Kroger operates around 2,800 stores in 35 states under its namesake title as well as recognized brands like Ralph's, Fred Meyer, and QFC. Its team number half-a-million full-time employees. It's total revenue based on the preceding 12 months is $146 billion, and over the past five years investors have seen an amazing 81% return. Kroger is one of the world's largest food retailers, and the largest grocer in America.
And this is all to say nothing of Kroger's fresh history and its leaders who've made headlines.
The company has recently merged with drugstore chains to expand its national reach into this niche, and its biggest deal to-date was its $13 billion merger with Fred Meyer in 1999. Kroger's growth has continued steadily throughout the 2010s and 2020s.
New leadership, including board member and politically-connected Elaine Chao who served as the leader in two presidential cabinet positions under W. Bush and Trump, has Kroger eyeing a potential $24.6 billion merger with the nation's second-largest grocery chain, Albertson's, tentatively scheduled for completion in early 2024.
Though some analysts put the odds of this merger being approved by government anti-trust regulators at 35%, it's nevertheless an ambitious move by Kroger's leadership that will keep its competition on their toes, shake up the marketplace, and keep Kroger in the headlines.
Barney Kroger was strategic, innovative, and had an intuitive sense for the demands of his local market. Even if these qualities aren't second nature for you like they were for Kroger, a degree in organizational leadership will instill these attributes and more. By design, these programs exist to turn open-minded and motivated students into tomorrow's leaders.
What You Can Do in Ohio With a Master's or Bachelor's Degree in Organizational Leadership
With your degree in hand you'll be ready to launch your career into a compelling trajectory. In Ohio this potentially includes opportunities with industry heavyweights and other major companies based in-state. It's no accident that Sherwin-Williams' current president and chief operating officer earned her bachelor's degree in business and leadership.
Cleveland's Sherwin-Williams Shares Climbing
Founded in 1866 Cleveland-based Sherwin-Williams places a higher-than-average premium on company values shared by all, from the night janitor to the CEO. Henry Williams became its first chief executive officer in 1870 and since then the company's only had eight other CEOs.
Consistency from the top makes it easier for everyone else to toe the line on organizational objectives, and this has translated into steady growth and profits for the company.
One key value at Sherwin-Williams has always been innovation. It's a company of firsts:
Steady, strategic leadership coupled with innovation is an equation for success, and in Sherwin-Williams' case this mirrors the exponential. It took 125 years for it to establish 2,000 stores. Between 1991 and 2006 it grew its operations to 3,000 stores. And by 2014 it was proud to open its 4,000th store.
In 2016, its latest chief executive officer signed on, John Morikis, and that year the company ambitiously acquired one of its significant rivals for $9 billion.
Under Morikis the company's share price has also dramatically increased.
At $92 per share in September 2015, the unit price peaked in September 2021 at $331, and as of February 2023 is still holding on to most of its gains at a laudable $236 per share.
There are good and bad real-world examples of organizational leadership. Sherwin-Williams is a winner, offering ideal opportunities for tomorrow's aspiring leaders to cut their teeth in a good environment.
Ohio: An Insurance Industry Leader
A Cleveland suburb, Columbus, and Cincinnati are each home to a major player in the insurance industry: Progressive, Nationwide, and Cincinnati Financial, respectively.
Combined, these big-three employ a workforce of nearly 80,000 and earn $112.1 billion in annual revenue.
Progressive specializes in insurance for auto (personal and business) and residential property. It has a culture of innovation that's helped drive its expansion and success. In 1956 its leaders realized the nonstandard auto insurance market was being overlooked by other companies, so Progressive moved to specialize in these more accident-prone high-risk drivers.
Progressive has also innovated by being the first in the industry to:
Nationwide is one of the largest and most diversified companies of its kind out there. It offers insurance for everything from home and auto to farm and life.
Nationwide sold its first policy back in 1926 when it specialized in farm insurance, a logical niche for a company based in the Midwest. Today it's a Fortune 100 company with $296 billion in assets that also offers mutual funds, annuities, and retirement plans in addition to insurance.
Cincinnati Financial offers insurance policies for a broad range of categories including home, auto, business, and life. It also specializes in excess and surplus (E&S) policies to cover customers who've been rejected by other insurance companies.
Competitive leadership has sent Cincinnati Financial share prices steadily upward. A $1,000 investment 10 years ago would be worth $2,697 today.
If you're planning on a leadership career in Ohio, there's a good chance you'll cycle through the insurance industry; it's one of the state's most established sectors. Ohio's world-class insurance companies are well connected and in the very least great places to gain valuable experience.
Ohio and its Three Energy Giants
When it comes to ranking states by the amount of energy they produce Ohio does relatively well.
Unlike so many other metrics, energy production isn't a population contest. Generally larger state territory correlates with more energy production, and by geographic chance some states are much better endowed than others. Ohio ranks in above-average for both state size and geographic fortune.
Of the state's total energy production, approximately:
As an above-average energy production state it's no surprise that three of Ohio's biggest companies are in the energy industry: Marathon Petroleum Corporation, American Electric Power (AEP), and FirstEnergy Corp.
Findlay-headquartered Marathon Petroleum was founded in 1887 as The Ohio Oil Company.
It was already innovating early on: in 1953 it began issuing rectangular pocket-sized metal cards stamped with customer names – "credit plates" – that could be used to purchase gas in what can be described as both the precursor to credit cards and to loyalty rewards cards.
Today Marathon operates the nation's largest refining system. Over the 12-month period leading up to 2023 its total revenue clocked in at $177.5 billion.
Columbus-based American Electric Power (AEP) is another giant in Ohio's energy market, supplying electricity to around 5.4 million people across 11 states. Over 40,000 miles of electrical transmission lines makes AEP's distribution system the largest in the nation.
Employing 16,688 people and with $18.8 billion in total revenue over the past 12 months, AEP easily makes the Fortune 500 list.
Akron's FirstEnergy Corp employs nearly 12,400 people and their total revenue in the 12 months leading up to 2023 was approximately $11.9 billion. It generates and outputs electricity through 10 distribution companies that reach a combined total of six million people, encompassing 269,000 miles of power lines. By 2050 it expects to be carbon-neutral.
The energy industry is a vital strategic asset of the nation, and a leader of Ohio's economy. Energy is a valuable commodity, but finding a good organizational leader is an even more precious asset.
Ohio's energy grid links together with the rest of the nation's, just like leadership positions in this niche.
Universities in Ohio Offering Master's and Bachelor's Degrees in Organizational Leadership
Ohio is home to an impressive variety of undergraduate and graduate-level organizational leadership programs offered online, on-campus, or in a hybrid format. Degree options include a variety of concentrations, enabling you to match your career goals with the perfect program. Options are good. Having too many schools that make your cutoff list is certainly no disadvantage. Check out this complete list of universities in Ohio offering degrees in organizational leadership.
Accreditation: HLC
Private School
Online

BS in Applied Technology and Business Leadership
Also offers: 
Women in Leadership Certificate
BA in Liberal Studies, Leadership for Service and Change
PhD in Leadership and Change
College of Arts and Sciences
Accreditation: HLC
Private School
Online

BS in Organizational Leadership
MA in Strategic Communication and Leadership
Also offers: Doctorate in Leadership Studies
Baldwin Wallace University
Carmel Boyer School of Business
Accreditation: HLC
Private School
Hybrid

BA in Organizational Leadership
Also offers: 
Enlightened Leadership Certificate
Business Leadership and Innovation Certificate
Ross College of Business
Accreditation: HLC
Private School
Online, hybrid

BS in Management and Leadership
MBA in Organizational Leadership
Accreditation: HLC
Private School
Online

BA in Organizational Management
Accreditation: HLC
Private School
Online, campus

BA in Workplace Leadership
MBA in Leadership Management
Also offers:
Ph.D. in Global Leadership and Change
Leadership and Change Certificate
Union Institute & University
Accreditation: HLC
Private School
Online

BS in Business Management with a concentration in Organizational Leadership
MBA with an Organizational Leadership Specialization
MS in Organizational Leadership
Also offers: 
Leadership in Public Service Certificate
PH.D. with a Ethical and Creative Leadership Concentration
University of Akron - Main Campus
Buchtel College of Arts and Sciences
Accreditation: HLC
Public School
Online

BS in Organizational Supervision
Also offers: 
BA in Communication – Strategic and Organizational Communication
Certificate in Business and Professional Communication and Leadership
School of Behavioral and Health Sciences
Accreditation: HLC
Private School
Online, hybrid

BA in Organizational Development and Leadership
Center for Leadership in Management and Business
Accreditation: HLC
Private School
Online

BS in Organizational Leadership
Accreditation: HLC
Private School
Online

BA in Strategic Organizational Leadership
Master of Organizational Leadership with a Track in Organizational Transformation
College of Health, Education, and Human Services
Accreditation: HLC
Public School
Online

BS in Organizational Leadership
MS in Leadership Development
Williams College of Business
Accreditation: HLC
Private School
Online, campus

BA in Organizational Leadership