It's a notable distinction, and one you could confidently lay a bet on – another year, and another number-one rating for North Carolina as the best state in America to do business.
<!- mfunc feat_school ->
Featured Programs:
Sponsored School(s)
<!- /mfunc feat_school ->
This time it's for 2022 and from CNBC. That outlet reports that North Carolina has the strongest state economy in the nation, describes its job growth as robust, and singles it out for, among other attributes, the strength of its housing market, public finances, and R&D sector.
Business and opportunities are here in North Carolina, you just need the initiative and leadership skills to grab hold.
Big Names in Big Tech Invest Another $2 Billion in North Carolina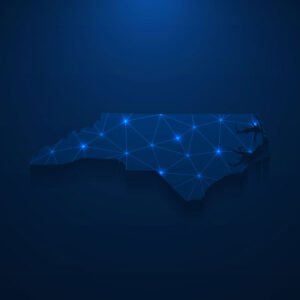 The shape on the North Carolina map marked by vertices at Raleigh, Durham, and Chapel Hill is famously known as the Research Triangle, an homage to three adjacently-located research universities.
It's developed a reputation as high tech central, hosting brands like Lenovo, IBM, Dell, Cisco, Garmin, Pfizer, Coinbase, and dozens more. Apple will soon stake a major claim to the space with its 2021 announcement of plans to invest over $1 billion to build a campus and engineering hub in this scalene zone.
Artificial intelligence, machine learning, software engineering, and other advanced fields will be hosted at this new Apple site, bringing with them an anticipated 3,000 new jobs.
This announcement by Apple's leadership also marks significant milestones for the company itself: the Research Triangle campus represents the first new domestic facility of its kind in over two decades, and Apple's first major East Coast establishment.
But when it comes to big tech, it's not only the Research Triangle that's attracting major players. At the end of 2022 Microsoft announced it will be investing at least $1 billion to build four data centers in three Catawba County cities, amounting to 687 acres in total.
The cities of Conover, Maiden, and Hickory will soon be home to Microsoft's newest data facilities, along with at least an estimated 50 new jobs.
City and county leaders helped to attract Microsoft through tax incentives, including property and real estate tax breaks that will effectively see the local government tax base picking up Microsoft's tab over the next decade. In exchange, over the next ten years Microsoft will have to invest at least $1 billion in Catawba County and $332 million in each city.
Political leaders in North Carolina's General Assembly also cited massive state subsidies in efforts to secure the Apple deal, invoking 40-year tax incentives for companies who make a transformative investment in the Tarheel State.
As the nation's best state for business, leaders in many sectors, including Big Tech at Apple and Microsoft, have identified North Carolina as the place to make investments that will prove to be lucrative.
North Carolina's leadership at the state, county, and municipal levels have also recognized the potential for a win-win situation between expanded business opportunities and an expanded and more lucrative tax base.
North Carolina is a prime example of what can happen when organizational leaders in the public and private sectors join together to create deals that raise the tide for all boats; deals with ramifications larger than the sum of their individual components.
With a degree in organizational leadership, you'll be ready to choose your path and see just how far you can advance in your field.
What You Can Do in North Carolina With a Master's or Bachelor's Degree in Organizational Leadership
OL programs go beyond just management or business administration. They ingrain concepts like emotional intelligence, ethical leadership, and strategies for inter-organization collaboration.
A degree in organizational leadership often comes with flexibility, in addition to an on-campus or online format. You'll find concentrations that focus on topics like innovation, entrepreneurship, organizational change, the public sector, and consulting.
OL programs graduate the future leaders of tomorrow who go on to make the type of billion-dollar deals that will literally impact the state and nation for decades to come.
Charlotte's Nucor Keeps American Steel Sustainable and Globally Competitive
North America's largest producer and recycler of domestic steel announced in 2022 that it earned Fortune Magazine's number-one spot on its list of world's most admired companies in its industry.
Charlotte-based Nucor employs nearly 29,000 people from dozens of locations across the continent, and also maintains offices in Dubai and Switzerland. Its total 2022 revenue amounted to $40 billion with a profit that year of $8 billion.
The international steel market is competitive, both in recycling and raw manufacturing. Nucor's leadership is tasked with ensuring it stays ahead of the game, which is why over the past several years the company has been aggressive in its expansion.
Nucor leadership has overseen several recent high-profile deals.
In 2021 it paid $1 billion cash to acquire two metal panel names from Cornerstone Building Brands, forming its new Nucor Insulated Panel Group. The next year it announced a new $2.7 billion state-of-the-art sheet steel mill would soon break ground. Months later it successfully completed its $3 billion deal to buy C.H.I Overhead Doors and add this brand to its portfolio alongside over a dozen others.
Even with all these developments and as America's top steel-producing company, Nucor ranks 15th globally in terms of metric tons of steel produced, behind mostly Chinese and other Asia-based corporations.
It's a testament to Nucor's leadership that it's able to keep expanding in a tight marketplace, finding new ways to innovate and stay competitive in a field that's critical for the nation's industrial progress.
Toyota Invests Billions in the Greensboro-Randolph Mega Site
In late 2021 Toyota announced it had chosen a site just south of Greensboro to construct a $1.29 billion battery manufacturing plant that would eventually produce enough batteries to power 1.2 million vehicles annually.
Known as Toyota Battery Manufacturing, North Carolina (TBMNC) the new facility expected to create 1,750 new jobs.
Just eight months later in 2022, Toyota pledged an additional $2.5 billion for its TBMNC plant that's now projected to produce another 350 more jobs.
Toyota is competing fiercely in a global marketplace that increasingly values net-zero emissions. Its leadership has identified this as a strong market demand and are all-hands-on-deck to align the company to meets its corporate goals of carbon neutrality across its all operations by the year 2035.
State side, the Economic Development Partnership of North Carolina (EDPNC) is proud to have worked with Toyota and North Carolina's city, county, and state officials to help put this deal together. This win-win for the state and the private sector is made possible thanks to EDPNC leadership's goals of creating investments and sustainable jobs throughout the state.
Universities in North Carolina Offering Master's and Bachelor's Degrees in Organizational Leadership
North Carolina is home to a range of public and private options offering bachelor's degrees, along with MOL, MSOL/ MAOL degrees, and MBA programs with OL concentrations.
The future is bright, and your potential limited only by your imagination. You might work with the EDPNC to shake hands on the next big mega project sale. Maybe you'll be in the private sector based in the Research Triangle. Whatever path you choose, with training in OL you'll be ready to make your mark with vision and confidence.
John Wesley School of Leadership
Accreditation: TRACS (Transnational Association of Christian Colleges and Schools)
Private School
Campus, online

Also offers: PhD in Leadership
College of Arts and Sciences
Accreditation: SACSCOC
Private School
Online

BS in Human Services with a concentration in Nonprofit Leadership
Also offers: Doctor of Education in Organizational Leadership
Accreditation: SACSCOC
Private School
Online

College of Arts, Humanities and Sciences
Accreditation: SACSCOC
Private School
Campus

BS in Applied Communication and Leadership
Also offers: 
AA in Leadership and Management, Leadership Studies Minor
BA in in Professional Leadership and Ethics
School of Adult and Graduate Studies
Accreditation: SACSCOC
Private School
Online

MA in Organizational Leadership
Also offers: 
Master's in Management and Leadership
Minor in Leadership
North Carolina Wesleyan College
School of Business
Accreditation: SACSCOC
Private School
Online, hybrid

BS in Organizational Leadership
MBA in Executive Leadership Concentration
Also offers: 
Leadership Minor
Executive Leadership Certificate Program
Department of Business
Accreditation: SACSCOC
Private School
Campus, online

BS in Business Management and Leadership
Also offers:
Joint Master of Business Administration/Master of Science in Leadership (MBA/MSL)
MBA with a Focus Area in Leadership
Minor in Leadership
Queens University of Charlotte
McColl School of Business
Accreditation: SACSCOC
Private School
Campus, online, hybrid

MBA with a concentration in Leadership and Change
Also offers: 
Minor in Leadership
Certificate in Not-for-Profit Leadership
Certificate in Organizational Leadership
MS in Talent and Organization Development
University of Mount Olive
School of Arts and Sciences
Accreditation: SACSCOC
Private School
Online

Also offers: Leadership Minor
University of North Carolina at Chapel Hill
School of Education
Accreditation: SACSCOC
Public School
Campus

BA in Human and Organizational Leadership Development
Accreditation: SACSCOC
Private School
Campus

BS in Business Administration with a concentration in Leadership and Management Studies
Also offers: Leadership and Management Studies Minor