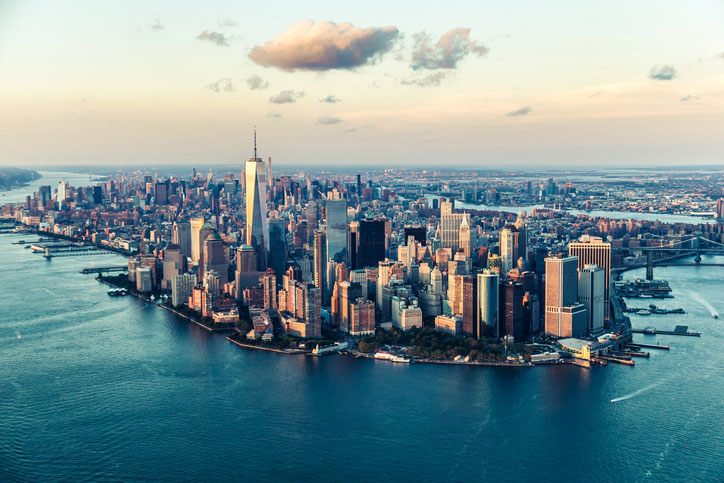 Books are written about why NYC holds the status as the world's capital city, and more books are written about the merits afforded by such a distinction.
<!- mfunc feat_school ->
Featured Programs:
Sponsored School(s)
<!- /mfunc feat_school ->
NYC is the stage for 19th and 20th century robber baron legends like John D. Rockefeller, Andrew Carnegie, Cornelius Vanderbilt, and Jay Gould, whose dynasties literally define old money and old leadership. But it's also where the new guard in business leadership has learned from the mistakes of the past to establish more egalitarian methods of organizational leadership.
More Fortune 500 companies are based in NYC than in any other city on earth – nearly 10% of the entire list: 43 companies in all. NYC is also the city with the most billionaires, counting over 100 people in this rare club. It's no coincidence that the city specializes in luxury goods. By dollar value the state's biggest exports are cut diamonds, followed by paintings, jewelry, gold, and rubies.
The GDP of NYC alone has increased 25% over the past decade. Currently at $678 billion annually, it's economy is bigger than many countries, including Sweden, Ireland, Israel, Singapore, and the UAE. By 2035 the city's GDP is projected to rise to $2.5 trillion.
It's the natural home of the United Nations, and annual host of the World Business Forum. It's the original melting pot city, a tradition that continues through the present day. It combines the brain power and creativity from motivated people from across the world; nearly half of the city's businesses are owned by immigrants.
There aren't many other cities where you can find direct flights to London, Beijing, Tokyo, Frankfurt, Sao Paulo, Shanghai, Mumbai, Seoul, and every other global city. Tourism alone brings an influx of nearly 60 million people to NYC every year.
And even with all of this, NYC is undergoing a construction boom, with 26 million square feet of office space under construction as of 2022. But when wasn't the city undergoing a major expansion?
There's no better place on earth for real leaders to emerge than NYC, with virtually every major sector holding a presence here.
As the heart of America and part of the beating pulse of the world, the opportunities you'll find here are endless. It's an open secret. All the leadership opportunities in the world are on the table in New York and just waiting for the right people to seize them. It all starts with earning the right degree in organizational leadership.
Leading a Global Pharmaceutical Company During the Pandemic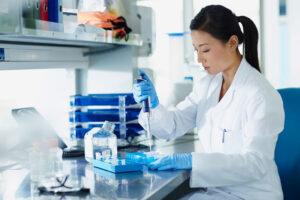 Developing a vaccine in record time to respond to the ongoing health crisis posed by Covid-19 has been described as a moon-shoot, but that didn't stop a company founded in 1849 Brooklyn and now headquartered on 42nd Street in Manhattan, from successfully accepting it.
In record time and with direction from Pfizer's CEO Albert Bourla literally saying, "make the impossible possible," the Pfizer-BioNTech RNA vaccine was among the first to be rolled out in the nation after phase two and three clinical trials demonstrated a 96% efficacy rate.
The most important factor for making the impossible possible, according to Bourla, was the hard work from the collaborative team at Pfizer-BioNTech. The concept of a team –how to instill it and how to inspire it– is at the heart of an organizational leadership education.
Bourla also cites a relative lack of regulatory red-tape in getting a much-needed vaccine approved as quickly as possible. The credit for this goes to the secretary of the US Health and Human Services Department, whose leadership was responsible for accepting the risks associated with the department's emergency use authorization for Covid-19 vaccines.
Thus far the United States alone has secured at least 300 million doses of the Pfizer-BioNTech vaccine. That adds up, even at the discounted rate of $19.50 per dose.
Because of its strategic position as a leading mRNA vaccine producer and its ability to inspire its 78,000-plus employees to work together to deliver the critical vaccine, Pfizer is worth nearly $42 billion, with net annual income topping $12 billion.
It's well poised to continue as one of the world's leading pharmaceutical companies and position itself to be at the ready the next time a health emergency strikes.
What You Can Do in New York With a Master's or Bachelor's Degree in Organizational Leadership
New York is home to some of the world's largest entertainment, financial, real estate, scientific, medical, and government organizations. From the largest multinational corporations and the United Nations on down.
It's the world's capital in terms of culture, media, business, finance, and a whole lot more. The state is home to preeminent schools, while NYC hosts some of the best museums on earth. As a global city metro New York enjoys a widely diverse community of people from all over the world.
Opportunity abounds here unlike any other place on Earth. One of the best ways to distinguish yourself from your competition is with a degree in organizational leadership. An MOL (Master of Organizational Leadership), MSOL/MAOL, or specialized MBA in OL shows that you have an advanced understanding of important topics and that you're committed to a career with an upward trajectory.
These are some of the latest developments that have only been possible due to top-notch leadership decisions backed by a top-notch college education in strategic leadership.
NYC – Global Media Capital
NYC is the headquarters of some of the world's largest media companies like Warner Bros Discovery, News Corp, and Paramount Global. To a large extent these companies control reality for the world through news and entertainment.
Taking just news alone, not including the widely influential Manhattan-based New York Times, these companies control:
When it comes to entertainment these big-three companies control movie studios that are household names and many channels you'll find on your TV. Just a few examples include:
Consider the extensive coverage and influence these media programs have in the US, and then multiply that for countries and continents across the globe. These companies have tremendous influence over everything from political elections to cultural memes.
Taken together Warner Bros Discovery, News Corp, and Paramount Global have nearly 60,000 full-time employees. Their combined total revenue amounts to $66.4 billion.
With such an important influence, the leadership at these companies wield an awesome power; they have a responsibility that's akin to that of any other national cultural or political leader.
And that's on a normal day. The past few years have seen unprecedented mega-merger deals between major media companies in an environment that's increasingly being defined by smartphones, streaming, and globalization.
2022 saw just the latest example with the creation of Warner Bros Discovery.
This merger saga most recently picks up in 2018 with AT&T winning an antitrust lawsuit brought by the Department of Justice attempting to block its $85 billion acquisition of Time Warner. That merger went on to create WarnerMedia.
However soon after this deal went through AT&T's leadership decided the company's shareholders were best served by spinning-off this newest creation and by 2022 Warner Bros Discovery emerged as an independent company after a $43 billion deal with AT&T that saw its WarnerMedia merge with Discovery.
That's just a few years of history in NYC's global media industry. It's hard to keep up, but the companies that can swim with the sharks come out ahead to the tune of tens-of-billions of dollars. The leadership of these companies are the ones keeping everyone in ship-shape, and are compensated in kind.
NYC – World's Financial Hub
Lower Manhattan is home to one of the world's most important market institutions.
It will take you five minutes to walk from the Federal Reserve Bank, south down Nassau till you hit Wall Street –that's right, the Wall Street– and the New York Stock Exchange (NYSE).
The NYSE is the world's largest, with listed companies' market capitalization valued at around $36 trillion. That's more than the GDP of … anyone.
There are only 16 stock exchanges in the world with a market capitalization over $1 trillion. The volume of stocks and securities traded on the NYSE on any given day averages out to about nine million.
As the nation's original capital, Philadelphia initially held the title as the country's financial center for decades. However Philly couldn't compete with NYC's favorable ports that were relatively protected and easily accessible by ships crossing the Atlantic.
This geographic advantage meant that NYC was a natural center for trade, a status that only grew as the Erie Canal was created, giving ships a trading path from the Atlantic up the Hudson and to major cities on the Great Lakes like Toronto, Detroit, Chicago, and Milwaukee.
More people came as NYC developed. With growth came greater demands for major projects like rail, bridges, and roads. Bonds were issued and an insurance market sprang up. Banks grew. By 1980 the NYSE's market capitalization reached $1 trillion, and it's continued progressing ever since.
Today its president Lynn Martin is described by words like bold and determined.
When the stock market crashes so does the world economy. Responsibility doesn't get much larger than that. For the president of the NYSE, leadership means being just as adept at making data-based decisions as at presiding over bell-ringing ceremonies for companies debuting their IPO.
As for Martin herself, she also places a premium on customer interaction. She notes that 30 out of 52 weeks a year she's traveling the country meeting with customers to stay ahead and evolve the NYSE. She also emphasizes innovation and an ethos of entrepreneurship.
Universities in New York Offering Master's and Bachelor's Degrees in Organizational Leadership
New York's diversity extends to the undergraduate and graduate programs in organizational leadership that are available here. Choose from a wide range of OL concentrations and delivery options that include online, on-campus, and hybrid programs.
School of Business and Leadership
Accreditation: MSCHE
Private School
Campus, online

BS or Bachelor of Professional Studies in Organizational Management
MS in Organizational Leadership
Accreditation: MSCHE
Private School
Campus

MS in Leadership and Innovation
Also offers: 
MS in Nursing Executive Leadership
MBA with a Leadership and Innovation Concentration
BS in Leadership and Entrepreneurship in the Arts
Dominican College of Blauvelt
Accreditation: MSCHE
Private School
Online

MS in Organizational Leadership and Communication
Accreditation: MSCHE
Private School
Online

MS in Organizational Leadership with an Emphasis in Technology and Data Analytics
School of Professional and Continuing Education
Accreditation: MSCHE
Private School
Campus

Major in Organizational Leadership
Department of Business and Economics
Accreditation: MSCHE
Private School
Online

BBA/BS in Organizational Management with a Leadership focus
School of Business
Accreditation: MSCHE
Private School
Campus, online, hybrid

Department of Counseling, Leadership, Literacy and Special Education
Accreditation: MSCHE
Public School
Campus

MS in Organizational Leadership
School of Continuing and Professional Studies
Accreditation: MSCHE
Private School
Hybrid, online

BS in Organizational Leadership
MS in Organizational Leadership
Marymount Manhattan College
Division of Business
Accreditation: MSCHE
Private School
Campus

BA in Business, Leadership concentration
Department of Business, Management & Leadership
Accreditation: MSCHE
Private School
Campus, online, hybrid

MA in Organizational Leadership
Also offers: MBA with a concentration in Organizational Leadership Project Management
School of Business and Leadership
Accreditation: MSCHE
Private School
Campus

BS in Business Leadership
MS in Global Business and Leadership
Also offers: 
Minor in Business and Leadership
MS in Marketing Communications Leadership
MS in People Analytics and Leadership
Certificates in (Strategic People Leadership Strategic Talent Development & Coaching People Analytics)
School of Professional Studies
Accreditation: MSCHE
Private School
Campus, online

BS in Leadership and Management Studies
Rochester Institute of Technology
Saunders College of Business
Accreditation: MSCHE
Private School
Campus, online

BS in Global Business Management with a track in Leadership
MS in Organizational Leadership and Innovation
Also offers: Human Resource Management
School of Education and Professional Studies
Accreditation: MSCHE
Public School
Online

MS in Management with an Organizational Leadership concentration
College of Professional Studies
Accreditation: MSCHE
Private School
Online

Bachelor of Professional Studies in Creative Leadership
Also offers:
(Minor, Certificate) in Creative Leadership
(Ed.D, MS, Certificate) in Educational Leadership
Certificate in Enterprise Technology Leadership
Certificate in Leadership in International and Non-Governmental Organizations
Certificate in Public Infrastructure Management and Leadership, Certificate in Public Leadership and Management 
Parsons School of Design
Accreditation: MSCHE
Private School
Campus, online, hybrid

MS in Strategic Design for Global Leadership
Also offers: 
Graduate Certificate in Leadership and Change
Minor in Management and Leadership