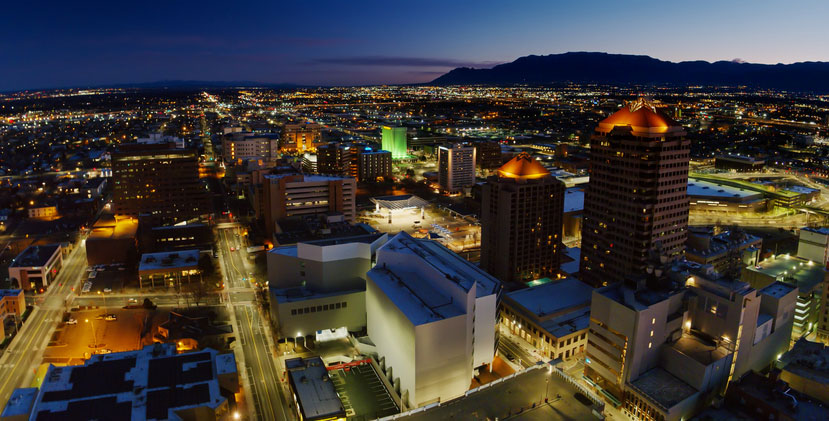 Organizational leadership is more than just business management. It's a combination of key concepts that invigorate natural leaders and inspire the people within their sphere. OL brings together topics like ethics, conflict management, business intelligence, and strategic communications. Concentrations in fields like health care management, nonprofit leadership, or global business hone your studies to give them a razor focus you can use to prime your entry into virtually any industry.
<!- mfunc feat_school ->
Featured Programs:
Sponsored School(s)
<!- /mfunc feat_school ->
The future is very bright in New Mexico, a place playing host to opportunities for skilled leaders in everything from the Netflix Albuquerque Studios to Intel's world-class 3D computer chip manufacturing hub in Rio Rancho to tomorrow's green public transit megaproject. It's all enticing, and it's all happening right here in New Mexico.
Whether you're thinking about leadership in the public or private sector, a bachelor's degree, MAOL, MSOL, or MBA with an organizational leadership concentration helps you stand out in a competitive marketplace with exactly the skills today's organizations are looking for.
The Manhattan Project was the Ultimate Test of Inter-Organizational Leadership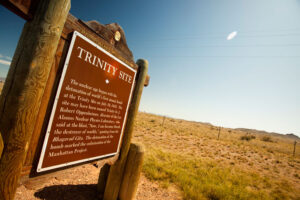 New Mexico is an exciting place to be if you're involved in organizational leadership. In fact, the state was the setting for what was historically one of the largest and most important organizational leadership projects on earth.
World War Two is raging, the Red Scare is ever-present in the background, and the world's leading scientists —who are notoriously independent, competitive, and with varying political views— must be corralled together in secret locations to work together towards the development of a theoretical weapon that also may be the world's most destructive, all before a hostile power makes it first.
It's the 1940s, the setting is Los Alamos National Laboratory near Santa Fe, and the subject is the Manhattan Project. It's America's most ambitious and secret project ever undertaken. Winning means leading the free world, and losing means the potential for world domination by villainous forces.
The world's leading scientists are working at Los Alamos on ways to design an atomic bomb, crafting fissionable components into pure metals and figuring out the best shapes and configurations to make the bomb work. And at the end of the day this device had to be compact enough to fit through the bomb doors of an airplane.
At other labs across the country scientists are working on different pieces of the atomic puzzle. Oak Ridge is working on enriching uranium. Kinks in the fission chain reaction are getting worked out at the University of Chicago. In Washington State, Hanford is busy producing plutonium. Throughout the military keeps all but a select few leaders segmented from each other so as to maximize secrecy.
The person connecting it all is a proven leader, Army Corps of Engineers' Leslie Richard Groves, whose accomplishments prior to leading the Manhattan Project include overseeing all military construction in the nation, including airfields, camps, depots, and even the Pentagon.
Groves is the Pentagon's person in charge of the Manhattan Project, and he works closely with the scientific leader of the endeavor, J. Robert Oppenheimer. These two leaders represent a coming together of the best military and science minds.
There are hiccups and challenges along the way, but finally in July of 1945 about 35 miles southeast of Socorro, the culmination of the efforts and leadership of all those involved with the Manhattan Project pay off with the world's first successful detonation of an atomic bomb.
Groves and Oppenheimer are both there to see it, and the project couldn't have been successful without the leadership of either one. Due to their leadership the rest is history.
Today Los Alamos is still an important center for research and development in the fields of national security, energy, science, and environmental management. It's the workplace of over 14,000 people and has an annual federal budget of over $4 billion. Every year the laboratory contracts with New Mexico businesses to the tune of hundreds of millions of dollars.
Leadership at Los Alamos is as important today for achieving national scientific goals as it was 80 years ago during the Manhattan Project. The same holds true for business leaders from New Mexico who stand to potentially gain windfall profits through collaborative work with the lab.
What You Can Do in New Mexico With a Master's or Bachelor's Degree in Organizational Leadership
Once you graduate with a degree in organizational leadership you'll be ready to hit the ground running and get involved with some of the biggest projects happening right now in New Mexico.
$3.5 Billion Upgrade of Intel's Rio Rancho Fab Scheduled for 2023 Completion
Announced in 2021, Intel's semiconductor manufacturing fab upgrade in Rio Rancho is projected to create 700 permanent high tech jobs and support an additional 3,500 jobs in New Mexico. And those are in addition to the 1,000 construction jobs needed for the initial upgrade.
Marking the single-largest investment in this facility since it was built in 1980 and one of the largest capital investments in New Mexico, Intel will transform its fab into a global manufacturing hub for the latest breakthrough in semiconductors. Foveros technology stacks computer chips on top of each other, transforming what was once limited to 2D computing into 3D microprocessing power.
This new expansion is made possible by organizational leaders working on both sides of the public and private sectors.
At Intel, leadership has identified increased production at state-of-the-art foundries as being an essential part of staying competitive in a global marketplace. In New Mexico, the governor and lawmakers worked together to tweak a section of the Local Economic Development Act so Intel could get a tax rebate in exchange for its significant investment.
State Senator Introduces $1 Billion Bill for High Speed Rail Project
Early in 2023 a state senator representing Las Cruces introduced a bill that would provide $500,000 for a high speed rail feasibility study and $1 billion for the project itself.
Although investments to improve rail transport in New Mexico enjoy public support, a similar bill was introduced to the state legislature the prior year and didn't even make it out of committee.
Proponents say investment in New Mexico high speed rail would pay for itself through boosts in commerce, especially if the 2023 proposal for a train line extending from Chihuahua, Mexico through Colorado came to fruition.
Completing this type of infrastructure deal would be a major achievement, and involve leadership from the US federal government, the president, governors of multiple states, and even federal representatives in Mexico.
As major infrastructure projects often do, it's possible this one could ultimately run into multiple billions of dollars. What's sorely lacking right now is leadership.
Billions of dollars of megaproject investment from multiple sources is a tough nut to crack, but for the right leadership team the rewards would be legacy level.
Netflix's ABQ Studios Gets a $1 Billion Makeover
The filming location for The Avengers and Netflix hits like Breaking Bad and Stranger Things, Netflix's Albuquerque Studios will enjoy a billion dollar investment over the 10 years leading up to 2030. The project is forecast to create 1,000 production jobs and 1,467 construction jobs.
10 stages are set to be added as part of the 300-acre expansion project, which will make ABQ one of the largest production facilities on the continent.
Leadership from the governor via expanded film incentives has been credited with originally attracting Netflix to the state in the first place back in 2018. State executives were under pressure to diversify their revenue sources away from oil, gas, and federal funding. As a result creative leadership innovated to attract new investments like this one.
$24 million in local and state economic development funding has already been offered to Netflix and Albuquerque has said it will float industrial revenue bonds as additional incentives for the company.
Currently the film and television industry brings in over $500 million annually to New Mexico's economy.
Universities in New Mexico Offering Master's and Bachelor's Degrees in Organizational Leadership
There are more choices then ever when it comes to where you can earn a bachelor's degrees in OL, or a graduate-level MAOL, MSOL, or MBA with an OL concentration.
There are also more opportunities than ever for what you can do once you graduate. It's an exciting time to be interested in organizational leadership; it's up to you to take the next step.
There are currently no listings for New Mexico. Check back often for updates.