Strike when the iron is hot, they say, and right now New Jersey is fresh out of the furnace. As the headquarters of iconic multinational brands and epicenter of redevelopment mega-projects, if you're tracked for a leadership position in almost any industry in New Jersey, then you're in the right place at exactly the right time.
How a Legendary New Jersey Native Served Up Visionary Leadership to the Tune of Billions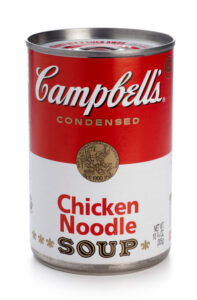 You could say it's as American as apple pie. It's a brand that's been featured in books, movies, and even works of art.
But what most people don't know is that the company behind the eponymously-named Campbell's Soup traces its humble beginnings back to New Jersey and is still headquartered as it always has been in Camden.
2022 saw Campbell's net sales at $8.6 billion and employing nearly 15,000 people throughout North America. Over the company's history Campbell's corporate leadership has seen its share price steadily and consistently rise from under $3 a share in 1983 to over $50 in 2023.
There's no doubt that Campbell's holds a unique place in American history not to mention the important financial mark its left on New Jersey. It's thanks to a unique combination of New Jersey factors that made it possible for this company to become an international brand.
As it turns out, New Jersey has good conditions for growing a broad range of fruits and vegetables, and idyllic conditions for growing things like cranberries and blueberries.
In fact, the New Jersey Pine Barrens are one of the only places on earth where cranberries grow naturally. And similar to how thousands of years ago barley was domesticated in Mesopotamia and corn was domesticated in present-day central Mexico, blueberries were literally domesticated in New Jersey just over a hundred years ago.
It's no coincidence that the founders of Campbell's were a Jersey duo whose combined talents amounted to more than the sum of each: Joseph Campbell was a wholesale produce vendor and Abraham Anderson was a commercial canner. They were both in New Jersey because of the state's unique agricultural capabilities.
What started as a company producing canned vegetables and soups grew through a combination of simple innovation and consistent value, offering a greater variety of products while dominating the niche of shelf-stable food.
Since its founding in 1869, Campbell's leadership has instilled an ethos that keeps everyone from executives to equipment sanitation specialists aligned with a common goal. Everyone's on the same team and everyone wants to do their best to meet the next challenge. That's what organizational leadership is all about.
Campbell's has seen the kind of success that can only come when everyone is on the same page, and that's all thanks to effective leadership. Whereas some would lead from the top down, good leadership works through inspiration not intimidation. This is why private companies and the public sector pay handsomely for good leadership. It's why investing $1,000 in Campbell's in 1983 would be worth $17,131 today.
Mastering this set of leadership skills starts with earning a degree, whether you're just getting started with a bachelor's or ready to advance with an MOL, MSOL/MAOL, or MBA in organizational leadership.
What You Can Do in New Jersey With a Master's or Bachelor's Degree in Organizational Leadership
A degree in OL can help you take the reins of a large company, a public-private partnership, and even lead in politics at the local, state, or federal level.
In New Jersey recent leadership efforts are behind things like a major real estate development deal, the competitive expansion of a juggernaut multinational medical company, new studios for Netflix, and the merger of two healthcare organizations worth billions of dollars.
A bachelor's degree in OL gives you a basic solid foundation in this field that's stackable with a range of graduate level programs. At the master's-level there are MAOLs and MSOLs, along with MBAs and MPHs with OL specializations.
Within graduate programs you'll also find opportunities to study an OL concentration, focusing on subjects like HR, healthcare, global leadership, and non-profit leadership.
Here's what the leaders in this field have been up to lately in New Jersey.
Major Merger in Camden and Cape May County Healthcare
The healthcare industry is regulated, profitable, competitive, and responsible for providing lifesaving care to its clients; it takes a special kind of leader to thrive in this type of environment.
Right now the industry's trends are mergers and consolidations, and in New Jersey this has most recently made headlines with 2023 developments on the merger of Camden-based Cooper University Health Care with Cape Regional Health serving locations throughout Cape May County. The move is expected to be finalized in 2024.
By staff Cooper is about five times larger than Cape Regional. With the two systems combined the new company will be over 10,000 people strong, stretched across two hospitals and six urgent care centers.
Annual revenue is projected to exceed $2.2 billion, and there will be as many physicians as there are hospital beds: more than 900.
This news comes after Capital Health purchased Trenton's St. Francis Medical Center to form Capital Health-East Trenton.
The rapidly changing healthcare market shows that leadership must be particularly adept at getting new people on board with new organizational goals.
It's not a coincidence that Cooper Health invests significantly in executive staff who have a strong foundation in organizational leadership, like the following:
Netflix Production Studios Coming to an Abandoned Army Base Near You
What do you do with an old decommissioned thousand-acre-plus Army post that's been closed for years, situated about an hour's drive south of Newark?
That's the task charged to the Fort Monmouth Economic Revitalization Authority (FMERA), and for about the past decade the answer had remained elusive.
But that all changed just after Christmas in 2022 when Netflix and New Jersey's governor announced the company had big plans to invest $905 million to develop a 292-acre piece of Fort Monmouth into a state-of-the-art East Coast production facility.
The deal was big enough for many to work straight through the holidays. Netflix envisions 12 sound stages at around 500,000 square-feet total in addition to supporting facilities like studio backlots.
Estimates put the number of construction jobs for the project at 3,500 and once the new studios are operational, they will support 1,500 permanent production jobs.
This deal couldn't have happened without leadership from many sides working together, starting with the corporate leadership at Netflix who outbid three competitors to win this site. The New Jersey Economic Development Authority also worked with the governor and the FMERA to move this project from concept to reality.
New Brunswick's J&J Adds to its Portfolio with a $17 Billion Investment
Johnson and Johnson (J&J) consistently makes the top-40 of the Fortune 500 list based on its total revenue. At the end of 2021 its total assets amounted to $182 billion, which is more than the GDP of countries like Hungry and Qatar.
As the world's largest and most diversified healthcare products company, J&J's executive leadership team are compensated to the tune of multi-millions of dollars annually. Critically, they're responsible for keeping all the company's 140,000 team players on the same page.
This naturally applies to J&J's latest acquisition of the company Abiomed, the largest of its kind in almost six years, which already aligned with J&J's patient-first philosophy.
Abiomed is known for its specialty-manufactured heart pumps and other cardio-pulmonary mechanical devices.
After extensive studies, consultations, and strategic planning J&J's leadership has determined its best course going into the future will be to focus on medical device operations and pharmaceuticals, spinning off its consumer health division. Its Abiomed acquisition, for a price that's close to Abiomed's 52-week stock high, represents a strong and confident move in this direction.
If you enjoy change and can deal with unexpected challenges, then a career in leadership may be right for you. Even a company as huge as J&J has to compete in the marketplace; a global one in its case.
Trimming the fat, going in new directions, and making multi-billion-dollar decisions aren't for the faint of heart, but it's all in a day's work for leaders who have built careers on a strong foundation of confidence and a degree in organizational leadership.
Universities in New Jersey Offering Master's and Bachelor's Degrees in Organizational Leadership
You'll find a range of compelling opportunities for undergraduate and graduate OL study at schools throughout the state. Programs are offered on-campus, online, or both. There are also plenty of industry and skill-specific OL concentrations to choose from to find the program that best fits your own career goals.
Norm Brodsky College of Business
College of Education and Human Services
Accreditation: MSCHE
Private School
Campus, online, hybrid

BSBA in Management and Leadership
MA in Organizational Leadership
College of Education
Rohrer College of Business
Accreditation: MSCHE
Public School
Campus, online

BA in Leadership and Social Innovation
MBA with a concentration in Organizational Leadership
Also offers: Certificate of Graduate Study in Organizational Leadership
School of Professional Studies
Accreditation: MSCHE
Private School
Hybrid

Bachelor of Professional Studies with a concentration in Organizational Leadership