Whether it's in the private sector, through government initiatives, or a combination of the two, New Hampshire's history goes hand-in-hand with organizational leadership as far back as the Industrial Revolution. And on the other side of industry, many of the state's great leaders from that era also hailed from the abolitionist and labor movements of the time. All of it represents an organizational leadership tradition that transcends modern business definitions in powerful ways.
<!- mfunc feat_school ->
Featured Programs:
Sponsored School(s)
<!- /mfunc feat_school ->
Long before rust belt was a concept for a post-industrial community, New Hampshire had been there and done that. In its day it was a national center for paper factories, textiles, and shoe production. In fact, Manchester was literally founded by the Amogskeag Manufacturing Company, at the time the largest cotton textile plant on earth, which employed over 17,000 people and produced 470 miles of cloth every workday.
Today, preparing for a career in leadership means earning a bachelor's degree with a relevant focus, or an even more advanced academic credential like an MAOL, MSOL, or an MBA in organizational leadership.
Competition among businesses and other organizations recruiting the most effective leaders can be fierce, especially in fields that are already well established. But this needn't be the case when you can apply for leadership positions with confidence having solid credentials under your belt.
How Leadership Strategies Cemented C&S as a Leader in Wholesale for More Than a Century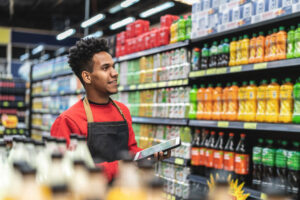 What started out of a century ago as a 5,000 square foot warehouse is today C&S Wholesale Grocers, the nation's largest wholesale grocery supplier.
Though this company's ownership has traded hands over the decades, it's always valued ideals like fair play, competition, and maximizing efficiency. In many ways C&S is a symbol of what good-hearted competition and consumer-oriented marketing can accomplish.
C&S got its start just after the first World War ended. At this time local grocers ran tight margins that could buckle due to the slightest market perturbations. The urban Northeast population was booming, and so was the post-war economy. Any given wholesale grocer was competing to hold onto hundreds of retail customers, many of whom made purchases on credit.
During this era, in the 1930s 87% of wholesalers' orders came from stores that didn't even break $33k in annual sales. Compare this today with Walmart who made $573 billion in revenue across its 10,500 stores in 2022.
Needless to say, the leaders at C&S could plainly see that any opportunity to innovate was worth it. This mentality began to find its way through to a realized market advantage through improved warehouse efficiencies. But this was just the beginning.
C&S was also perhaps the first company to put customer service front-and-center, listening to customer feedback and actually implementing it, a concept that was unheard of among wholesalers of the day.
C&S's respect for fair market competition and its customers has continued right through the present. Betting on an ethos that respects these values has paid off in the long term; Forbes ranks C&S as the eighth-largest private company in the nation, employing 14,000 thousand people with a 2022 revenue that topped $33 billion.
Still headquartered in Keene, C&S's leaders have ensured the company has stayed true to its original values that made it successful over a hundred years ago, and continue to do so today.
Organizational leaders are key for getting everyone on the same page; for translating company leadership ideals into common goals that are valued by all employees. The ethos at C&S Wholesale Grocers is a great example of a New Hampshire company that's succeeded in doing this, but it's far from the only one.
What You Can Do in New Hampshire With a Master's or Bachelor's Degree in Organizational Leadership
Managers are pretty common. So is earning a degree in business.
Organizational leaders are tuned in to the next level when it comes to things like ethics, emotional intelligence, thought leadership, team building, strategic planning, and crisis mitigation.
While good organizational leaders are rare, those who know their material are highly valued.
Good organizational leaders can simultaneously ensure a company stays true to its brand's philosophy while at the same time putting together a successful merger-acquisition. And they won't skip a beat, making it look like an easy waltz.
Major Defense Company Opens Manchester Engineering and Production Facility
In May of 2022 BAE announced its new 200,000-square-foot Manchester facility was officially open. Modern laboratories, office space, and engineering facilities are all part of BAE's new investments in Manchester focusing on electronic warfare capabilities.
This new facility brings with it over 6,000 new jobs to the Manchester area, at least 400 of which are high paying. Not only will New Hampshire residents enjoy the new opportunities BAE brings to the area, but employees will have access to alluring opportunities to move up within the company internally.
Headquartered in London, this aerospace and defense company employs 34,000 professionals worldwide from facilities across the United States, UK, Saudi Arabia, and Australia. 2022 assets totaled $36.8 billion with profits that year at $2.4 billion.
Public and private-sector leaders from BAE, the New Hampshire Department of Business and Economic Affairs, the New Hampshire Business Finance Authority, and the city laid the framework for this deal to be possible.
Portsmouth's Sprague Resources Acquired By Major Global Energy Firm
As of November 2022 the ink was drying on the signatures that finalized Sprague Resources' buyout by global merchant commodities firm Hartree Partners. This deal pays out Sprague's former shareholders, moving it from a publicly-traded company to Hartree's private portfolio as a wholly owned subsidiary.
Also known as Sprague Energy throughout New Hampshire and the rest of New England, the company's roots stretch back to 1870 and it has a legacy that's just as long as a major supplier of energy to the Northeast. Today that includes refined petroleum products and natural gas pipelines.
As an energy commodities company, Sprague is right up Hartree's alley. Hartree has 17 offices across the world including in New York, London, Singapore, Cape Town, and Geneva. According to the finance site Wallmine, Hartree Partners' current portfolio with the Sprague addition is north of $119 billion.
The executive leadership teams who put this deal together have opened up vast new territory for the employees who work out of Sprague's Portsmouth office. If Hartree is looking for internal talent this means you can think about a job in London, Hamburg, Santiago, or any other global city where Hartree has an office or subsidiary partner.
Universities in New Hampshire Offering Master's and Bachelor's Degrees in Organizational Leadership
We've analyzed every school in New Hampshire offering an undergraduate and/or graduate-level program in organizational leadership. You don't need to leave New Hampshire to find the bachelor's in OL, or MOL/MSOL/MAOL, or MBA with an OL concentration that aligns with your goals.
Accreditation: NECHE
Public School
Online

BS in Business Management with a concentration in Leadership
Also offers: Nonprofit Leadership Certificate