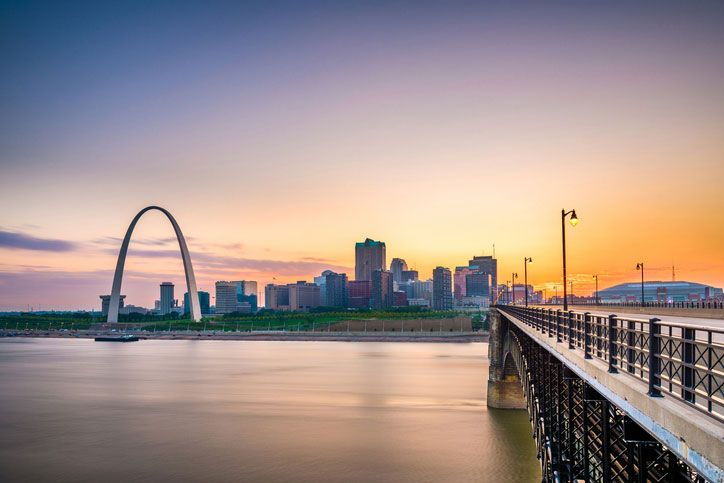 With its growing population of young families, commitment to sustainable economic development, and it's preservation efforts around Lake of the Ozarks and its surrounding forests, grasslands, and rivers, Missouri embodies a mix of humble work ethic and progress, somewhere between time honored tradition and foresight. Missouri is the perfect place for the small business owner, entrepreneur, adventurer, or conscious changemaker.
<!- mfunc feat_school ->
Featured Programs:
Sponsored School(s)
<!- /mfunc feat_school ->
Missouri is also unapologetic about its hard working American spirit. Ever wonder why it's called the "show me" state? In 1899, Missouri's U.S. Congressman Willard Duncan Vandiver espoused the attitude that's kept Missouri true to its values today: "…frothy eloquence neither convinces nor satisfies me. I am from Missouri. You have got to show me."
Leaders of today have to be honest with themselves and with others. Good leaders hold themselves and their teams to high standards, and they also know that pursuing the truth—and doing so through being transparent themselves—is the virtue that will gain them the respect of their employees, constituents, and audience. Truth and integrity are the values that allow them to drive change. That's why Missouri has long been a place where leaders are made.
No matter the issue that you care about or the problem that you want to solve, Missouri's people, culture, and commitment to self-improvement make this an ideal place to foster your desire to impact the world with degree in organizational leadership.  
Big Names in Industry and the Public Sector are Leading by Doing in the Show Me State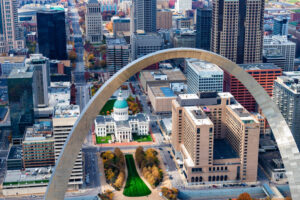 Missouri 2030, started by the Missouri Chamber of Commerce, touts itself as a "bold, 15-year strategic plan to reposition Missouri as a global economic leader." Missouri 2030 also claims that between 2015 and 2020, the state has climbed in national rankings for GDP and per capita income. Missouri has also achieved an impressive feat, particularly in job creation; in 2015, they were ranked 40th in the nation, but in 2020, the state climbed to number 20.
In terms of economic growth, Missouri has made it their mission to become the type of place where new industries can find the infrastructure, support, and workforce that will help them thrive. Daniel P. Mehan of the Missouri Chamber captured Missouri's determination to overcome the crisis that was COVID, recognizing that "the states that reposition quickly and strategically can come out of this crisis stronger than ever." He asserts that "Missouri needs to be one of them." 
With leadership like that, it's no wonder that some of Missouri's most notable business leaders – Al Koller of Koller Enterprises, Dirck Clark of Impact Health, and Debbie Dewey of Missouri American Water, to name a few – have put so much faith in Missouri as their building ground for growth. The more time you spend here, the more you'll learn that Missouri is a place where you'll find leaders that you can look up to as mentors, people who will be eager to support you as you become someone who strives to help organizations grow.
What You Can Do With a Master's or Bachelor's in Organizational Leadership in Missouri
When you study organizational leadership, you become adept at evaluating data, working with teams to generate ideas, implementing improvement plans, and communicating about these plans to stakeholders and the public. You are the focal person for ensuring that a company's mission stays at the forefront of decisions, and you work to build trust amongst teams and stakeholders in a company. In essence, you'll be doing what much of Missouri's leaders are already doing.
Your degree in organizational leadership can help you contribute to Missouri's goals of growing the GDP, preparing the workforce, and improving the overall quality of life for citizens. If you have vision, you can expand companies that are in manufacturing, product development, and commerce. Through apprenticeship programs, Missouri is hoping to grow a tech workforce, making this unassuming state a potential contender for new tech start-ups that are looking for an affordable, attractive place to call home. Metropolitan areas like Kansas City, Jefferson City, and Springfield are places that are opening themselves to change.
Organizational leaders in Missouri are not only contributing to the state's development in technology, infrastructure, and manufacturing. Missouri is also investing in its potential to cater to tourists, particularly in rural areas, where smaller companies and local governments are working to protect and preserve Missouri's clean water and national forests.
Those who want to use Missouri's recent economic development to improve the lives of the underserved will also find that the people of Missouri are interested in giving to others. St. Louis is a metropolis with several niche nonprofits, including Sadie's Place, which provides support to parents of babies who are in the NICU, and Haven House, which provides temporary living accommodations for patients and families who travel to the city from surrounding rural areas for medical care.
With Missouri's enthusiasm for growth, by earning a bachelor's in organizational leadership or advanced MOL/MSOL/MAOL or MBA with a focus in OL, you'll get to share in the state's vision to thrive economically and socially. And though that degree program, you'll be able to build a network with those who are just as dedicated as you are to helping Missouri prosper.
Universities in Missouri Offering Master's and Bachelor's Degrees in Organizational Leadership
Missouri is quickly becoming one of the most desirable places to live in the United States. Friendly, affordable, and eclectic, the Show Me State is attracting people who represent a wide range of ages, backgrounds, and interests. Missouri welcomes everyone with open arms – creating a forward-thinking culture that encourages people to follow their dreams.
The Midwest carries a robust history of culture and diversity of interests and activities. Outdoor enthusiasts come from all over for the hunting, fishing, hiking, and exploring. Farmers contract with local breweries and wineries to create beverages that soon become local staples. History buffs travel here for the Route 66 experience and to learn all about the homesteading days, indigenous cultures, and how the Midwest opened commerce to the land beyond.
Missouri also wants to attract more companies, organizations, and businesses that will fuel its recent growth. When you choose to earn a bachelor's or advanced organizational leadership degree in a place that's already eager to grow, you surround yourself with fellow visionaries – and more opportunities – to participate.
Earning your degree in organizational leadership will prepare you to inspire others, think about the big picture, and drive companies and ideas forward. Learning about organizational leadership in a place like Missouri will inspire you to become a leader that gives to a place that is happy to receive. Below, you'll find programs that offer degrees in organizational leadership in the Show Me State.
College of Professional Schools
Accreditation: HLC
Private School
Campus, online

MS in Organizational Leadership
Also offers: MBA with a concentration in Executive Leadership
Accreditation: HLC
Private School
Online

MA in Organizational Leadership
Also offers: 
AA in Christian Leadership
BS in Christian Leadership
Department of Business Administration
Graduate School
Accreditation: HLC
Private School
Campus, online

BS in Business Administration-Organizational Leadership and Management
MS in Organizational Leadership
Accreditation: HLC
Private School
Campus

BA in Organizational Leadership
Also offers: Minor/Certificate in Organizational Leadership
College of Graduate Studies
Accreditation: HLC
Private School
Hybrid, online

Master of Integrative Leadership
Also offers: Master of Nonprofit and Civic Leadership
College of Online Learning
Accreditation: HLC
Private School
Online

Master of Organizational Leadership
Also offers: Doctor of Strategic Leadership
Eckelkamp College of Global Business and Professional Studies
Accreditation: HLC
Private School
Online

Master of Management and Leadership
Also offers: Management and Leadership Certificate
Hannibal-LaGrange University
Online Department
Accreditation: HLC
Private School
Online

MA in Leadership-Business Administration
Also offers: MA in Leadership-Christian Studies
Accreditation: HLC
Private School
Online

Also offers: 
Ed.D in Leadership
Graduate Certificate in Leadership
MBA with an emphasis in Leadership
Missouri Baptist University
Accreditation: HLC
Private School
Online

Bachelor's in Organizational Leadership
Also offers: 
(Major, Certificate) in Ministry and Leadership
Ed.D. in Leadership in Teaching and Learning
Ed.D. in Higher Education Leadership
Helzberg School of Management
Accreditation: HLC
Private School
Campus

MA in Organizational Leadership
Also offers: 
Ed.D in Education and Leadership
Graduate Certificate in Advanced Leadership
MSN-Nursing Leadership
School of Professional Studies
Accreditation: HLC
Private School
Campus, online

BA in Leadership and Organizational Behavior
MA in Leadership and Organizational Development
Also offers: 
(Ed.D, Ed.S, Ph.D, MA) in Educational Leadership
Minor in Leadership and Organizational Behavior
BS in Organizational Leadership and Technology
Post-Bac Certificate in Organizational Leadership
BS in Leadership and Human Resource Management
Accreditation: HLC
Public School
Campus, online

Accreditation: HLC
Private School
Campus

BA in Organizational Leadership
George Herbert Walker School of Business and Technology
Accreditation: HLC
Private School
Campus, online

MA in Management and Leadership
Also offers: 
MA in Nonprofit Leadership
Ed.S. in Educational Leadership
MA in Educational Leadership and Administration
Westminster Online
Accreditation: HLC
Private School
Online

BA in Organizational Leadership
School of Business and Technology
Accreditation: HLC
Private School
Campus, online

BS in Management and Leadership
MA in Organizational Leadership
Also offers: AA in Leadership