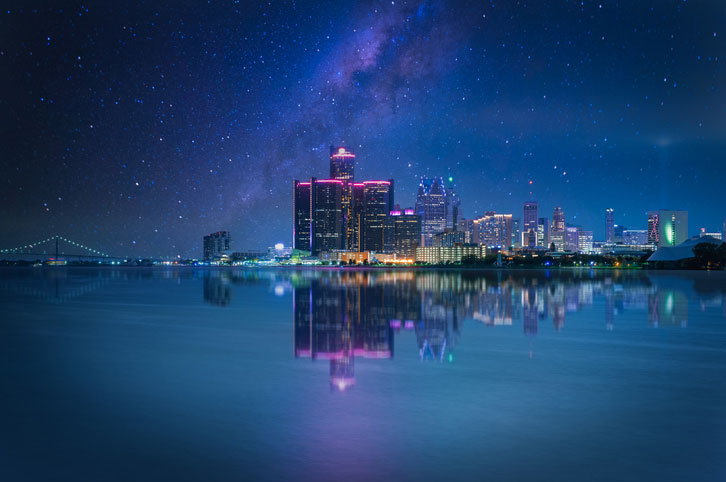 Whether you're going for a bachelor's in organizational leadership, MAOL/MSOL, or MBA, you'll learn more than just how to manage a department. Many can learn how to allocate resources, set production schedules, and measure performance. Few can create a sound company vision, structure a company's operations to attain that vision, and foresee market changes that will initiate adaptation.
<!- mfunc feat_school ->
Featured Programs:
Sponsored School(s)
<!- /mfunc feat_school ->
That's what organizational leadership is all about: You first establish a holistic mission for the institution, understand how that mission fits within the market you're serving, and then drive changes at the departmental level to facilitate that mission. This will be the chief focus of your studies, from business intelligence courses to cultural development workshops.
Once you've obtained your organizational leadership degree, which missions could you join in Michigan? To which state-wide initiatives could you contribute your knowledge?
Marshalling Organizational Leadership Skills to Advocate for Detroit's Underserved Communities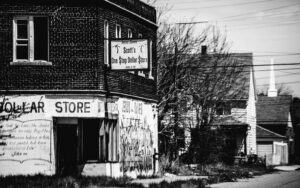 Invest Detroit is a community development financial institution (CDFI) dedicated to helping people of color as well as low- and moderate-income people in Detroit access loans and venture capital. Cowan oversees the institution's lending operations, covering real estate, commercial, and industrial loans.
Cowan exemplifies the character of a strong organizational leader. Throughout COVID-19, she sought opportunities to mitigate the disruptions to small businesses most impacted by the state's lockdowns. She connected those businesses with the Small Business Administration's payment protection program, the economic injury disaster loan program. She also helped launch a technical assistance platform with TechTown Detroit to help small businesses pivot in a time when brick-and-mortar operations were prohibited.
It's clear Cowan understands Invest Detroit's mission, and she focuses the efforts of her department accordingly. The point of the organization is to make financial resources more accessible to Detroit's underserved, and she's implemented practices designed to do so.
"If [an applicant] not at a place where we're ready to be able to provide capital, it's not a no, that's not how we handle things," she told Ed Clemente, host of The Michigan Opportunity Podcast. "We identify where there may be challenges [and] where there are growth opportunities such that you're ready."
So, how can you join the ranks of people such as Cowan? What skills would a degree in organizational leadership endow you with, and how could you utilize those skills in Michigan's economy?
What You Can Do in Michigan With a Master's or Bachelor's in Organizational Leadership
Michigan is a state of firsts, especially when it comes to transportation. Sure, everyone knows about Henry Ford's pioneering efforts with the automobile, but where transportation be without Horatio Earle and Frank Rogers' road development efforts. The world knows Detroit as Motor City, but few realize it's also the first place to pave a mile of highway with concrete and paint the first centerline.
Perhaps you envision bringing Michigan back to those highs, rebuilding the great cities of Detroit and Grand Rapids one business at a time with your own start-up. Or maybe you're already making moves and vying for your next promotion.  A bachelor's or master's degree in organizational leadership will equip you with the skills to bring the resources and people together to do so – from developing a clear company mission to enacting it.
Today, there are leaders in the private, public, and non-profit sectors exemplifying strong organizational leadership throughout Michigan.
Michigan's Electric Vehicle Manufacturing Opportunities
In 2022, the U.S. Department of Energy granted a $2.5 billion loan to Michigan, Ohio, and Tennessee to boost EV production throughout the country. The state will build battery cell production plants in conjunction with Ultium Cells, a joint venture between LG Energy Solutions and General Motors.
That investment is just the tip of the iceberg. Crain's Detroit Business listed additional investments from GM, Ford, and others:
These and other initiatives present exciting opportunities to aspiring organizational leaders. Already, Ford and GM are pivoting away from combustion engine vehicles to compete with the likes of Tesla, and it's not going to be without some growing pains. Armed with your training in OL, you can help these and other companies establish themselves as EV powerhouses throughout Michigan.
The Michigan Citizen Reentry Initiative
Few think about the folks set to be paroled in the near future. All too often, those who served their sentences are left with few or zero resources to join Michigan's economy. However, Governor Gretchen Whitmer and the state's Department of Labor and Economic Opportunity (LEO) is looking to change that.
With $7.6 million in federal grant money, the LEO is launching the Michigan Citizen Reentry Initiative (MiCRI). The MiCRI will provide soft skills training, workplace skills development, job hunting capabilities and individual needs evaluations to inmates at the Milan Federal Correctional Institution.
"MiCRI's approach will help reduce recidivism by providing meaningful, individualized support to Michiganders as they reenter the workforce, and it will help employers fill critical job openings across the state to ensure we can continue growing our economy," said Governor Whitmer.
This initiative fits in with the Governor's desire to boost the state's labor force participation rate.
If you're looking for meaningful work, the MiCRI presents a fantastic opportunity. The state's going to need someone to make the most of the $7.6 million in funding. They need someone who can eliminate mismanagement of funds and set up operations to fulfill the MiCRI's mission: to equip ex-convicts with the skills to acquire and retain jobs as well as progress in their careers.
Universities in Michigan Offering Master's and Bachelor's Degrees in Organizational Leadership
Harnessing your ambitions to become a strong organizational leader starts with a sound education. Whether you're looking for a master's or bachelor's in organizational leadership, we've listed the schools in Michigan that offer such programs.
Philosophy, Religion, and Leadership Department
Accreditation: HLC
Private School
Campus

Central Michigan University
Accreditation: HLC
Public School
Campus, online, hybrid

BA/BS in Organizational Leadership
MS in Administration with a concentration in Leadership
Also offers: 
Nonprofit Leadership certificate
Leadership certificate
Accreditation: HLC
Private School
Online

Also offers: 
Graduate certificate in Health Care Leadership
Graduate certificate in Strategic Leadership
Graduate certificate in Women's Leadership
MS in Culture, Change, and Leadership
Concordia University Ann Arbor
Haab School of Business
Accreditation: HLC
Private School
Campus, online

Also offers: BS in Human Resource and Strategic Leadership
College of Business
Accreditation: HLC
Private School
Campus, Online

MBA in Leadership Strategies
Also offers: Leadership Strategies Graduate certificate
Grace Christian University
Accreditation: HLC
Private School
Online

MA in Organizational Leadership
Accreditation: HLC
Private School
Online

MS in Business Leadership
Also offers:
Non-Profit Leadership certificate
MS in Humane Leadership
Michigan State University
Eli Broad Graduate School of Management
Accreditation: HLC
Private School
Online

MS in Management, Strategy and Leadership
Also offers: 
Graduate certificate in Leadership and Managing Teams
Graduate certificate in Organizational Communication for Leadership
MA in Nonprofit Leadership, Global Cultures, and Social Enterprise
Northern Michigan University
School off Education, Leadership and Public Service
Accreditation: HLC
Public School
Online

Major in Applied Workplace Leadership
Also offers: Applied Workplace Leadership certificate
DeVos Graduate School
Accreditation: HLC
Private School
Online

MS in Organizational Leadership
School of Business and Professional Studies
Accreditation: HLC
Private School
Campus, online

BS in Strategic Leadership
Accreditation: HLC
Private School
Online

MA in Organizational Leadership
Gainey School of Business
Accreditation: HLC
Private School
Hybrid

MA in Management and Organizational Leadership
Also offers: MBA Executive Leadership concentration
University of Michigan - Flint
School of Management
Accreditation: HLC
Public School
Online

MS in Leadership and Organizational Dynamics
Also offers: 
Post-Master's certificate in Organizational Leadership
Business Leadership certificate
Dual MBA/MSLOD degree in Business Administration/Leadership and Organizational Dynamics
Western Michigan University
Haworth College of Business
College of Education and Human Development
Accreditation: HLC
Public School
Campus, online, hybrid

Major in Leadership and Business Strategy
MA in Organizational Change Leadership
Also offers: 
Leadership and Teamwork certificate
Leadership and Business Strategy minor