You won't find any towering skyscrapers in the Pine Tree State, but up and down the coast you'll find plenty of established corporations and plenty of enterprising people launching start-ups. One thing Mainers are known for is their resiliency. You can't live through -10° Fahrenheit winters and not develop a certain level of grit. No matter what the cold will bring, you'll find undaunted leaders who simply get the job done.
<!- mfunc feat_school ->
Featured Programs:
Sponsored School(s)
<!- /mfunc feat_school ->
Whether you're studying in Portland or Augusta, your bachelor's degree, MSOL/MAOL, or MBA in organizational leadership will harness your ability to:
Once you build these and other skills through your organizational leadership program, you won't struggle to find business throughout Maine that exactly the kind of talent you have to offer.
Growing Non-Profits in the Toughest of Times Takes Strong Organizational Leadership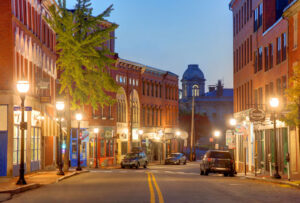 Originally from the Pittsburgh area, it's clear that Pezzino is tenacious. Given her success with the Children's Museum & Theatre of Maine in Portland, you shouldn't be surprised that she earned Mainebiz's Business Leader of the Year for Nonprofit in 2022.
Pezzino joined the museum in 2019 – just before COVID-19 hit the nation, bringing non-profits and businesses alike to their knees. She wasn't daunted, and completed a $15 million capital campaign that expanded staff, opened a new building, and expanded guest capacity.
One thing you'll learn in an OL program is that effective leaders know how to drive change at a holistic and detailed level. They know how to maximize available resources and institute policies designed to instigate change – whether those changes be to pivot the direction of a new company or increase its capabilities.
From her interview with Mainebiz, it's clear Pezzino has the organizational leadership skills it takes to grow a non-profit. While working in Pittsburgh, she entered a three-year-old company with a six-figure budget. She actively grew that figure to seven. How does she do it?
"I have a team-focused approach," she told Mainebiz in reference to her time at the Children's Museum & Theatre. "We're all stronger together when we get many voices around the table. That's the organizational culture I wanted to keep building."
Pezzino sets a good example of what you can expect to get out of an organizational leadership program.
What You Can Do in Maine With a Master's or Bachelor's in Organizational Leadership
Even though Maine isn't going to offer the high-rise office experience some think of when organizational leadership comes to mind. Depending on your preferences, that's a good thing. With a bachelor's in OL, MSOL/MAOL, or MBA in organizational leadership, you can seek opportunities within small and mid-sized organizations that need strong organizational leadership as much as any large corporation.
Maine's Cannabis Industry Takes Visionary Organizational Leaders
After legalizing adult-recreational marijuana use, Maine saw $58 million in sales in the first year, according to WMTW. For the first 11 months of the law going into effect, sales increased month-over-month.
But the growth-rate of the industry isn't what makes Maine's cannabis industry a fun challenge for organizational leaders. It's the fact that the pot business is still in its infancy.
A friend of mine works in Maine for a recreational marijuana company. She's been in the industry for a couple of years, and there's one thing she's told me: "It's like the Wild West. We're at the ground level developing best practices."
Not to mention, she's seen what poor leadership can do to a company. Some company heads have blatantly disregarded statewide regulations. Others have had millions stolen from them due to poor record-keeping and accounting practices. On the flip side, others have launched businesses that match the owners' values, leading to superb customer experiences.
Having an organizational leadership degree can give you an edge in this regard. Through capstone projects and courses, you'll have learned why certain organizations wither or grow. Your job will be to learn how the business functions today, and take what you learned from school to ensure:
Governor Janet Mills' $5.4 Million Climate Investment Relies on Organizational Leadership
As part of the state's "Maine Won't Wait" climate action plan, Gov. Mills has allocated $5.4 million in state and federal funding to help the state's communities fight climate change. $2.9 million in grants will help cities and towns reduce emissions, invest in clean energy, and develop resilient infrastructure. For example:
Organizational leadership is more than just distributing funds. Your role would be to ensure those funds are utilized to the best of the communities' abilities. There's also ample opportunity to flex your data-driven decision making skills.
That's something that will be drilled into your head in an organizational leadership program: You can't just go by "a hunch." You're not a detective. You have whole teams of people looking to you for direction. So, after receiving the results of a flooding risk analysis or other such study, you'll have to:
Universities in Maine Offering Master's and Bachelor's Degrees in Organizational Leadership
Where should you get your bachelor's, MAOL or MSOL? We've listed all the programs that Maine has to offer.
University of Maine at Farmington
Accreditation: NECHE
Private School
Campus, online, hybrid

BS in Leadership and Organizational Studies