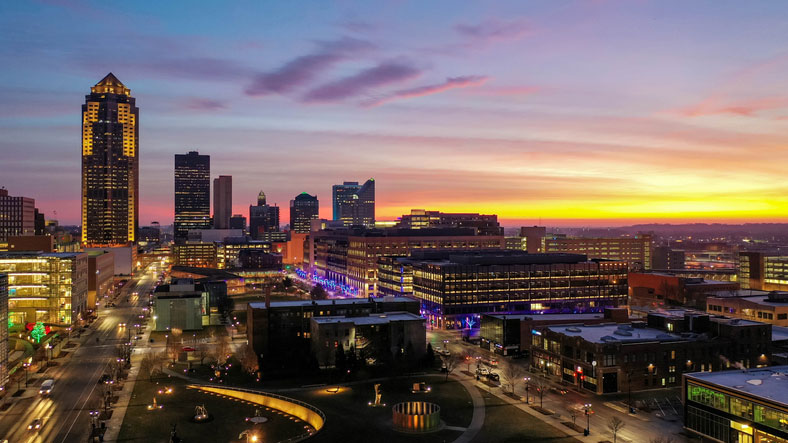 Outside of Iowa, plenty of people don't fully appreciate how much of an impact the state has on the nation's economy. Its agricultural presence is just the tip of the iceberg. According to the National Association of Manufacturers, manufacturing accounts of 17.36 percent of Iowa's total output, employing 226,000 people. The Energy Information Administration confirmed Iowa produces more ethanol than any other state – approximately 4.5 billion gallons per year.
<!- mfunc feat_school ->
Featured Programs:
Sponsored School(s)
<!- /mfunc feat_school ->
This success didn't happen out of the blue. It took leaders to build these industries into the powerhouses they are today. It required vision and actionable steps to make it a reality.
You have the hunger to do the same. You've been turning it over in your mind: the idea of launching a product that fundamentally changes how we live; a non-profit that gives underprivileged teens the chance to launch careers without going to college. Whatever it is, you need the skillset to lead teams: HR departments, product developers, digital marketers, inside sales teams, and operations. A bachelor's or master's degree in organizational leadership will endow you with exactly that skillset.
Organizational leadership programs – whether bachelor's degrees, MOL/MSOL/MAOLs, or MBAs with a focus in OL – prepare you for your professional mission. You'll learn how to manage teams, resolve conflicts, consider the ethical repercussions of your decisions, and make unbiased decisions based on data analysis.
Fareway CEO Reynolds Cramer, Worked His Way Up the Food Chain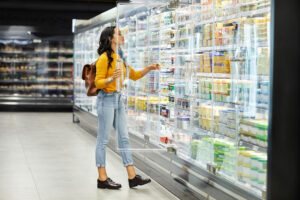 Reynolds Cramer exemplifies fortitude. A board member of the Iowa Business Council, Cramer has been working for the same company for 34 years. It started when he was 16 at the Boone Fareway store.
He wasn't just a kid looking for some extra cash to spend on the weekends. Upon earning a position at the Decorah Fareway store's meat department, Cramer was already starting to think about all the moving pieces that made the brand successful.
"I knew it would be important to understand all aspects of our business and why our meat departments are second to none," he told the Iowa Business Council.
And so began Cramer's long climb up Fareway's leadership ladder. After working as an assistant manager at two stores, he opened the SE 22nd Street Fareway store in Des Moines as the head manager in 1997. As he further immersed himself in the business, Cramer earned a position as the District Supervisor in 2000, giving him oversight of several territories. This led to positions as Regional Vice President in 2010, Executive VP in 2012, and finally, the CEO of the company in 2014.
So, what does Cramer's story teach us about leading an organization? Understanding the perspective of the people working at every level of a business is crucial toward putting it on a productive course. If you're blind to the daily challenges mid-level managers, associates, and others face in their jobs, you won't have adequate context when making decisions.
Cramer's story also teaches us that going right from high school to college isn't a prerequisite to becoming a great leader. If you love the organization you're working for and have the drive to climb the ladder, stick with it, and once you're aiming for a leadership position, consider a degree in organizational leadership to help get you over the top.
What You Can Do in Iowa With a Master's or Bachelor's in Organizational Leadership
Attaining a bachelor's or master's degree in organizational leadership isn't a cakewalk. You're not going to be able to coast through lectures from a professor talking about abstract leadership principles. Instead, you can expect to:
Once you complete your degree in organizational leadership, what can you do with it? How will it support your career in Iowa? Look for opportunities to lead some of the state's biggest initiatives. Those initiatives could be public programs, industry initiatives, or non-profits. One exciting undertaking is the state's investment in Industry 4.0.
Iowa's Industry 4.0 objectives
We've already discussed how big Iowa's manufacturing sector is. Now, the state wants to bring it into the 21st century. Governor Kim Reynolds recently announced $20 million in Manufacturing 4.0 Workforce innovation grants for 2022.
The grants are designed to help Iowan manufacturers achieve "Industry 4.0" – the concept of smart factories that use machine learning, Internet of Things, cloud computing, and analytics to optimize production. Some of the benefits of Industry 4.0 include:
Bringing Iowa's factories into "The Fourth Industrial Revolution" isn't as easy as plugging a machine into an Ethernet cord. You'd have to retrofit existing equipment with sensors during carefully scheduled downtime and implement an IT infrastructure that can handle all the data those sensors produce.
This is where your degree in organizational leadership can be indispensable. Industry 4.0 is characterized by conflicting desires: Production wants to keep making widgets, so it can't afford downtime. At the same time, the business needs to integrate this technology into their factories to remain competitive in the marketplace.
You'll know how to navigate this environment, creating a phased implementation plan that accounts for resource availability, downtime, and production schedules. When could IT plan downtime to bring a smart factory online? What vendors will mitigate any transitionary growing pains? These are just two of hundreds of questions you'll have to answer.
Universities in Iowa Offering Master's and Bachelor's Degrees in Organizational Leadership
So, where can you get your degree in organizational leadership? We've listed all of the bachelor's in organizational leadership, MOL/MSOL/MAOL, and MBA programs with an OL focus Iowa's universities are offering. 
School of Liberal Arts
Accreditation: HLC
Private School
Online, hybrid

BAS in Organizational Leadership
MA in Organizational Leadership
Faith Baptist Bible College and Theological Seminary
Accreditation: HLC
Private School
Campus, online

BS in Organizational Leadership
Graceland University - Lamoni
C.H. Sandage School of Business
Accreditation: HLC
Private School
Online

BA in Organizational Leadership
Also offers: Organizational Leadership certificate
Accreditation: HLC
Private School
Online

MS in Organizational Leadership
Also offers: Mentoring Coaching and Leadership Development certificate, BA in Organizational Studies
Debbie and Jerry Ivy College of Business
Accreditation: HLC
Public School
Hybrid

MBA with a specialization in Leadership
Maharishi International University
Accreditation: HLC
Private School
Campus

BA in Enlightened Leadership
MA in Enlightenment and Leadership
Also offers:
MBA with a specialization in Leadership and Workplace Conflict Resolution
MA in Leadership and Workplace Conflict Resolution, 
College of Business
Accreditation: HLC
Private School
Campus, online

Master of Organizational Leadership
Also offers: MBA with a concentration in Leadership
College of Liberal Arts and Sciences
Accreditation: HLC
Public School
Campus, online

BA in Enterprise Leadership
Also offers: 
Certificate in Leadership Studies
Certificate in Nonprofit Leadership and Philanthropy 
University of Northern Iowa
College of Business Administration
Accreditation: HLC
Public School
Campus

BA in Organizational Leadership
Also offers: 
Certificate in Organizational Communication and Inclusive Leadership
BA in Recreation, Tourism and Nonprofit Leadership
BA in Digital Media Leadership
Accreditation: HLC
Private School
Campus, online

MBA with an emphasis in Leadership
Also offers: Certificate in Organizational Development
Accreditation: HLC
Private School
Online

BA/BS in Organizational Leadership
MA in Organizational Leadership
MBA with a concentration in Leadership
MA in Organizational Leadership: Applied Leadership
Accreditation: HLC
Private School
Online

Also offers: Graduate Leadership Certificate
Accreditation: HLC
Private School
Online

Master of Organizational Leadership