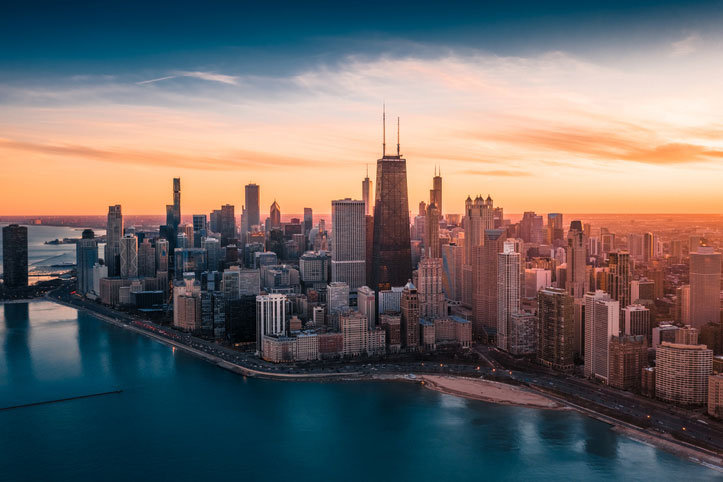 There's a reason that extends beyond the obvious for calling Illinois the Land of Lincoln. Sure, we get to call Honest Abe our own, but there's a deeper legacy we carry. We're natural born leaders. We can't help but give our all to the work we do. This desire to lead emanates from our marrow. We are leaders. 
<!- mfunc feat_school ->
Featured Programs:
Sponsored School(s)
<!- /mfunc feat_school ->
When it comes to leadership, Illinois has a great deal to be proud of. Our prairie state played a critical role in the abolition of slavery and the success of the underground railroad.
In the generations that followed we went on to contribute to the automotive industry by employing more than 35,000 people at approximately 320 firms and supporting more than 1,000,000 jobs in automotive-related fields. Illinois' economy just hit a rare milestone, thanks in large part to Chicago. As of 2022, the Illinois Economic Policy Institute reports that the state's economy passed the rare milestone of being valued above $1 trillion dollars.
These days, leadership comes from examples set by Hillary Rodham Clinton (Park Ridge, Chicago), Nobel Peace Prize winner Jane Addams (Cedarville), Betty Ford (Chicago), Donald Rumsfeld (Chicago), Admiral James Stockdale (Abingdon), and founder and CEO of CBS television William S. Paley (Chicago). 
There's one remarkable example of leadership that deserves a line dedicated to them alone. This person brings fresh enthusiasm to the game of organizational leadership. Their education is ahead of them. They represent promise and change, hope and revolutionary ideas that will change the way companies and organizations operate for decades to come. It's you. 
Chicago was Built from Visionary Leaders Across Multiple Sectors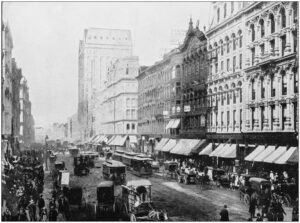 Three-time Pulitzer-Prize winner Carl Sandburg lauded 1914 Chicago's attributes in a poem highlighting its manufacturing, farming, logistics-freight, and meat packing sectors, especially pork.
190 years ago Chicago was a wilderness outpost, population 350. Today its skyscrapers define the horizon, and it ranks as the third-most populous city in the nation, approaching three million residents.
Sandburg wrote his poem about Chicago midway between the city's transformation from swamp to bustling metropolis.
If there was one defining reason for why Chicago is where it is today it's leadership: public-sector, private sector, entrepreneurs; leadership across the entire spectrum is behind the growth of the Windy City.
Geography was the first attribute recognized by Chicago's initial developers, who foresaw the advantage of a city being connected to both the Atlantic through the Great Lakes, and the Gulf of Mexico through the mighty Mississippi River.
Public sector infrastructure projects developed Chicago through the raising of streets and the building of canals, sewers, roads, and rail. In general Chicago became a case study for public sector water engineering projects that was later emulated by none other than Los Angeles.
As Chicago emerged from the swamps it began expanding to the surrounding farmlands, acquiring nearby townships with a ravenous appetite. Shipping and rail grew increasingly lucrative.
All this development created a demand for related logistics companies, then banks to give loans, then insurance companies, a blossoming real estate market, universities, and the rest is history.
Chicago's bourgeoning population also demanded entertainment, and cinemas, theaters, and the White Sox appeared.
Fast forward to the 21st century and Chicago is one of the hottest, most lucrative markets on the planet. Four of the most widely known presidents have strong ties with Chicago: Barack Obama, Ronald Reagan, Ulysses Grant, and Abraham Lincoln.
The city is the business capital of the Midwest and striving to be the nation's leader in sectors like tech, agriculture, and even air transport.
It's all thanks to leadership who've called Chicago home; leaders who had a vision for how they could fit their ideas into the city, transforming it and creating a new reality.
Just like history's leaders who've put Chicago on the world map, its leaders of tomorrow will underwrite the city's future as a hub for innovation and development.
It's only within the last 100 years that any of the Great Lakes saw something as impressive as the Willis Tower, the Aon or John Hancock centers, Two Prudential Plaza, or Water Tower Place. A combination of private and public sector leaders literally raised Chicago out from the mud and turned it into a world-class city that's today home to dozens of Fortune 500 companies. Earn your bachelor's or graduate degree in organizational leadership and you can gain the confidence and competence to throw your hat into the ring for the next big leadership opportunity in the Windy City.
What You Can Do in Illinois With a Master's or Bachelor's Degree in Organizational Leadership
Chicago is a leader in business and public-sector development, and following it are places like Rockford, Springfield, Peoria, and Champaign.
A bachelor's degree in OL gives you a solid foundation that you can take to the marketplace or add onto with certificates and graduate education.
An MAOL, MSOL, or MBA or MPH with an organizational leadership concentration sets you up to apply for advanced leadership positions with some of Chicago's and Illinois' leading movers and shakers.
It's common for graduate-level OL programs to offer specializations in specific areas of the field like:
Once you graduate and have your degree in-hand, you'll be prepared to apply to Illinois' most enticing leadership opportunities.
The following are some of the latest developments in the state's major industries.
Chicago's Startup Scene Passes Nine-Figure Venture Capital Benchmark
Move over Silicon Valley; Chicago is positioning itself to be the next big hub for tech startups. With Google, PayPal, and Salesforce already having offices here the 2023 slowdown in this sector is a blessing in disguise for entrepreneurs to wield their skills and found the next Twitter or Instagram.
The money is there for new startups. In 2021, thirteen Chicago venture capital companies crossed the hundred-million-dollar funding threshold, setting a new record for the city; altogether that year Chicago had $5.7 billion in its startup fund war chest.
The infrastructure is here too: affordable public transit whisks passengers to a globally-connected airport –United's Base – and Chicago's housing prices are far more affordable than in tech-hub coastal cities. Chicago is already the Midwest's innovation capital, and now it's competing in the nationals.
Startup company innovations will likely touch Chicago sectors like logistics, healthcare, and finance. And innovation also has a way of creating entirely new sectors; who knows what this will mean for the jobs of Chicago's future.
Matter© is one example of a Chicago startup. This global healthcare incubator is made possible by the state of Illinois and the city of Chicago, and is proud to be a strategic investor in hundreds of promising tech healthcare companies.
Tackling topics like Alzheimer's, chronic illness, cancer, and oral health, Matter© is an example of a Chicago startup with funding to back it up. Its venture acceleration program associate holds a degree in health science with an emphasis in leadership and policy.
Matter© is just one example. There are dozens of others like it, all vying to fund the next big tech breakthrough.
As a prospective organizational leader your challenge is to know when and where to break into Chicago's lucrative tech scene. This holds true whether you work for a venture capital company, or if you work for a startup that's looking to make a breakthrough with the next big innovation.
Midwest Agriculture Born in Illinois
A story that includes hardship, migration, and innovation encapsulates the experience of John Deere. A blacksmith from Vermont, upon experiencing an economic downturn Deere headed west to Illinois along with his spouse and five children.
He would go on to found the John Deere company that today has over 100 locations across the planet.
As a blacksmith by training Deere understood innovation when it came to metal plows and farming. In his day there was a migration current bringing people from the east coast out west. Deere realized that the Midwest's soil was stickier and heavier than the soil east coasters were accustomed to, which led to his invention of an all-steel plow blade that could handle Illinois' unique earth.
His intuition stuck, and from then on the John Deere company has upheld its reputation as being a reliable innovator that makes quality, lasting products that get the job done. He went from producing 1,000 plows in 1846 to manufacturing 10,000 plows by 1857.
Today the Deere company has acquired over 25 brands and is an icon for anyone who's in agriculture. It employs over 75,000 full-time employees, and sees $44-plus billion annual net sales and revenue. It's no surprise that John Deere ranks on the Fortune 100 list of leading companies. In fact, Deere's is the longest continuously used corporate logo from all companies on the Fortune 500 list.
As of 2023 Illinois is ingrained as an agricultural leader, among its many other attributes. It's a leading producer of soybeans and corn, and just like in the days of Carl Sandburg, pork.
Illinois is the fertile home for 72,000 farms who collectively maintain 27 million acres under tillage. The average Illinois farm is 375 acres.
Large acreage and the general success of Illinois' agricultural sector can be traced back over a hundred years ago to the figure of John Deere, who's leadership and ethos continue to permeate one of the world's most successful producers of agricultural machinery.
The Mile High Club
Having your own airlines is a source of prestige; it gives you bragging rights. Many developing countries are proud to sponsor their own flagship national carrier.
Since deregulation it's not quite the same in the United States, but in a certain sense each region still has its own flagship carrier: Atlanta has Delta, Dallas-Fort Worth has American, Denver has Frontier, Seattle has Alaska, and Chicago has United.
Chicago's United Airlines flies virtually everywhere in the world thanks to its extensive US coverage and international partnership agreements. This encompasses over 210 domestic and 120 international destinations.
The company's origins date back to 1929 when two people with ties to air transport and air manufacturing, William Boeing and Frederick Rentschler, got together. They purchased four air transport companies and incorporated them under the umbrella of United in 1931 Chicago.
Through a series of regulatory developments Boeing became its own company and was spun off, and for a time United was one of the largest passenger air carriers in the world, second only to the Soviet Union's Aeroflot.
Mergers saw United acquire the likes of Pan Am and in the 1970s and 80s also diversify into new fields: at one point United owned brands including Hertz, Hilton, and the predecessor to Westin Hotels. However these were eventually sold so United could focus on being an air carrier.
The airline industry is unique and so is its leadership. For one, it's worth billions of dollars. United's team of employees is nearly 93,000-strong. The company's total revenue over the past 12 months is $45 billion.
Airlines are uniquely subject to federal regulation, international competition, international business and trade, and public-sector support. In times of international crises airlines can be declared a national strategic asset. This type of environment requires leadership with a unique set of skills and connections.
For those who master this niche the rewards are being involved in a multi-billion dollar industry. And there are multiple avenues of entry into the airlines industry, including everything from government regulators to the CEOs of a parcel or airline company.
This is a highly specialized industry but once you know the ropes the sky is literally the limit.
Universities in Illinois Offering Master's and Bachelor's Degrees in Organizational Leadership
Right now is the most exciting time to pursue a degree in organizational leadership. That holds true nationally, but especially in Illinois where the unemployment rate is an enviable 4.2%; the state is primed for a boom.
Organizational leadership degrees come in all shapes and sizes to fit your unique situation: undergraduate-level, graduate-level, specialized MBAs, on-campus, online. You can customize your program even more with a specific graduate focus area. There is nothing standing between you and the success you deserve.
Accreditation: HLC
Private School
Online

MA in Organizational Leadership
Accreditation: HLC
Private School
Campus

BA in Organizational Leadership
Management and Leadership Department
Accreditation: HLC
Private School
Campus, online

Major in Management and Leadership
MA in Nonprofit Leadership
Concordia University - Chicago
College of Business
Accreditation: HLC
Private School
Online

BA in Organizational Management
MA in Leadership: Organizational Leadership
Also Offers: 
MBA with a Leadership and Change Management concentration
DBA with a specialization in Strategic Leadership and Innovation
Governors State University
College of Business
Accreditation: HLC
Private School
Campus, online

Illinois State University
College of Business
Accreditation: HLC
Private School
Campus
BS in Management: Organizational Leadership
Accreditation: HLC
Private School
Campus, online

BA in Organizational Leadership
MA in Organizational Leadership
College of Business
Accreditation: HLC
Private School
Campus, online

BA in Organizational Leadership
MA in Organizational Leadership
Lincoln Christian University
Accreditation: HLC
Private School
Online

MA in Organizational Leadership
National Louis University
Graduate School of Business and Leadership
Accreditation: HLC
Private School
Campus, online

MS in Organizational Leadership
Also offers: BS in Healthcare Leadership
School of Education and Health Sciences
Accreditation: HLC
Private School
Online

MA in Organizational Leadership
Olivet Nazarene University
Accreditation: HLC
Private School
Online

BS in Organizational Leadership
Master of Organizational Leadership
Walter E. Heller College of Business
Accreditation: HLC
Private School
Campus, online

BA in Organizational Leadership
MA in Organizational Development
Trinity International University - Illinois
Trinity Graduate School
Accreditation: HLC
Private School
Campus, hybrid

MA in Leadership, Organizational Leadership emphasis