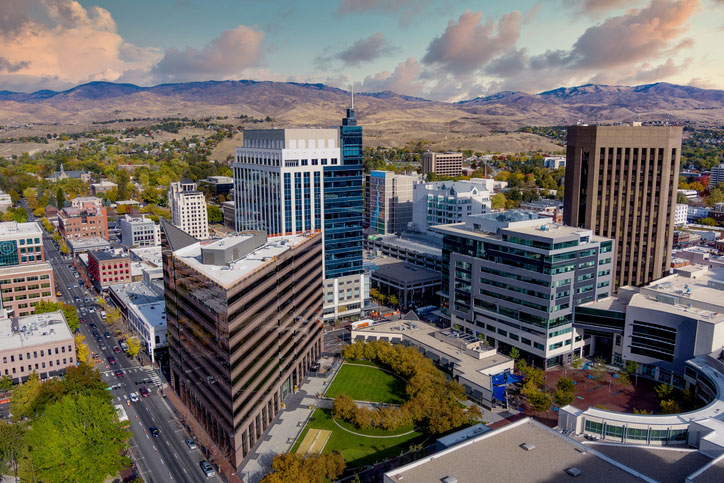 Idaho is set for a serious boom. In fact, it's already happening. In 2023 the Idaho Statesmen detailed how the state ranks as the best place to live in the Pacific Northwest, and the fourth-best in the nation.
<!- mfunc feat_school ->
Featured Programs:
Sponsored School(s)
<!- /mfunc feat_school ->
Idaho's population has boomed by over 16% in the decade leading up to 2020, and in that year alone it saw the highest percent net population increase. In Ada County, housing prices are up 18% over just one year, and Micron's new $15 billion chip fab plant just broke ground in Boise, even before the ink was dry on the deal. The business environment in Idaho is red hot. If your specialization is organizational leadership, you're in the right place at the right time.
Big business, public infrastructure projects, or any other endeavor that requires a significant rallying of the troops will place a premium on good organizational leaders. This rings true for whatever sector you're in. In Idaho this includes everything from semiconductors to agribusiness.
A bachelor's degree, MBA or other master's in organizational leadership sends a strong signal that you're all in.
How Solutions-Oriented Thinkers Created Industries and Cemented Idaho's Identity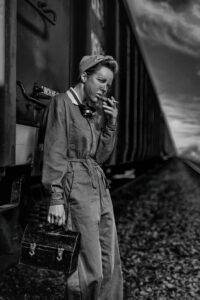 What is today a global food and agribusiness started out as a one-person farm near Declo in Cassia County. JR Simplot, headquartered in Boise, ranks 49th on Forbes' list of largest private companies in the nation. Its 2022 revenue amounted to $9.7 billion with a workforce 14,000 strong.
The ubiquity of Idaho spuds has less to do with anything magic in the air or soil that made these lands particularly well suited to tubers. It was all business, and can be traced back to the company's namesake owner, who first made a name for himself providing the military with dehydrated farm produce during World War II. The wartime economy meant that fertilizer was hard to come by, so Simplot built his own fertilizer factory in Pocatello.
Around this time two second-generation Irish immigrant brothers from New Hampshire founded a restaurant and named it after their own surname: McDonald's. In 1953 the first McDonald's franchise was opened, and by 1961 milkshake mixer salesman Ray Kroc bought out the two brothers to take full ownership of the burgeoning restaurant chain.
At risk of being accused of nostalgia, some say business was different back in mid-20th-century America. Back then a person's word was their bond; all it took to seal a major business deal was good eye contact and a firm handshake.
At least that's the ethos that defined JR Simplot and made him a reliable business partner in his time, and it's the same ethos that pervades the company that still bears his name.
With little more than a handshake, Simplot and Kroc struck a deal whereby Simplot gained exclusive rights to provide all McDonald's restaurants with French fries in exchange for his word that he could fulfill the supply demands.
Today, the JR Simplot company attributes their ethos to the farming community that put them on the map, a place where resilience, respect, and independence meant everything. Strong leadership from the beginning has seen this company grow and thrive in a competitive marketplace.
What You Can Do in Idaho With a Master's or Bachelor's Degree in Organizational Leadership
With all the growth and business development in Idaho happening right now, your options as an organizational leader are only limited by your imagination.
It should come as no surprise that one of the most important divisional presidents of Albertsons Companies, Inc has a BA in OL and Behavior. As a testament to innate talent, the current president of the Northern California Division started out as a courtesy clerk and moved up the ranks to where he is today, only recently completing his bachelor's education.
It says something that the organic naturals with a mind built for business will still choose to earn a degree in organizational leadership. At least, it's worked out for a divisional president at Albertsons, the second-largest supermarket chain in North America with an eye towards becoming number one.
An OL education covers key topics like quality control, strategic leadership, process implementation, and organizational culture management. A degree symbolizes you've made a commitment to the best-practice principles in this field no matter what sector you specialize in.
Albertsons Announces $24 Billion Merger With Kroger
One of the largest grocery store deals in history was announced between Boise-based Albertsons and Cincinnati-based Kroger in mid-October 2022. With each company as grocery leaders in their own right, when this merger goes through it will place the new Kroger's ability to reach consumers in the same league as Walmart's, Amazon's, and Costco's. For comparison, there's a Walmart within 10 miles of 90% of the entire US population.
This merger would put 710,000 employees, nearly 5,000 stores, almost 4,000 pharmacies, and over 2,000 fuel centers under Alberstons-Kroger management.
Preparing Albertsons-Kroger to challenge the likes of Walmart, Amazon, and Costco means their organizational leadership game must be at its A level. Those leading Albertsons-Kroger forward are well aware of things like the subscription economy, digital marketing, supplier intelligence, and the always-important supply chain network.
And that's if the merger goes through at all. Though both companies' legal teams are hopeful, with a gargantuan acquisition like this it's not a question of if the FTC will raise its eyebrow; the issue is how many dozens of Albertsons and Kroger stores will have to be spun off or sold to avoid the new incarnation of the brand holding a local-market monopoly.
All this being said, the people back in Boise are still pinching themselves. It's not everyday that $24 billion rolls into the coffers of a company that pays its taxes in Ada County.
$15 Billion Chip Foundry Breaks Ground in Boise
Semiconductor fabs have recently made the news because of international trade wars between mainland China, Taiwan, Japan, and South Korea. Supply chain issues have caused a chip shortage that JP Morgan reports will not be ameliorated until 2024. Geopolitical tensions between the US and China have motivated business and political leaders to reduce American dependence on vital semiconductors produced in Taiwan.
These factors combined have spelled good fortune for Micron Technology, headquartered in Boise, who is able to boast about being America's only domestic producer of computer memory. Already one of the world's largest semiconductor manufacturers, Micron wants to drastically increase its production capabilities to meet projected skyrocketing demand. By 2025 its 600,000-square-foot Boise clean room is scheduled to start producing DRAM.
5G and artificial intelligence are taking the world by storm, already putting a strain for demand on computer chip manufacturers. The organizational leaders who put this deal together hailed from Micron, the city of Boise, the state of Idaho, and the federal government, going so far as collaborating to secure funding through the 2022 CHIPS and Science Act.
Universities in Idaho Offering Master's and Bachelor's Degrees in Organizational Leadership
Idaho offers compelling options when it comes to finding an OL degree program that's right for you. BBA and MBA programs are known for a decidedly business-oriented approach to teaching organizational leadership.
Additionally, online MOL, MSOL, and MAOL programs let you hone your skills specifically around organizational leadership, and often provide a window for you to choose a concentration that's even more specialized. There's a difference between organizational leaders who serve on the local library board and those who seal billion dollar deals, a difference that can come down to choices you make about education early on in your career.
There are currently no listings for Idaho. Check back often for updates.