Hawaii is a maritime crossroads of the Pacific, an unforgettable paradise getaway for tourists, and the home of nearly 1.5 million people. Household surnames today are remnants of historical leaders who've adeptly leveraged Hawaii's unique position in the past. Their modern counterparts, the exceptionally talented upcoming leaders of tomorrow, will continue in their footsteps.
<!- mfunc feat_school ->
Featured Programs:
Sponsored School(s)
<!- /mfunc feat_school ->
Be it in shipping, real estate, the tourism industry, or public sector infrastructure projects, if you're well versed in organizational leadership there are plenty of niches in Hawaii where your talents will be greatly appreciated.
Hawaii's Enduring Legacy of Shipping Leaders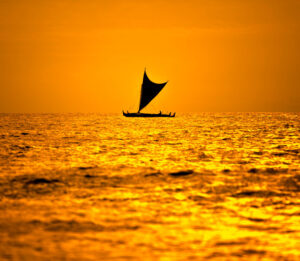 Like every island community in the Pacific, the history of people living on the Hawaiian Islands is inseparable from the history of shipping. This is as true as it was for the skilled Polynesian shipbuilders a thousand years ago as it is for the diverse multicultural population who call Hawaii home today.
Focusing on organizational leadership vis-à-vis big business in Hawaii, two names stand out: William Matson (1849-1917) and Henry J. Kaiser (1882-1967).
William Matson
Headquartered in Honolulu, the multinational shipping company Matson still bears the name of its Swedish-American founder today. Ranked second out of the top 250 companies in the state by Hawaii Business Magazine, as a major Pacific shipping company Matson employs over 2,400 people, annually nets a figure approaching $1 billion, and sails routes to Southern California, China, Alaska, Micronesia, Guam, and the South Pacific.
Captain Matson first sailed his three-masted schooner from San Francisco to Hilo over 140 years ago carrying 300 tons of food and supplies. With vision and leadership he went on to found a company that's weathered two world wars and strategically jockeyed itself into the position of being a Pacific shipping name to reckon with.
Today Matson Inc's OL professionals ensure the company's mariner roots stay strong and its staff continue in the same tradition that's proved successful for over a century.
Henry J. Kaiser
Whereas Matson's name continues to be linked with his shipping origins, today Kaiser's name is popularly associated with healthcare: the healthcare NGO Kaiser Family Foundation (KFF) and the Kaiser Permanente healthcare system.
This was not the case in the 20th century, when the industrialist Kaiser was regarded as the father of modern shipbuilding. In fact, his association with healthcare today is almost accidental; back then so many people were working for him that by necessity he founded an entire healthcare system to provide his employees with coverage.
Healthcare was just one way Kaiser vertically integrated his shipping business. Also on this list were investments in steelworks, aluminum smelters, chemical factories, hydroelectric power, and real estate.
The latter of these would leave an indelible mark on Honolulu, the place where Kaiser took his last breath, in the form of the Hilton Hawaiian Village Waikiki Beach Resort, originally developed by none other than Kaiser himself as the Kaiser Hawaiian Village Hotel in 1955.
Today the resort encompasses 22 acres including prime white-sand beach front, 18 restaurants, 80 shops, a movie theater, and over 3,000 guest rooms. It's the largest hotel in the nation outside of Las Vegas, and the largest Hilton hotel in the world.
With the Hawaiian resort as the crown jewel in the company's signature brand, Hilton executives are responsible for a total revenue that amounts to $8.1 billion and upwards of $2.5 billion gross annually.
Just as Kaiser was a giant among business leaders of his time, Hilton's OL professionals of today ensure that everyone in the company pulls in the same direction to keep the brand in ship shape, sailing successfully into a competitive future.
Shipping has always connected the Hawaiian Islands. Trade winds bring new opportunities, but it took great leaders to capitalize on it.
A bachelor's degree in OL, or a more advanced MSOL, MAOL, or MBA with an organizational leadership concentration shows that you're ready to seize today's opportunity, just like Matson and Kaiser did in their time.
What You Can Do in Hawaii With a Master's or Bachelor's Degree in Organizational Leadership
Whether it's in big business, the Armed Forces, or the public sector, good organizational leaders are a rare commodity.
The healthcare industry is just one example. The Queen's Health System manages 70 clinical facilities plus four hospitals. It's the state's largest employer with 10,000 professionals and has earned the distinction of being a leader in healthcare throughout the entire Pacific basin. It takes talent to run this juggernaut and smoothly ensure everyone is working together to accomplish the same ultimate goal.
It's no accident that the president and CEO of the Queen's Health System holds a PhD with a concentration in health system leadership, quality, and models of care.
Earning a degree in organizational leadership demonstrates you understand key concepts like emotional intelligence and strategic outlook. Completing an OL graduate program shows you're up to the challenge no matter what sector you're in.
Real Estate Giant CBRE Announces $57.6 Million Deal
With 80 employees hailing from eight offices on Oahu, Maui, and Kauai, 9.9 million square feet of island property under management, and $369 million in 2021 sales, CBRE puts muscle behind its claim of being the leading full-service commercial real estate company in Hawaii.
In 2022 CBRE announced its deal of the year: the sale of the Pacific Park Plaza on Honolulu's Kapiolani Boulevard to the STG Group for north of $57 million. The plaza's two buildings totaling over 250,000 square feet of rentable space already has a tenant list that includes Kaiser Permanente and Hilton Grand Vacations.
This deal underscores the inter-connectedness of commerce. Imagine you were with CBRE working on this: you could have potentially rubbed elbows with the senior executives of any number of well-connected industry-leading teams.
Honolulu's $12.5 Billion Rail Project Scheduled for 2031 Completion
Decades in the making, Honolulu's driverless light rail metro system finally broke ground in 2011. Managed by the Honolulu Authority for Rapid Transportation (HART), passengers may be able to start riding select routes of the 19-station 18.5-mile line as soon as 2023, and an additional section is anticipated to be operational by 2025.
As a semi-autonomous public transit authority, members of HART's board of directors are appointed by the city and the state legislature. They include business leaders, local public servants, advocates, and specialists.
The HART board of directors wear many hats and coordinate with many players. This includes organizing new budget proposals, getting creative to maximize secured funding, coordinating with construction companies, and accommodating businesses who may be impacted by new development.
Honolulu's light metro rail is a monumental undertaking whose planning and completion will take generations. The type of organizational leadership skills required for this is next-level, and in the public sector good OL can make the difference between winning and losing the next election. Significant cost overruns and completion delays with this project have been significant enough to factor in to several mayoral elections.
Universities in Hawaii Offering Master's and Bachelor's Degrees in Organizational Leadership
Hawaii is a land of plenty, and that extends to opportunities for degrees related to organizational leadership. Bachelor's degree in organizational leadership, MBAs with an OL concentration, as well as MAOL/MSOL programs, all have attractive online options you can complete anywhere you can find an internet connection.
There are currently no listings for Hawaii. Check back often for updates.