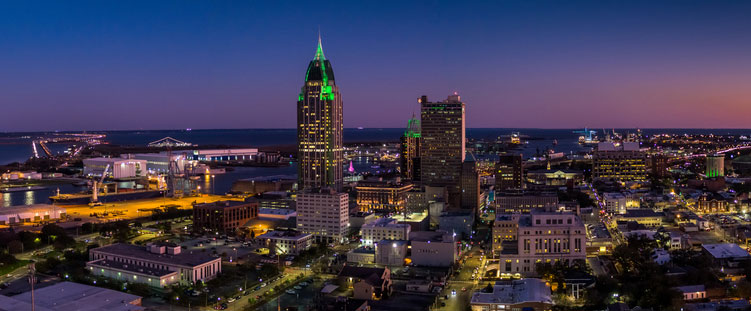 From implementing policies that drive objectives to initiating solutions that breed a culture of success, effective organizational leadership seeks to inspire. In the military, in politics, and in the private sector, Alabama's organizational leaders make strategic decisions while skillfully fostering the talent that exists in their organizations.
<!- mfunc feat_school ->
Featured Programs:
Sponsored School(s)
<!- /mfunc feat_school ->
Organizational leaders ensure that business goals stay on track and objectives are realized through outstanding talent development and the creation and management of a performance-based culture. If your professional goals include bringing about impactful change, then you'll be right at home in Alabama, a state that's long been on the forefront of significant social change, which in many ways relied on the same methods and mobilization inherent in organizational leadership.
From the birthplace of the Civil Rights Movement in Montgomery to Huntsville where the first rocket that sent man to the moon was designed, Alabama is where visions become reality and where performance-based cultures are made and nurtured.
Take Tuscaloosa's Mercedes-Benz facility for example, led by Michael Göbel, president and CEO of Mercedes' Alabama operations. Since 1997, the Alabama facility has launched more than a half-dozen major expansions and invested more than $7 billion in the state, and it's not stopping anytime soon. With Göbel at the helm, Mercedes-Benz U.S. International has set out to realize its latest venture – electric vehicle (EV) production. By modernizing and expanding the Alabama plant, the company looks to maintain Alabama's reputation as a leader in high-quality automotive manufacturing. A massive, $1 billion investment in electric vehicles and a new state-of-the-art battery factory in nearby Bibb County are ushering in a new era for Mercedes-Benz. This sort of monumental change doesn't come easily, and it doesn't come without the expertise of leaders who are charged with guiding the teams that ensure continued growth and profitability.
If you're ready to take the next step in your career, an MAOL, MSOL, or MBA in Organizational Leadership will serve as a weighty addition to your resume and prepare you to assume top-tier leadership positions in fields ranging from healthcare to manufacturing. And if you're new to the field, a bachelor's degree in organizational leadership is where you'll develop key business skills in problem-solving, conflict resolution, communication, team dynamics, and more.
Global Peace, Civil Rights, and Social Change – Organizational Leaders Who Have Left Their Mark on the Country and the World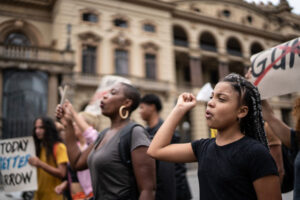 There's just something about the people of Alabama. Those who have been born and raised in this Southern state pursue and realize goals that not only put them on the map but also bring about significant and lasting change in politics, in the private sector, and in society as a whole. These Alabama natives know a thing or two about rallying, inspiring, and motivating others and creating an atmosphere that naturally promotes positive change:
Fred Thompson, born in Sheffield, had an illustrious career that included serving as a U.S. State Senator from Tennessee, practicing law, and even acting. He held many other leadership roles throughout his career, including being a member of the U.S.-China Economic and Security Review Commission, a member of the Council on Foreign Relations, and a visiting fellow with the American Enterprise Institute.
Martin Luther King III, born in Montgomery, is the son of Martin Luther King Jr. and a famed civil rights advocate in his own right. Just some of his high-profile accomplishments included heading the Southern Christian Leadership Conference (1997-2001) and founding the King Center for Nonviolent Social Change.
John Lewis, born in Tory, served as a U.S. Representative until his death (1987-2020). He was perhaps better known for his role as civil rights activist, organizing and participating in major events, including 1963's March on Washington. Under his guidance and leadership (he was known as one of the "Big Six" leaders), three other major civil rights marches were held in the following years.
Condoleezza Rice, born in Birmingham

, broke down walls for both race and gender, becoming the first female black Secretary of State and first female to serve as National Security Advisor. She worked tirelessly to promote global peace, which included placing American diplomats in the Middle East and overseeing peace talks with many countries.
What You Can Do in Alabama With a Master's or Bachelor's Degree in Organizational Leadership
The most significant changes happen when leaders assume the strategic lead, taking the reins to motivate and manage a team. Whether they're setting goals, addressing problems to get the team back on track, or finding new ways to utilize a team's strength, the skills that come with a degree organizational leadership grease the wheels of change. Alabama's organizational leaders are found in the private and public sectors, in government, and in the military. Though their specific objectives and job titles vary, they're overarching goals are consistently focused on workforce development, change management, and fostering a safe, productive, and efficient environment for the teams they lead. Their elite business skills, supported by bachelor's and master's degrees in organizational leadership, allow them to create and implement strategies that drive organizational change.
The construction of new facilities and plants… the expansion of product lines… the introduction of new products and services – they all require coordinating, planning, implementing, and overseeing talent initiatives and goals. Business professionals in organizational leadership are found in every facet of business and are certainly valued when expanding or increasing operations. You're sure to find organizational leaders behind the state's biggest economic efforts, which during 2021 alone included $7.7 billion in new capital investment that created more than 10,000 jobs. For example,
Universities in Alabama Offering Master's and Bachelor's Degrees in Organizational Leadership
Whether you are just starting out and seeking to make a name for yourself in the business world or looking to expand your entrepreneurial reach with your next big endeavor, you'll find organizational leadership programs in Alabama at both the undergraduate and graduate levels.
Offered as graduate degrees, including MSOL, MAOL, MMOL, and MBA programs, as well as bachelor's majors, organizational leadership programs are as varied and exciting as you'd imagine. Many organizational leadership graduate degrees feature concentrations in areas like HR, project management, technology, digital marketing, and nonprofit management that allow you to focus your efforts on a specific field or industry. Plus, many programs are offered in a fully online format that allow busy, working professionals to earn their degree without compromising their professional or personal responsibilities.
College of Business and Leadership
Accreditation: SACSCOC
Private School
Online

MS in Leadership and Management
Columbia Southern University
Accreditation: SACSCOC
Private School
Online

BS in Organizational Leadership
MS in Organizational Leadership
School of Business
Accreditation: SACSCOC
Private School
Campus

BS in Organizational Leadership
Accreditation: SACSCOC
Private School
Campus

BA in Organizational Leadership
Also offers: Ed.D in Education and Organizational Leadership
South University - Montgomery
College of Business
Accreditation: SACSCOC
Private School
Campus, online

Accreditation: SACSCOC
Private School
Campus, online

BA/BS in Organizational Leadership
College of Arts and Sciences
Grace Pilot School of Business
Accreditation: SACSCOC
Private School
Campus, online

BS in Organizational Leadership
MS in Leadership and Communication